At the end of February we headed to the Sound Society HiFi show in Aarhus, Denmark. This local show is organised by the Danish distributor Bülow Steensen A/S at the Royal Hotel Aarhus and is aimed directly at consumers. Although the show is of moderate size, a lot of people were circling around this year. Some rooms were consistently full and we had to revisit them a few times to get a good look at everything. Most of the exhibitors were local dealers but we also met representatives from a few Danish manufacturers.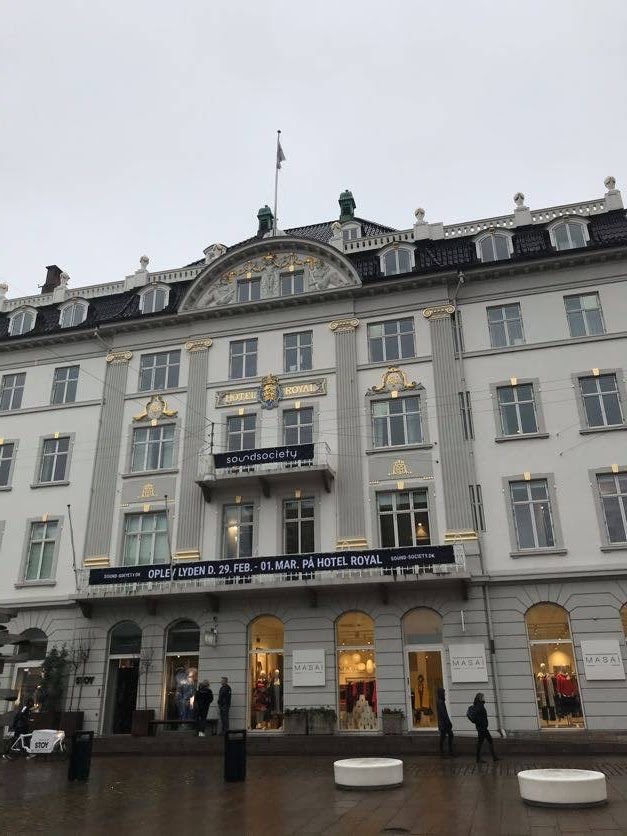 For the HiFi interested in western Denmark, this show is definitely worth visiting. The show is probably too small to attract visitors from the rest of the country in large numbers. Having said that, there are a few dealers and distributors, like Lydbutikken, that make the trip across the country year after year in order to meet their customers. In any case, many good things can be said about local shows and dealers that make an effort to inspire the local audience.
Audiophile.dk and Gryphon Audio
Gryphon was presented by the Danish dealer, audiophile.dk. Rune Skov, the Global Sales Director for Gryphon, was also there and we had a very pleasant chat with him. He told us a bit about their new system and explained their values and ways of working.
On display were the new Ethos CD/DAC and the Essence pre and power amplifiers driving a set of JBL K2 S9900 speakers. Gryphon describes the Ethos as an integrated transport/DAC and it is the first Gryphon product ever to feature a milled aluminium top. Rune told us that they source the top itself from the aluminum experts at Bang & Olufsen in order to ensure top quality. Thus, like all Gryphon products, Ethos is designed and manufactured in Denmark. This does not come cheap and the presented system costs more than 100.000€ excluding the speakers.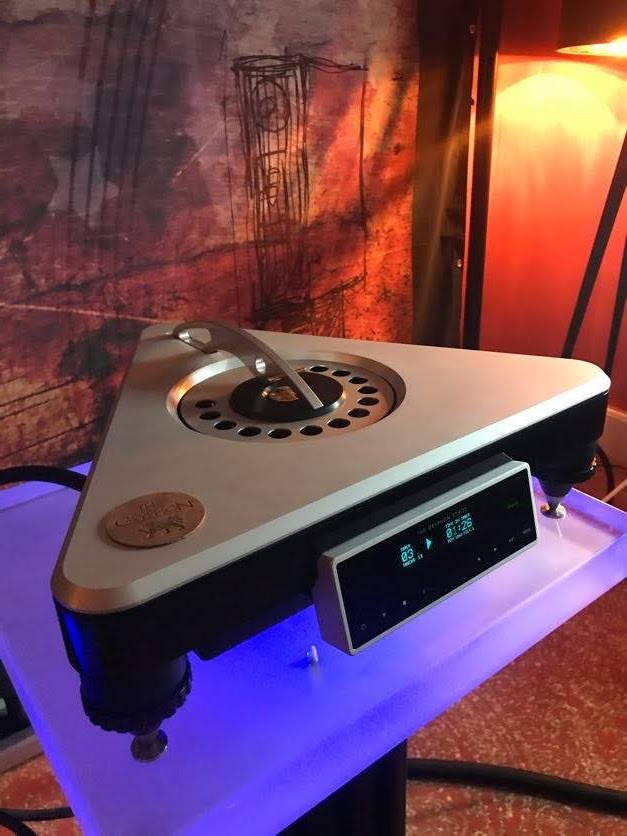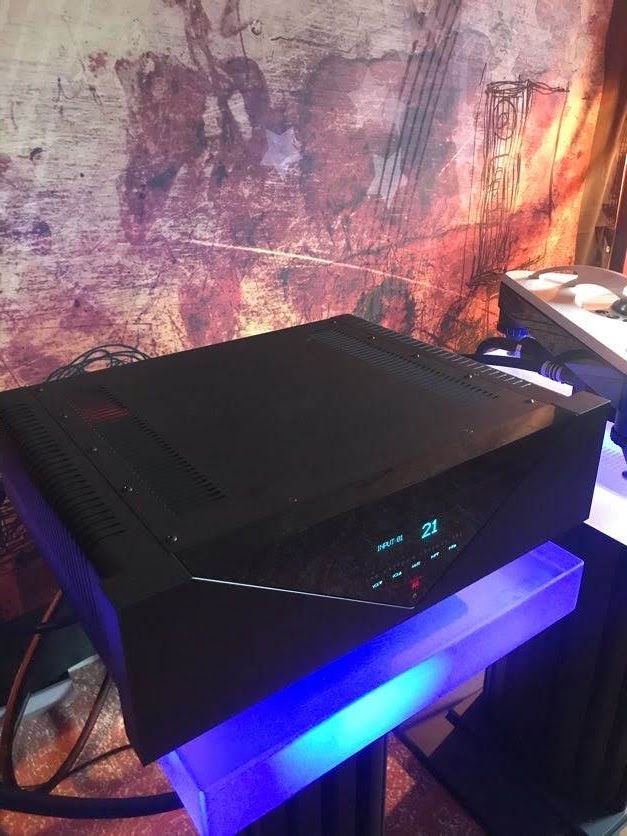 AV-Connection
The AV-Connection room presented a set of Klipsch RF-7 III floorstanding speakers. They were driven by the Yamaha M-5000 amplifier and C-5000 preamplifier. The sound produced by the speakers was certainly pleasant and quite dynamic, but in order to get a flat frequency response from them you definitely need a larger room.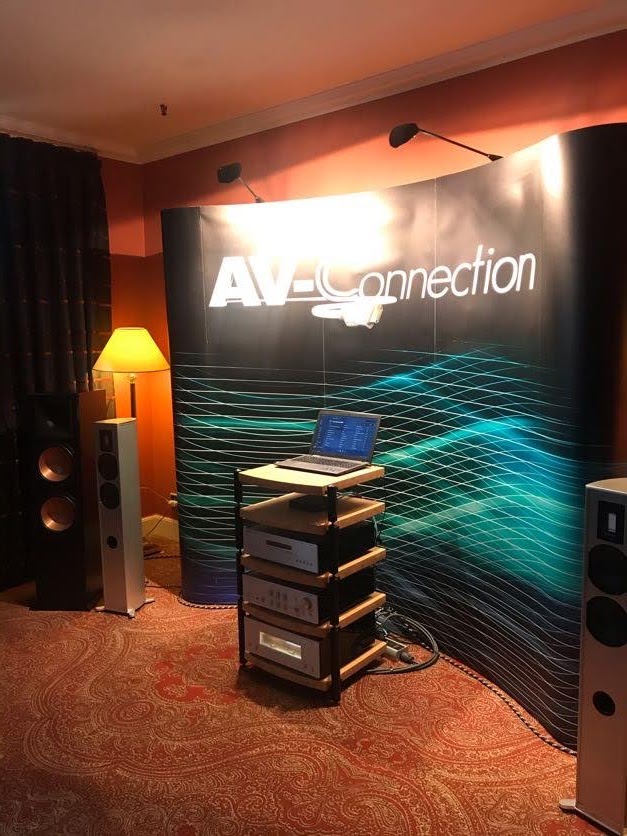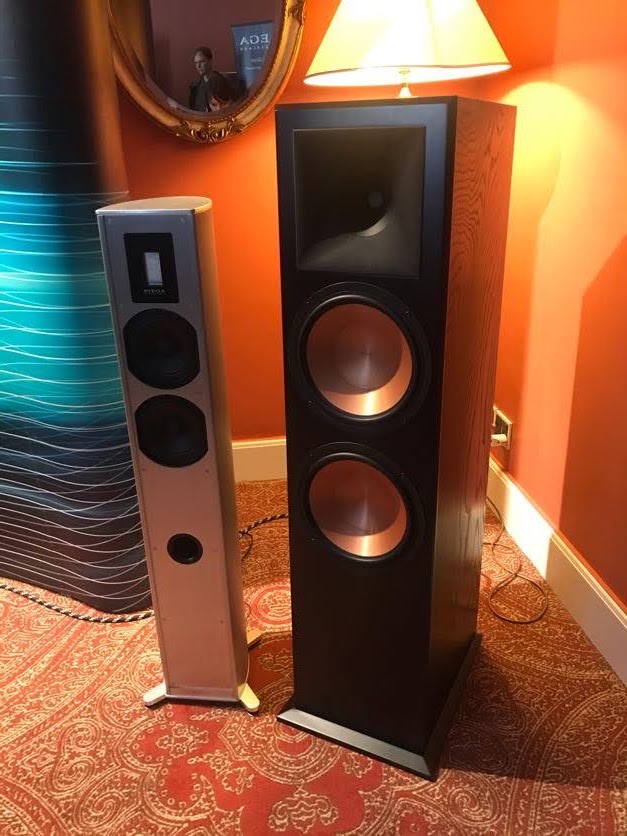 Scala Hifi and System Audio
As customary, System Audio were also exhibiting. Together with Scala HiFi, a local dealer, they showcased their digital wireless speakers. Visitors had a chance to enjoy a demonstration scheduled every hour. Ole and Ole from System Audio and Scala HiFi used the allocated time to demonstrate a direct comparison between the passive System Audio Legend 40 speakers driven by the Edge high-end pre and power amplifiers from Cambridge Audio and the active wireless System Audio Legend Silverback 40 speakers. This comparison is interesting because everything except for the amplification and crossover is 100% identical between the two speakers. Thus, the added clarity and punch exhibited by the Silverback version can only be ascribed to the active amplification modules (vs. the passive crossover, cables etc. used with the passive version).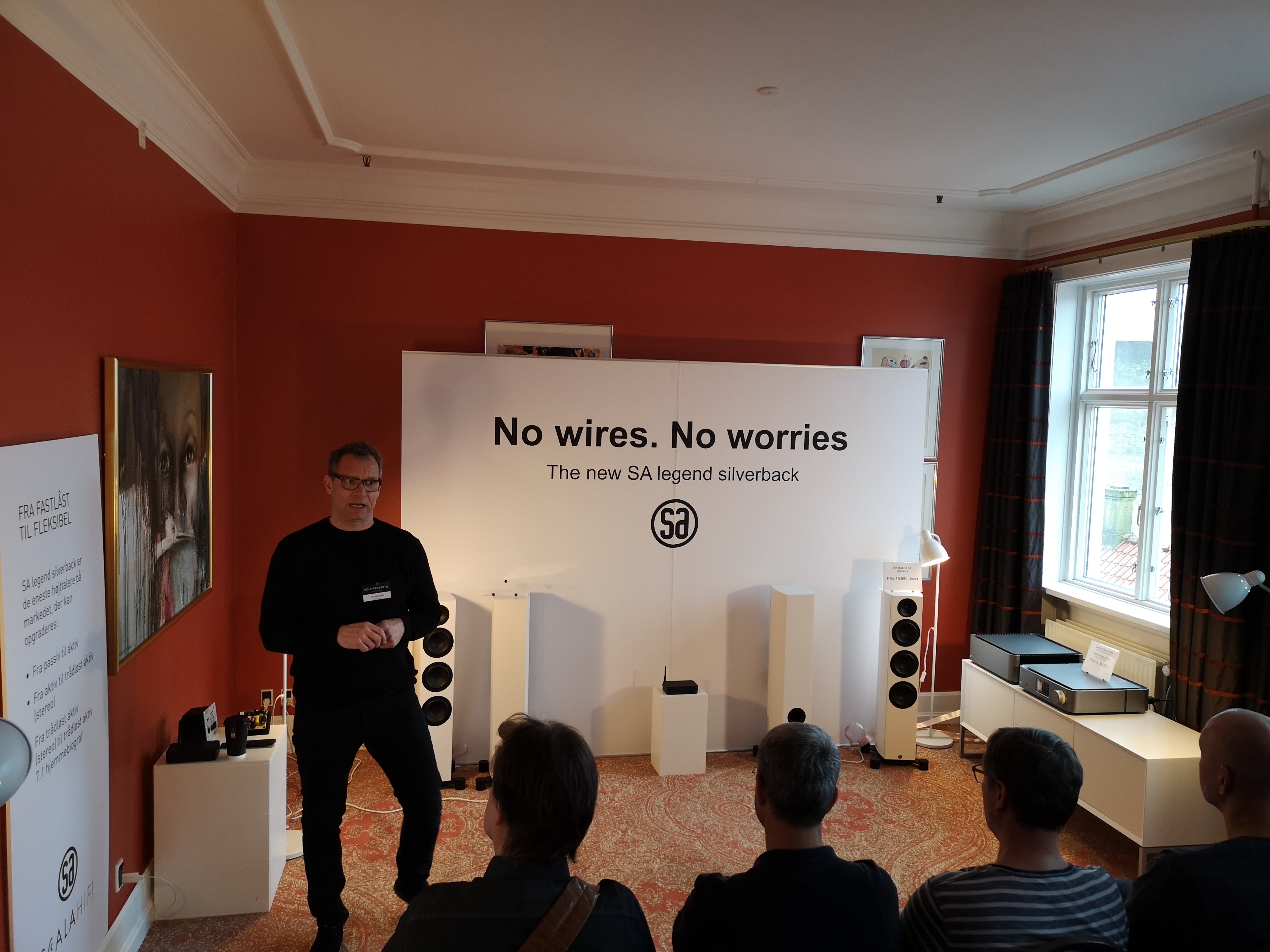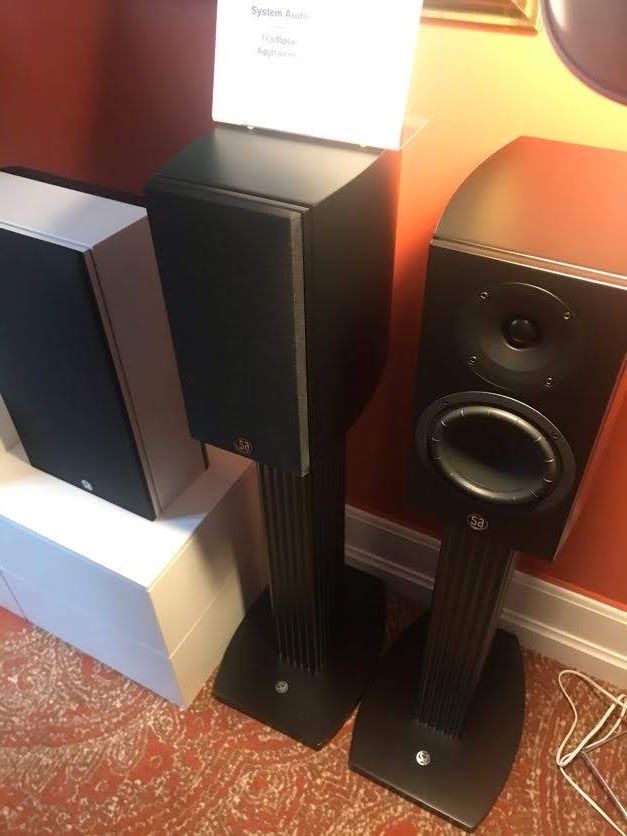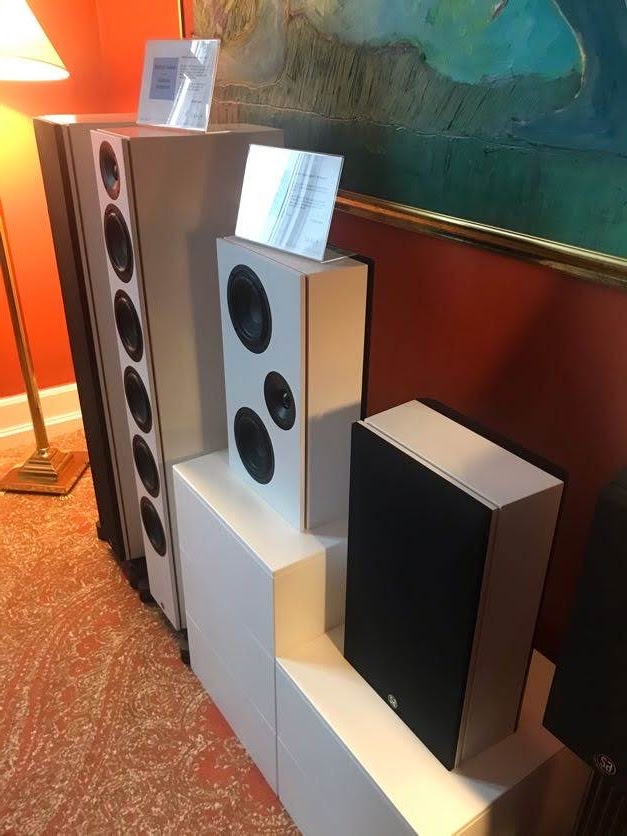 Bang & Olufsen
Bang & Olufsen is a company we do not see very often at Hifi shows. We saw them at Axpona in 2017 and here they were again in Aarhus. The Beolab 90 remains the top of the line speaker from Bang & Olufsen, but the high-end range now includes the smaller sibling Beolab 50. A separate room was dedicated to the demonstration of Beolab 90, whereas the Beolab 50 was demonstrated in more of a home cinema setting and shared a room with Beolab 18 and several units from the more affordable range of integrated music systems.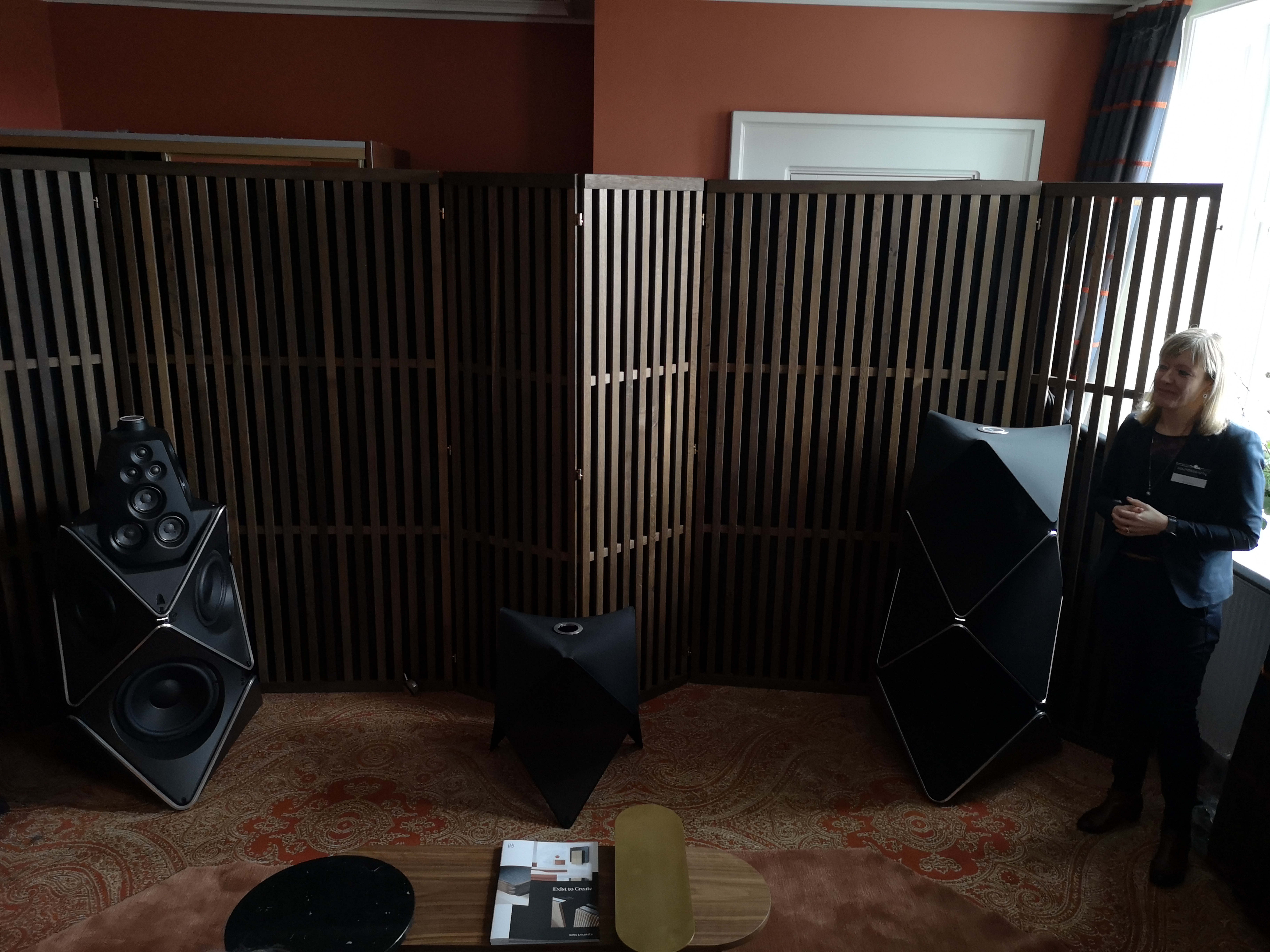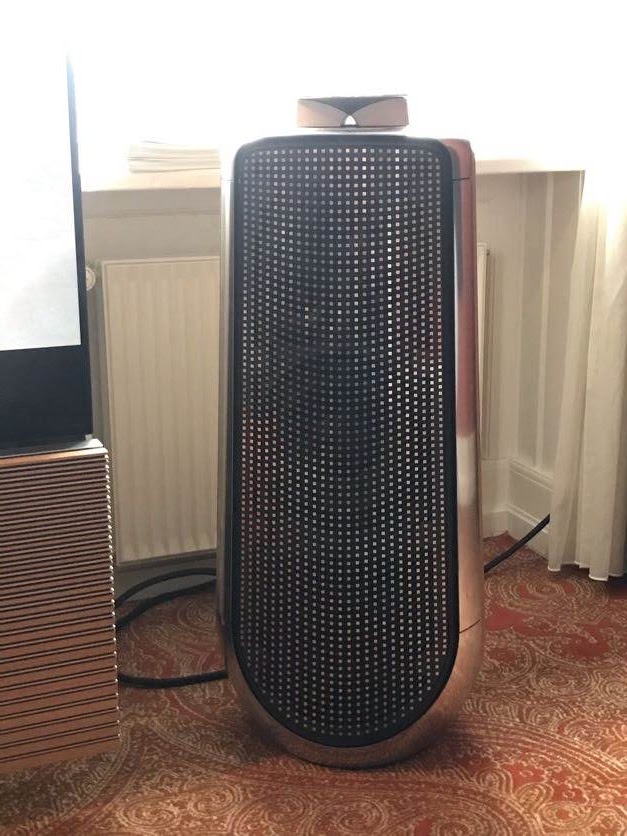 Sitting in front of the impressive looking and sounding Beolab 90 I recall a casual conversation I had at Axpona back in 2017. The conversation took place in the elevator after my visit to the Bang & Olufsen room. I mentioned this experience when I was asked by another gentleman in the elevator what impressed me on this floor. He concurred that Beolab 90 sounded amazing and asked me "Do you know what the source was?" Before I had a chance to answer he did so himself "It was a TV!".
The versatility of Bang & Olufsen's active speakers are indeed great. You can connect digital or analog sources of your liking or you can connect it to, for example, the new Beovision Harmony TV that was also on display to create a very well integrated system. Add another two small speakers for surround channels and you have a 5.1-ish surround system. Ish, because it does not really make sense to add a subwoofer. The TV's advanced Sound Engine will route the low frequencies to the most capable speakers in your setup. If you have Beolab 90, 50, or 5 they will be far more capable than most subs available for home use.
Bang & Olufsens Tonmeister Geoff Martin and his team did an impressive job with the latest generations of Bang & Olufsen products and if you are into dsp, audio theory and similar good stuff on an expert level I recommend you follow his blog available on tonmeister.ca/wordpress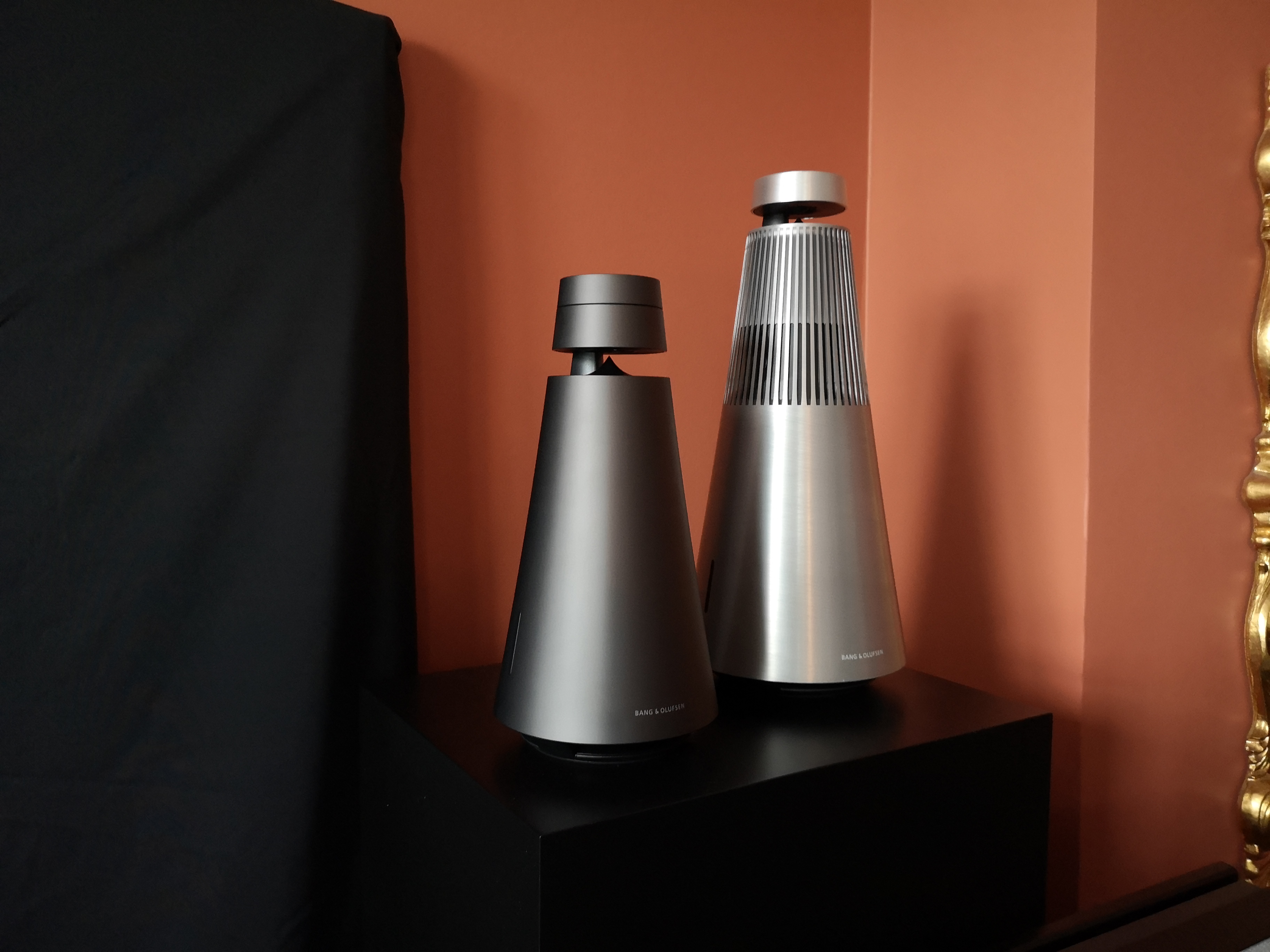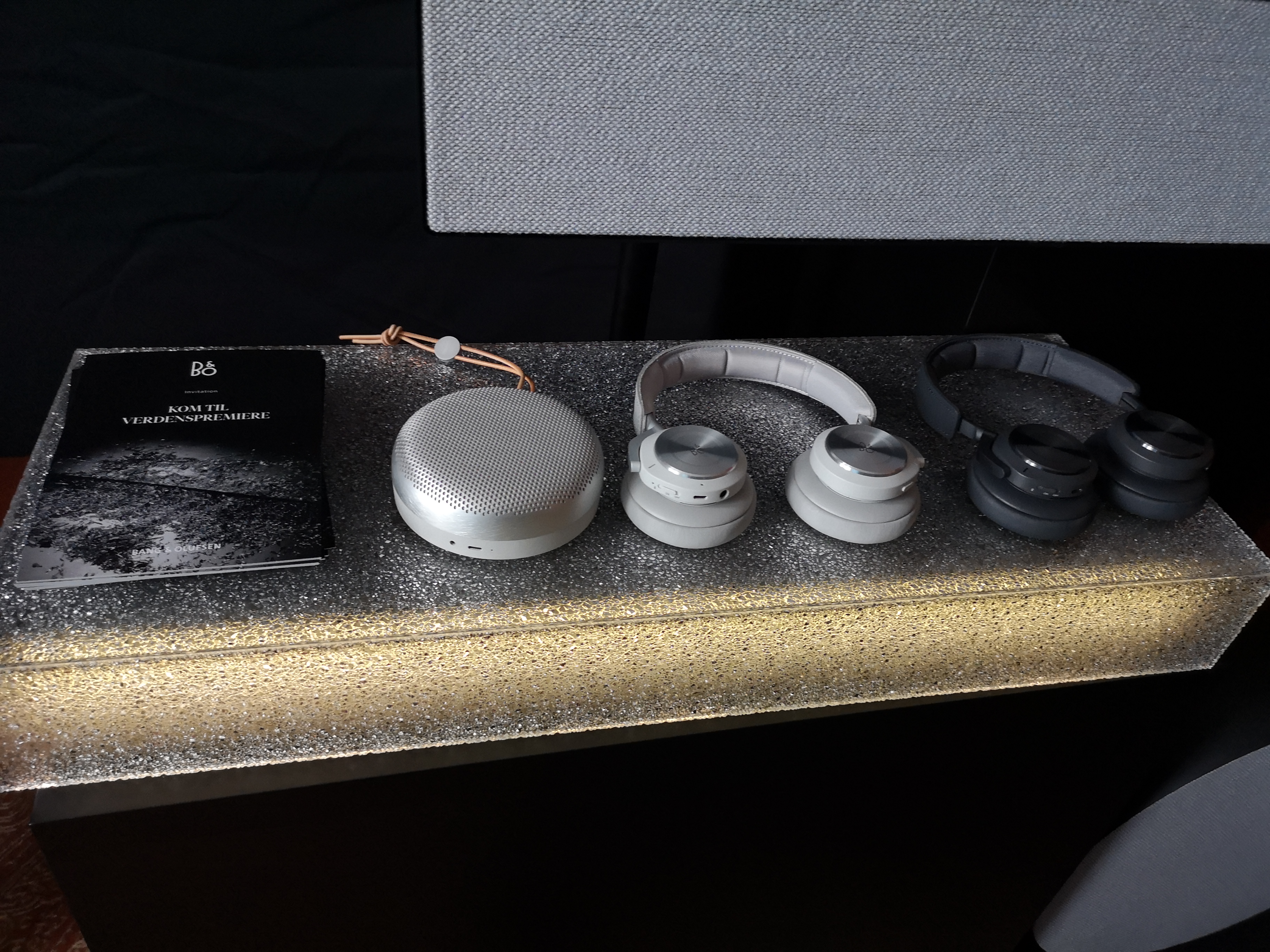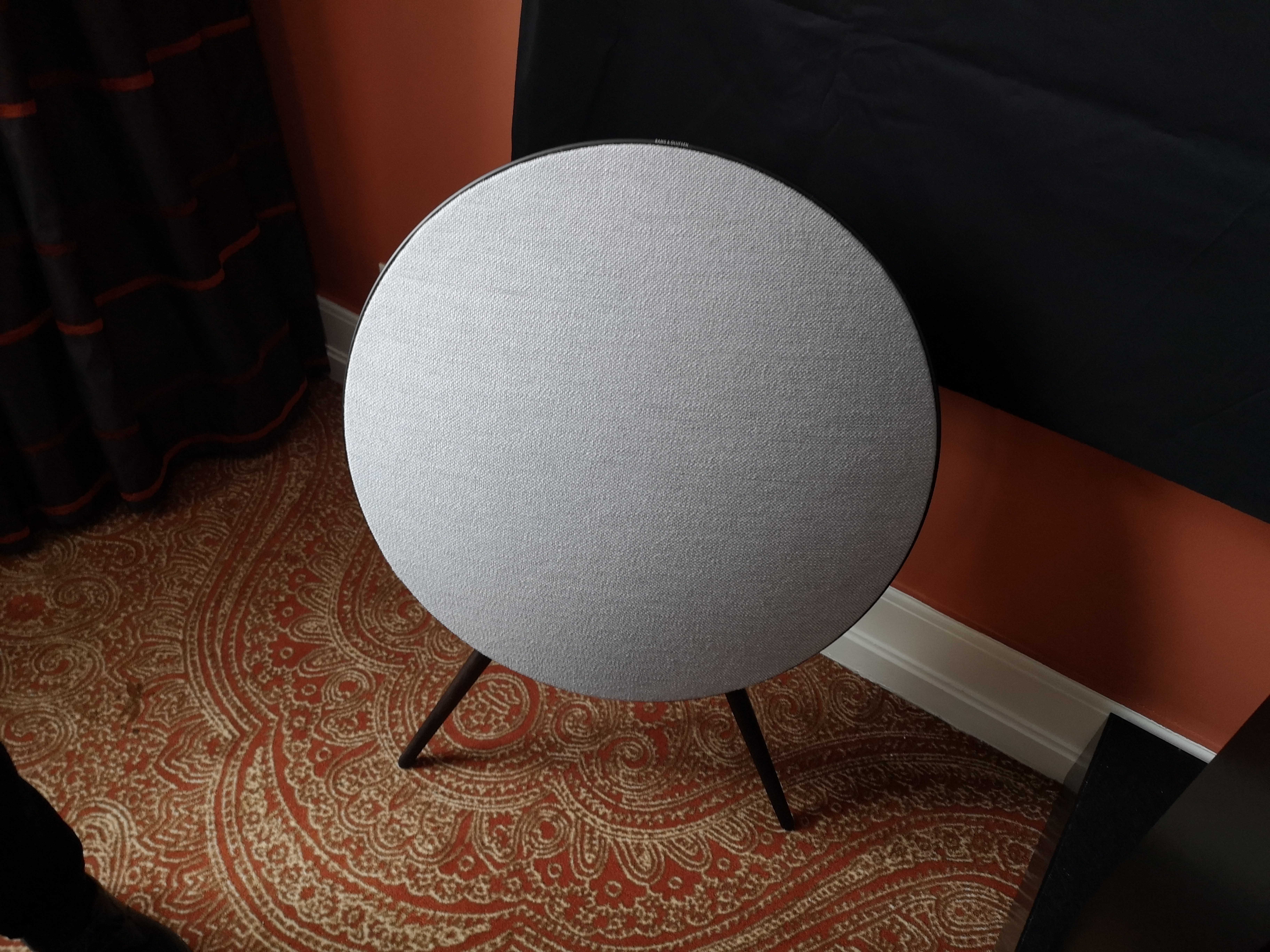 Lydspecialisten, Audiovector, and Primare
Lydspecialisten, another local shop, demonstrated speakers from Audiovector, electronics from Primare, and turntables from AVID.
The main setup comprised the new Audiovector R 3 speakers together with a Primare Pre35, A35.2, and R35 pre/power/phono amplifier combination and an AVID Volvere turntable. The resulting sound was alive and quite musical and we enjoyed this demo a lot.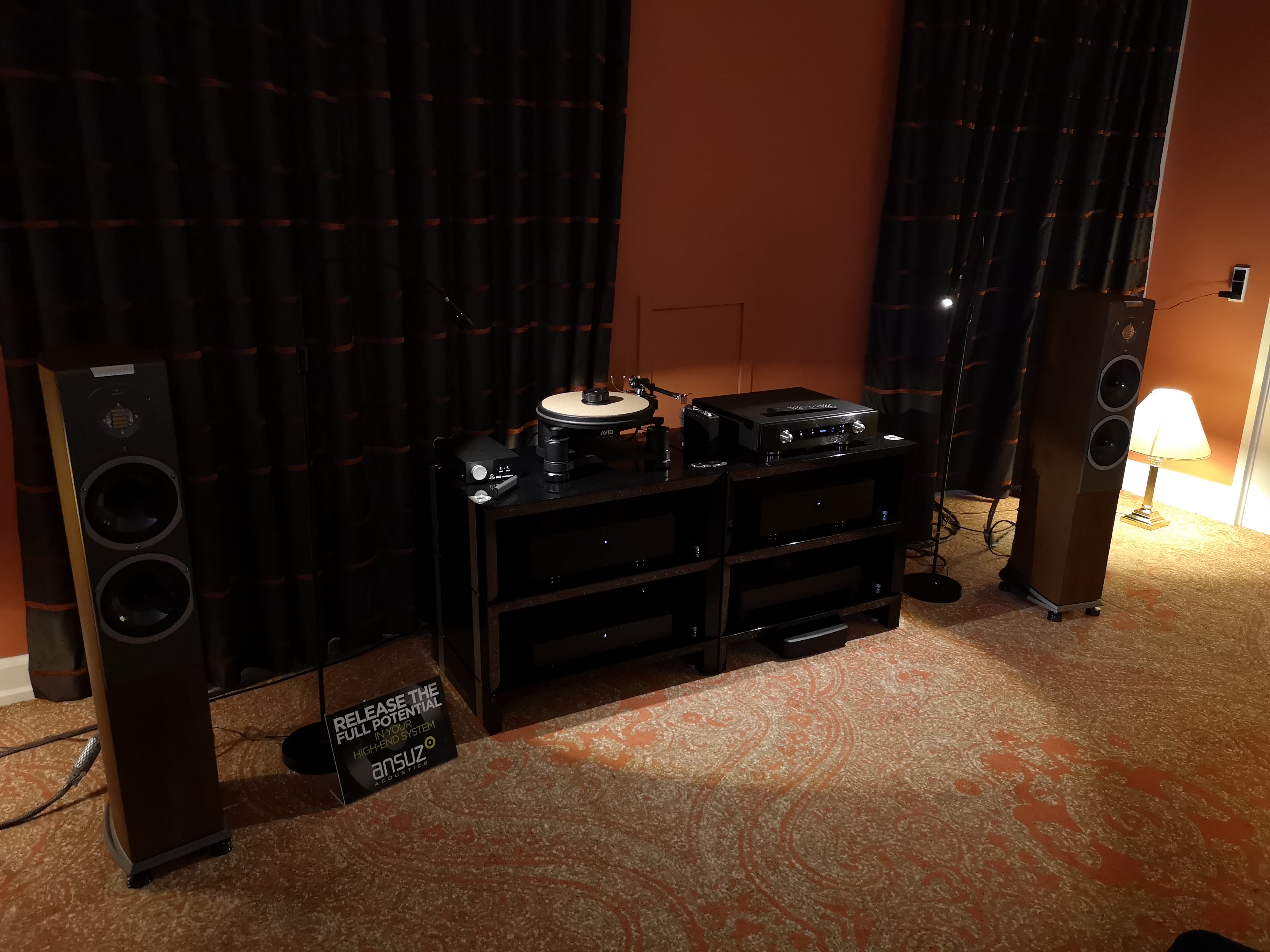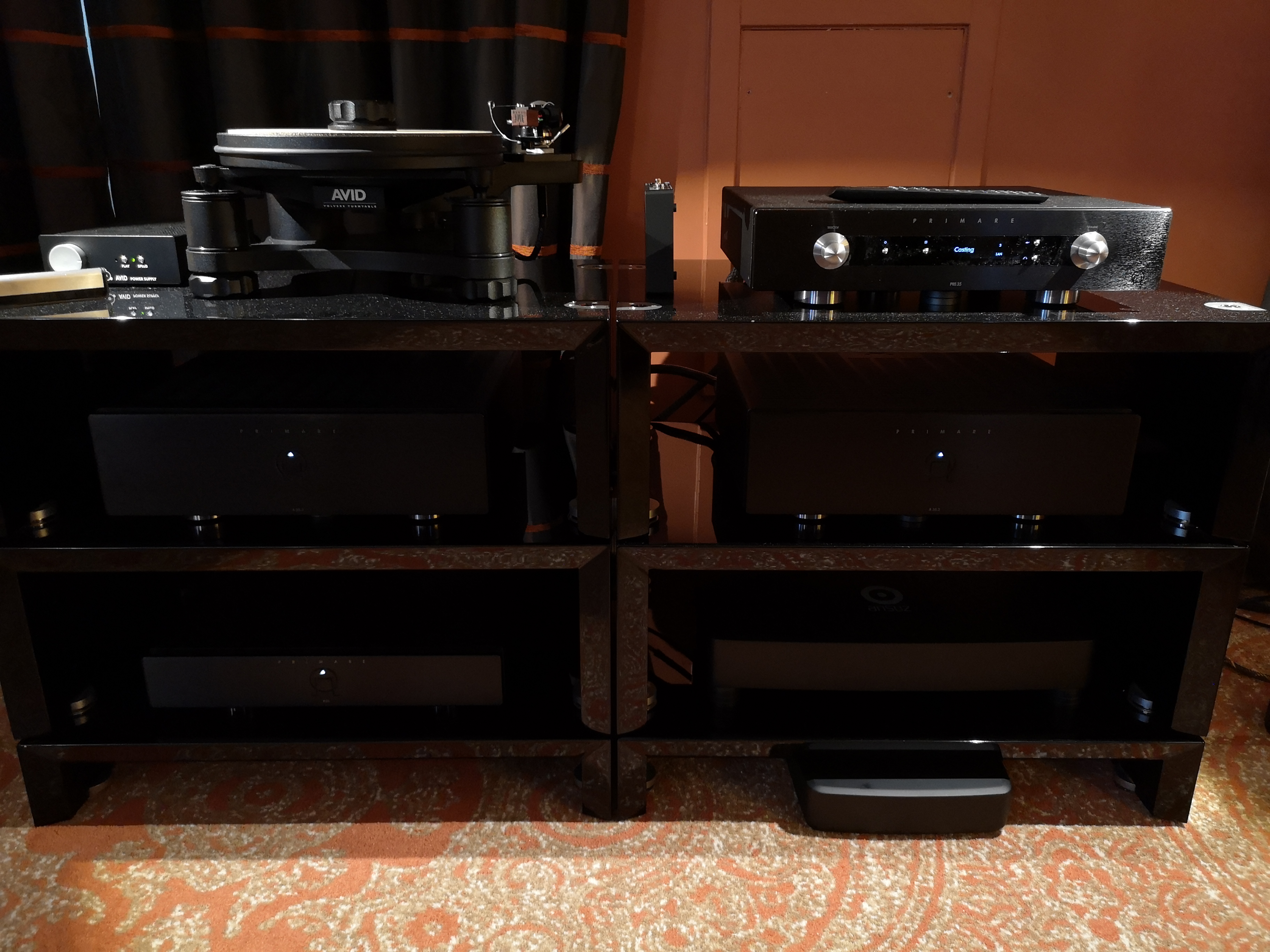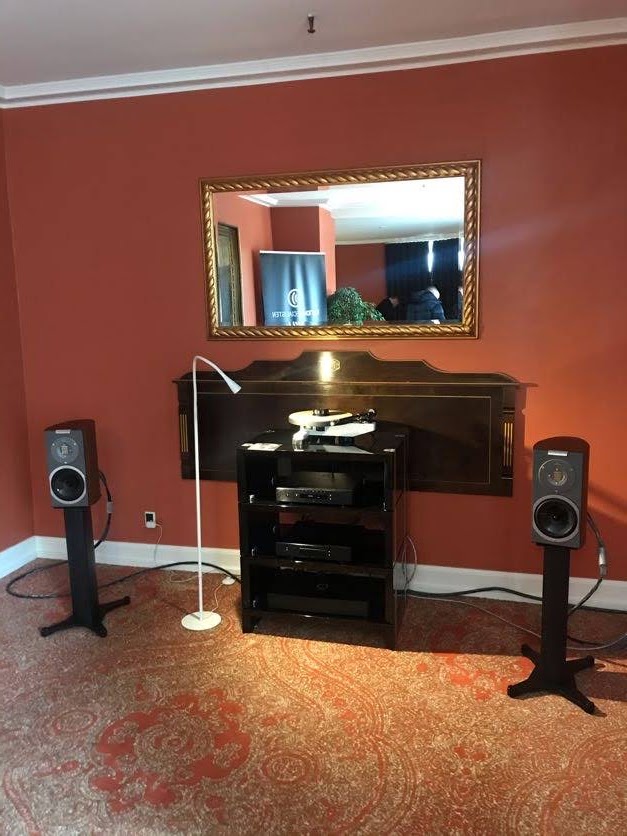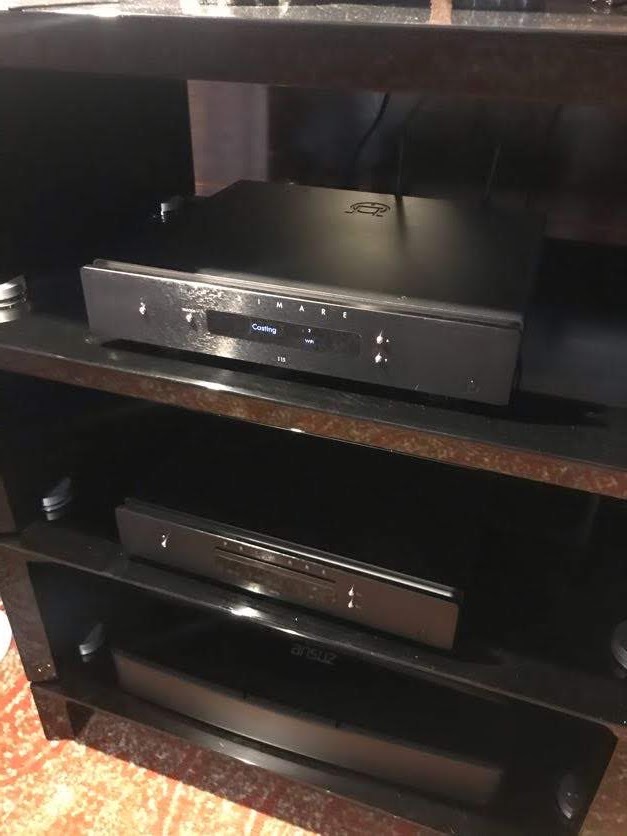 In another room Lydspecialisten had products from Ansuz Acoustics, Børresen Acoustics, and Aavik Acoustics on display. We did not hear this setup play, but we did marvel at the price that was in the 650.000€ to 700.000€ range. Impressive or not, definitely not for everyone's pocket!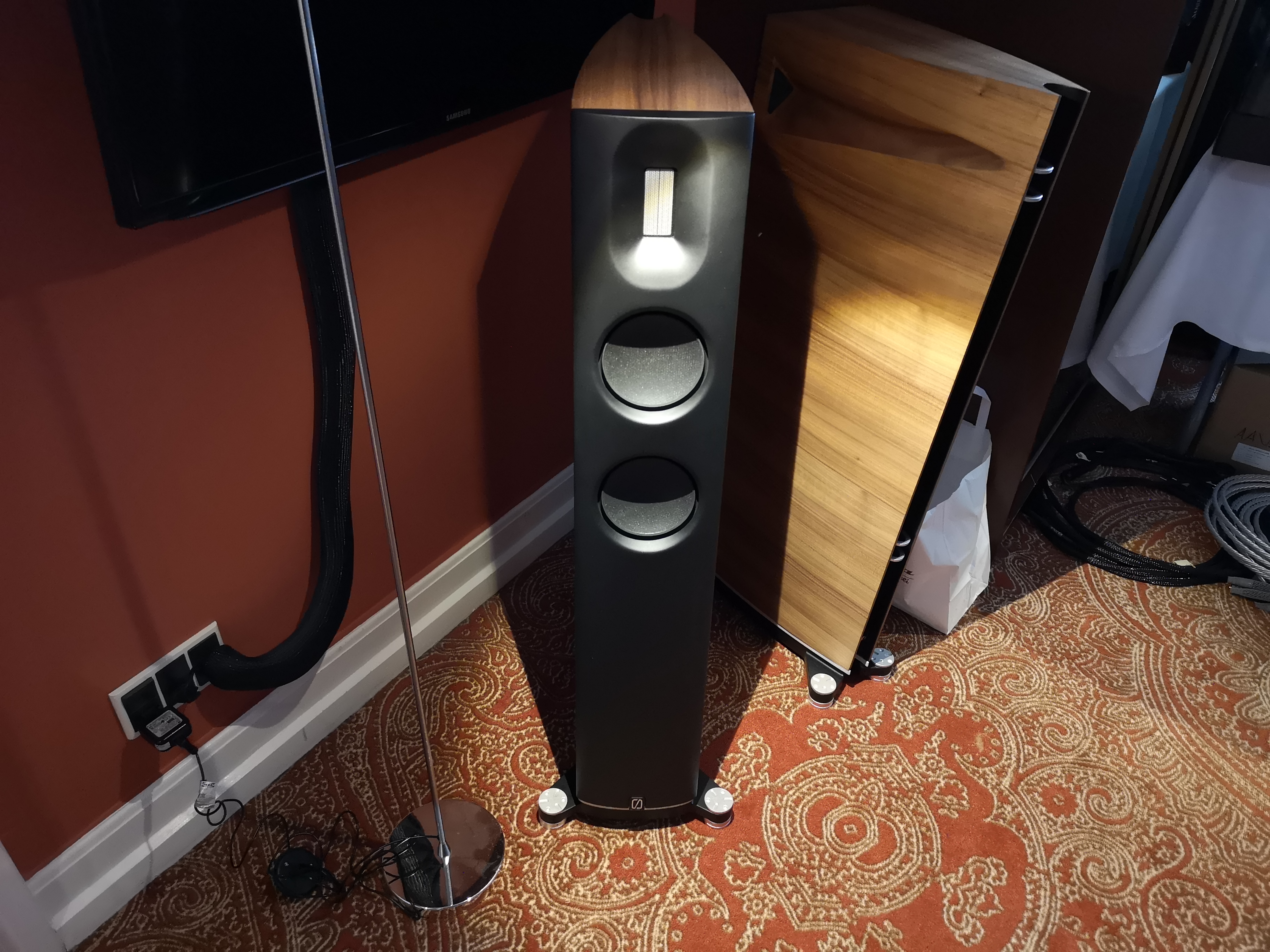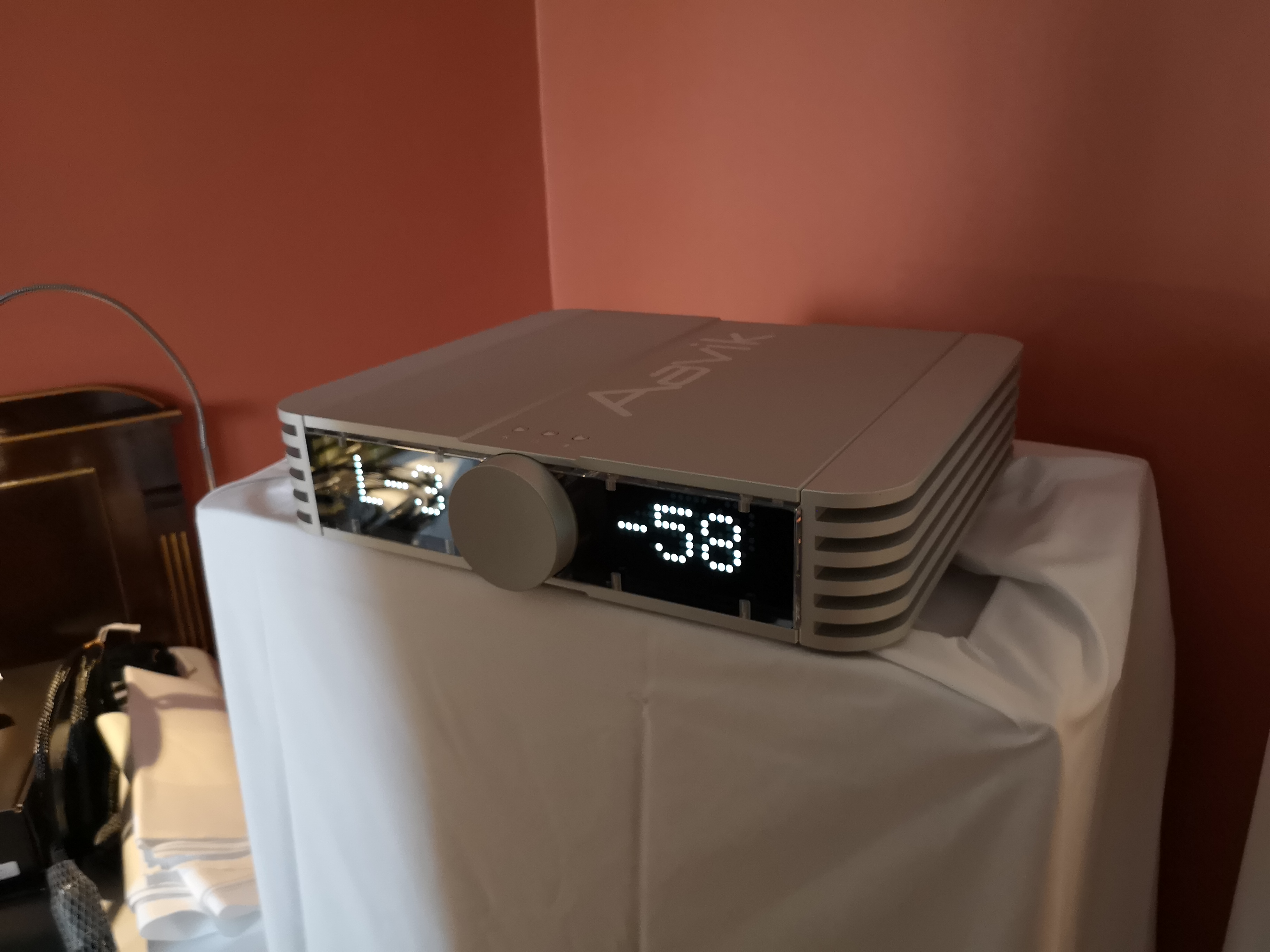 BUCHARDT AUDIO
Buchardt Audio used this show to premiere their advanced active wireless speaker A500 for the first time. Actually, they call the speaker a "flexible platform" that allows the user to use it for home theatre, a normal HiFi setup or for professional purposes. In order to reach the full potential, it is advised to pair the A500 with the Burchardt hub. Using the Hub you can connect turntables, TVs, PCs or CD players using cables, but you can also stream vie Spotify Connect, Chromecast, and Airplay. Furthermore, the Hub provides access to Burchardt's room correction.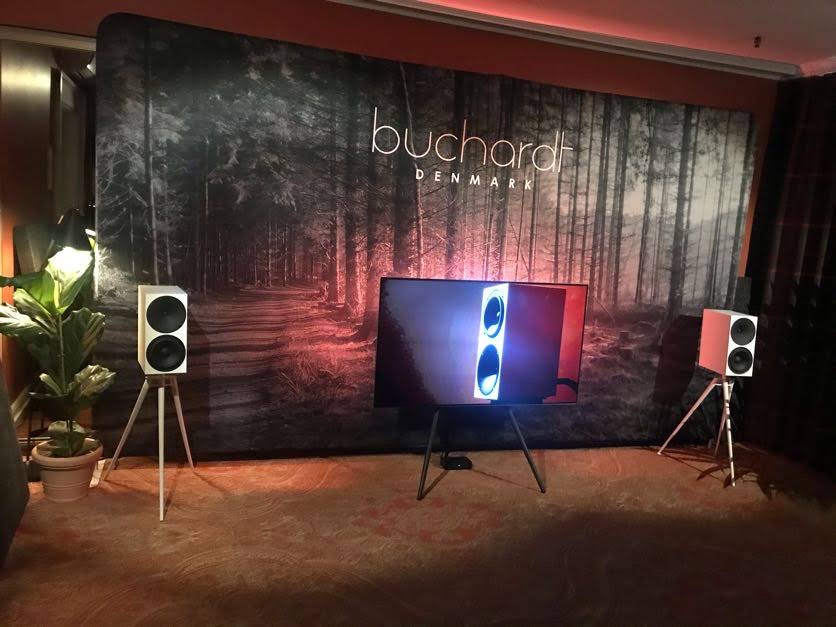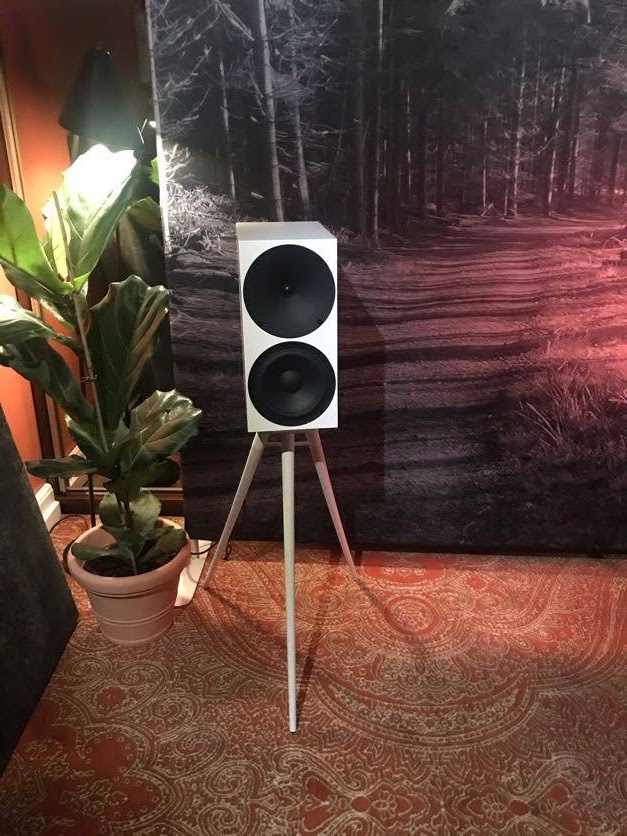 HIFI KLUBBEN
HiFi Klubben had a large presence at the show. They showcased several brands in three rooms, including Lyngdorf Audio, Hegel, Bowers & Wilkins, and Dali.
These brands all have a proven track record and always perform well. This time we particularly liked the Dali Rubicon 6 C floorstanding active speakers that seem to provide outstanding value for money.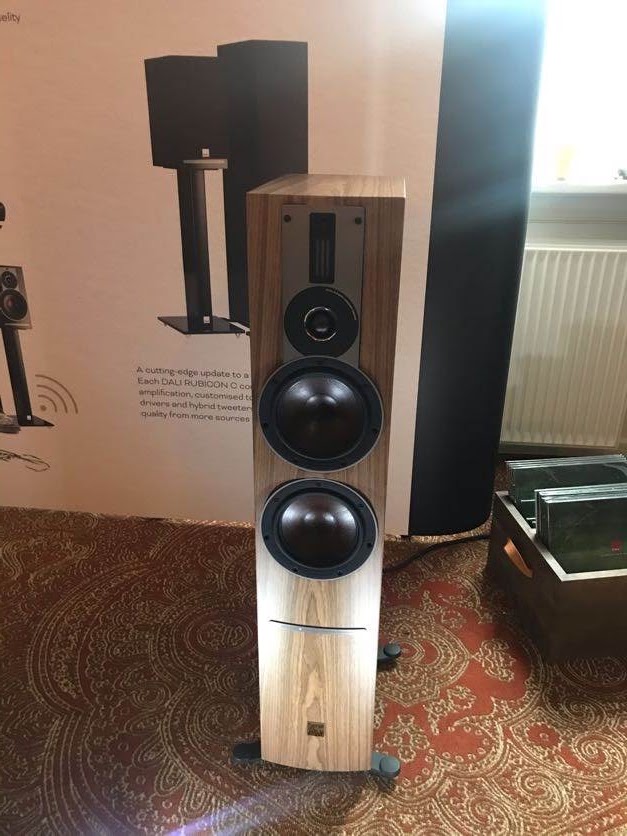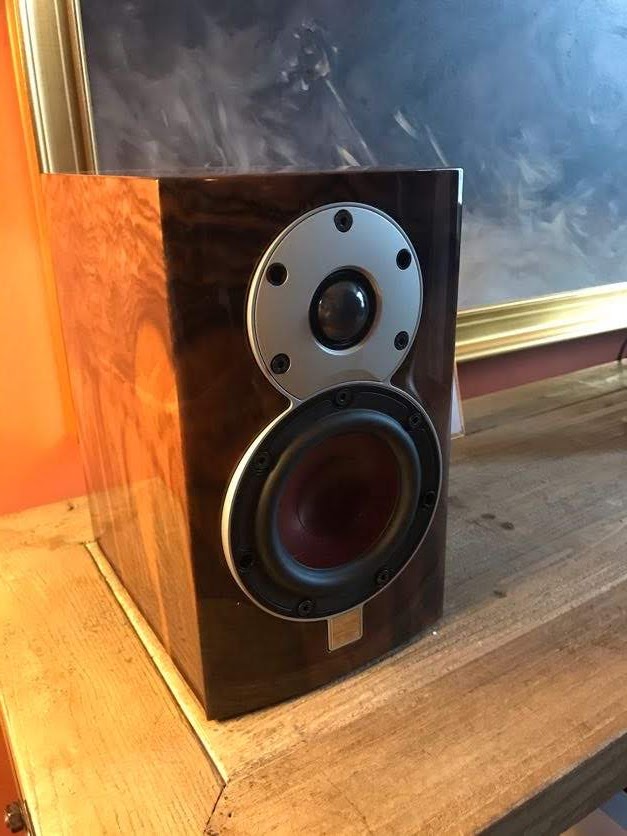 Sallingboe Audio
The relatively young shop Sallingboe Audio went all-in and presented an extremely high-end system comprising Fink Team speakers, ALLNIC Audio electronics, and a vintage DENON turntable.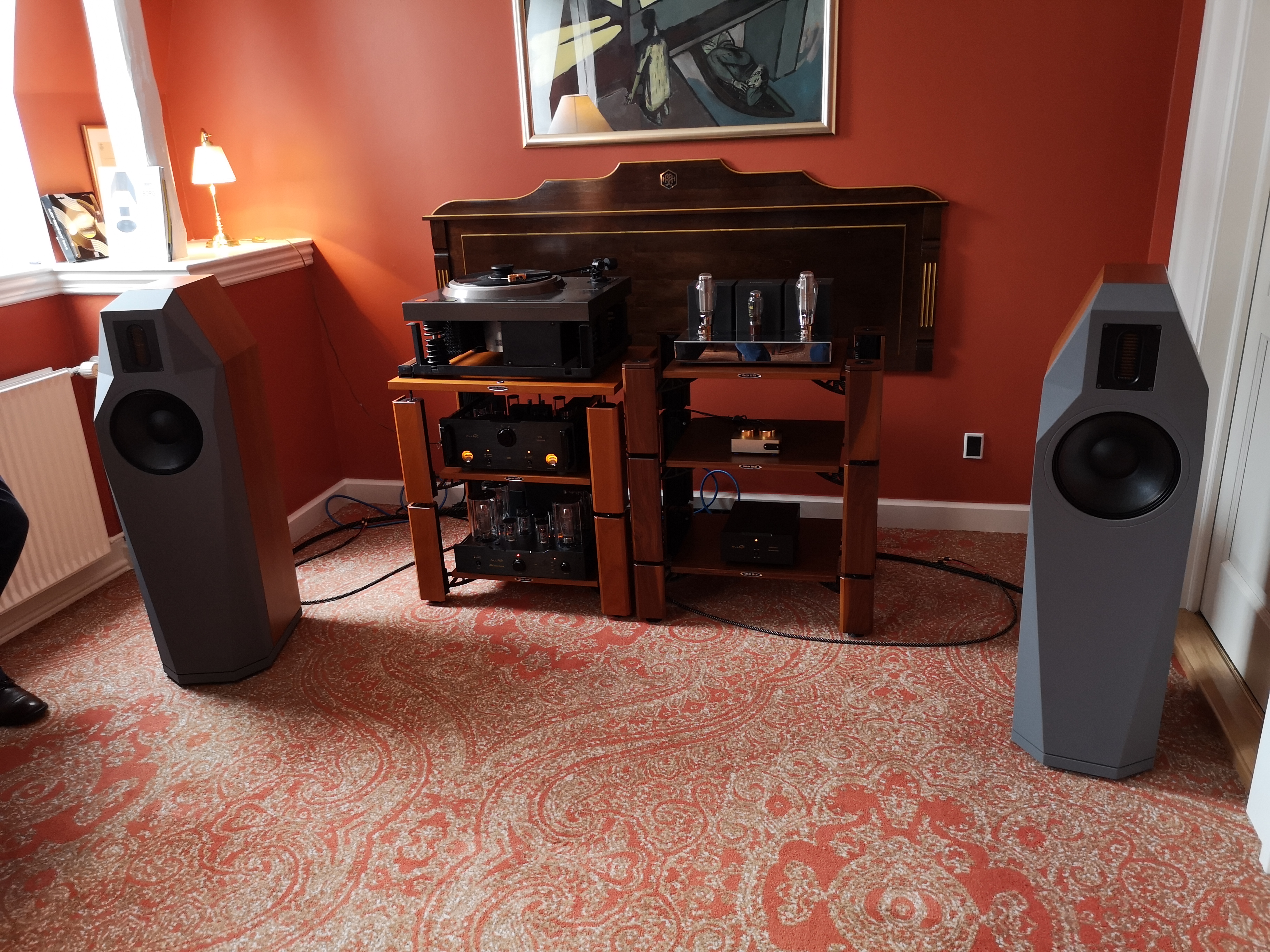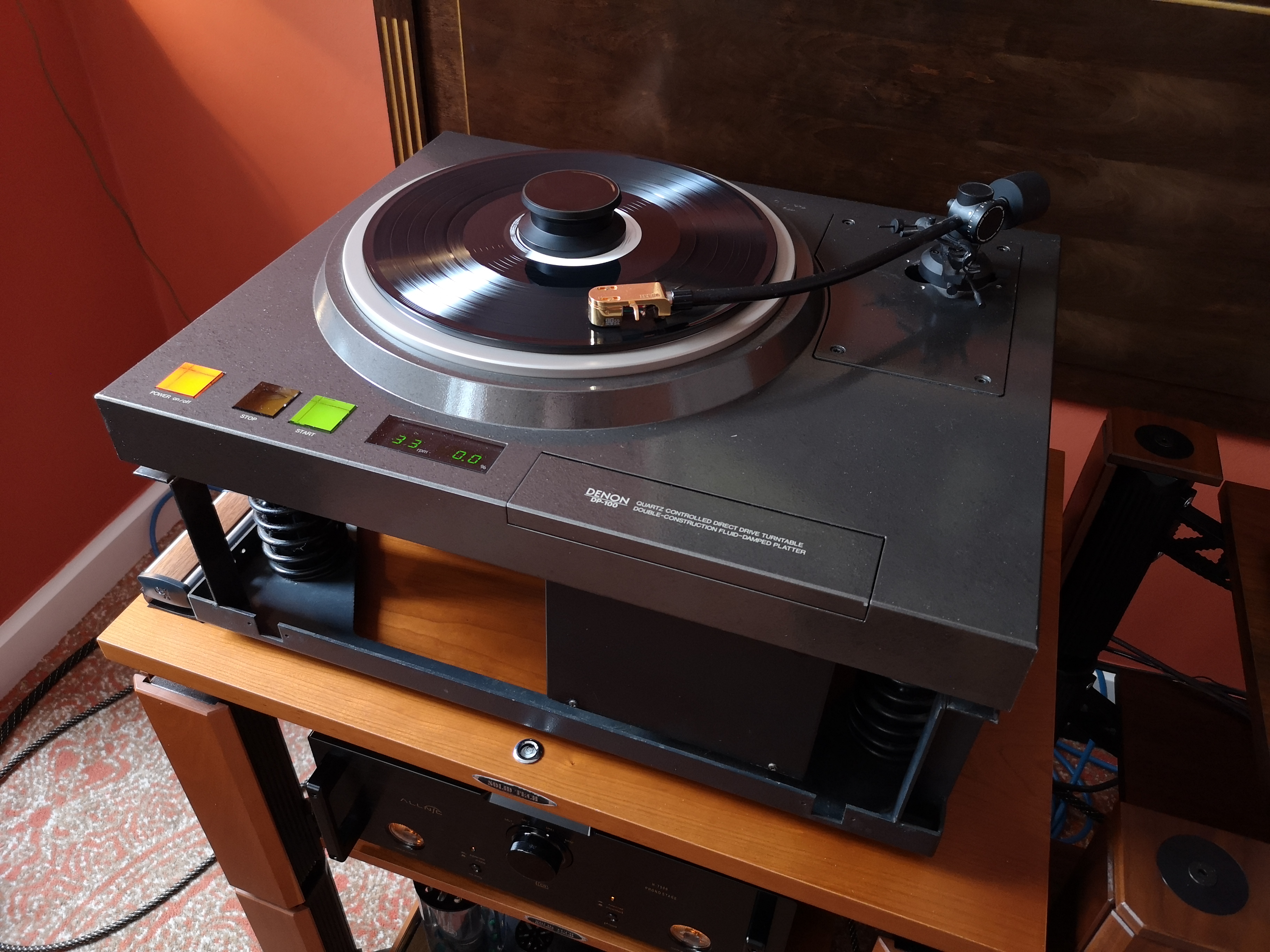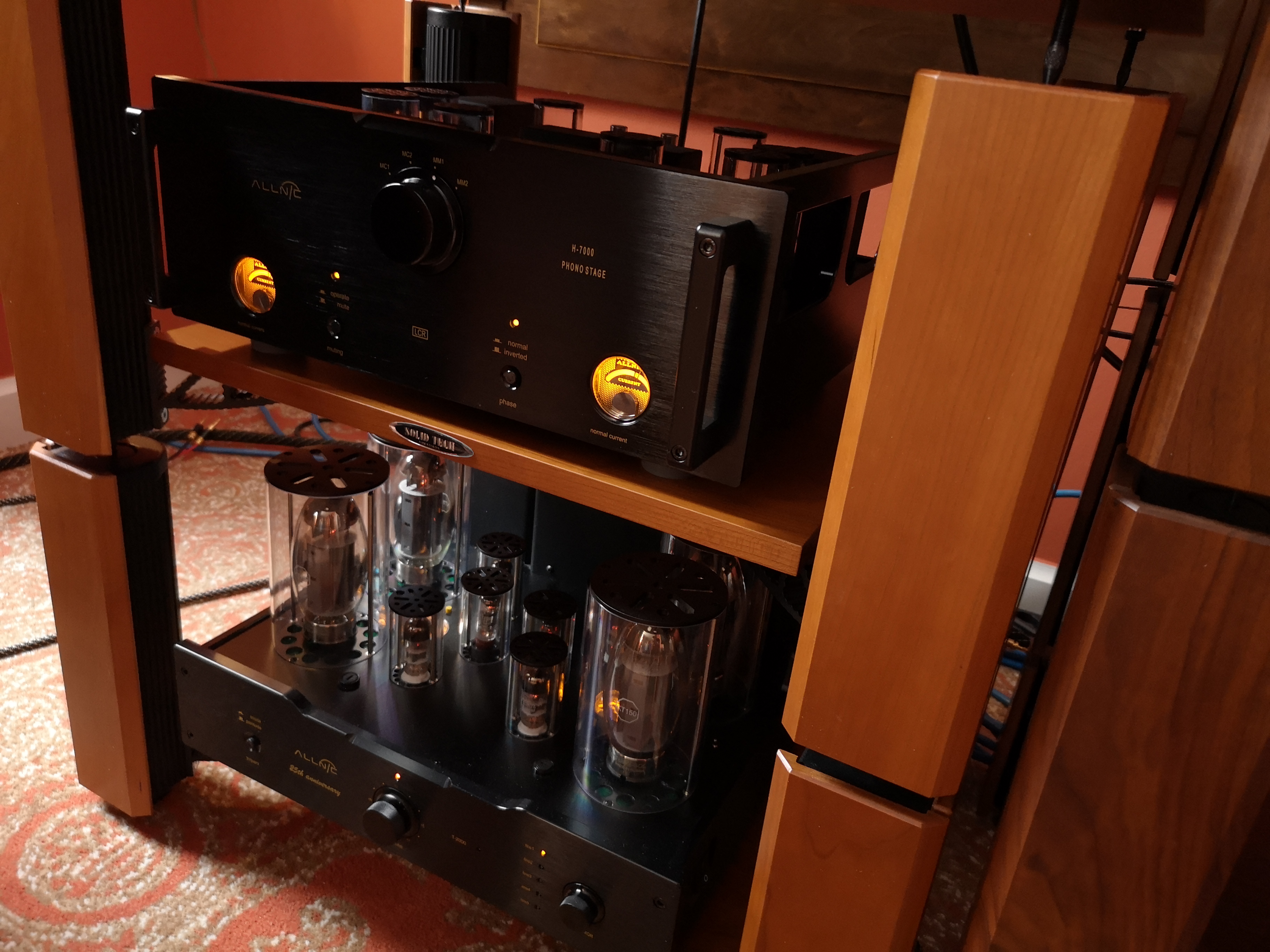 The sound was very musical (as it should be at a recommended retail price approaching 75.000€) and we enjoyed it a lot. The Fink Team Borg is clearly an outstanding loudspeaker, and the ALLNIC Audio amplifiers extremely capable, but for us the ultra-rare ultra-highend DENON DP-100 turntable was the star of the room. It is amazing what a 40 year old turntable can do - if it is the right turntable..
Lydbutikken
The Copenhagen based shop lydbutikken also made their very best effort. They showcased a system comprising speakers from Harbeth, electronics from MANLEY and Parasound, and a turntable from Fletcher Audio.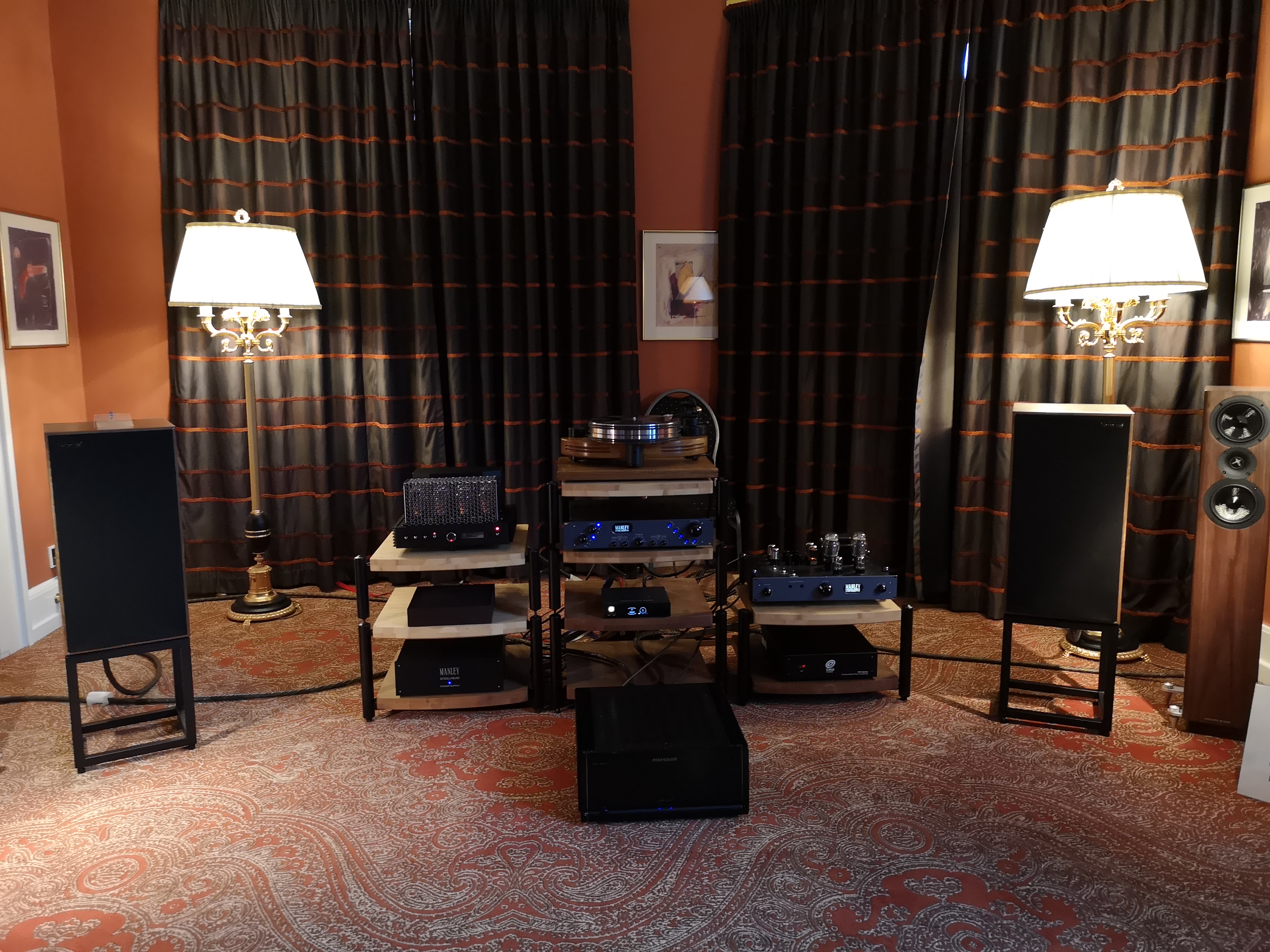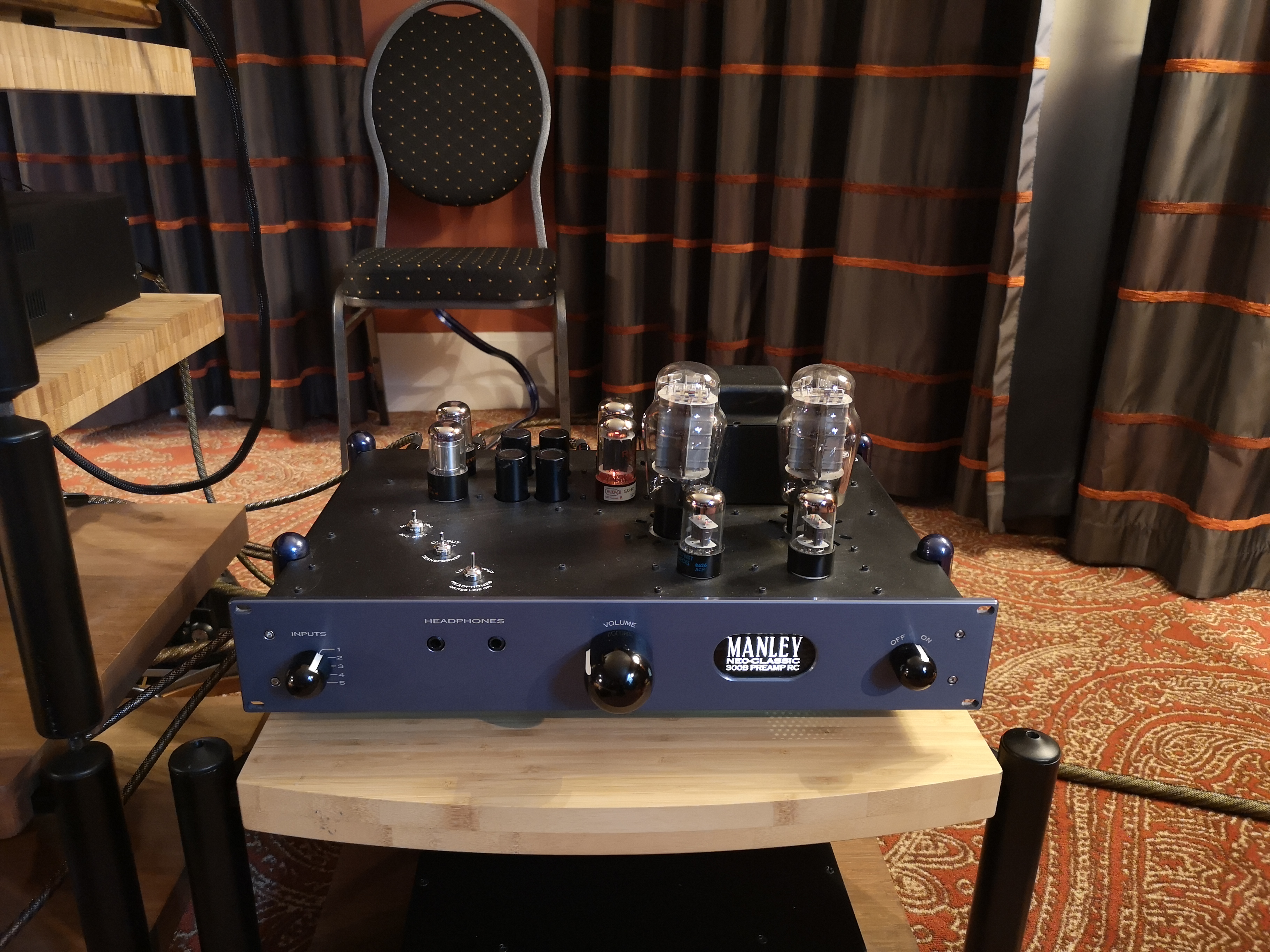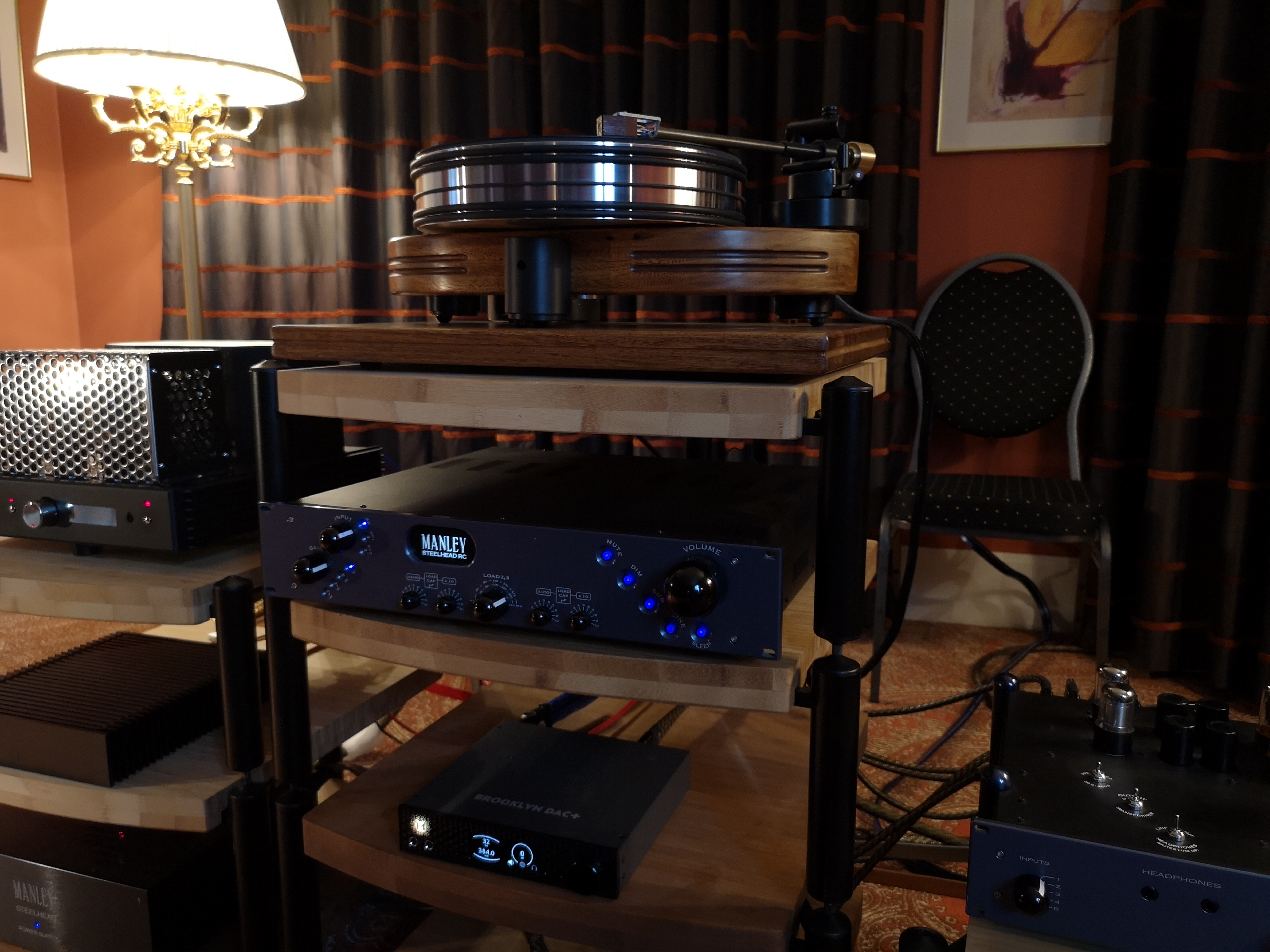 The setup was very musical and probably one of the best sounding at the show. As always the Harbeth Monitor 40.2 proved itself to be a very natural sounding speaker. Natural sounding can also be said for the Fletcher Audio Omega Point 5 turntable and the mounted high-end Grado Reference cartridge. Phono preamplification was handled by the MANLEY Steelhead and line-level preamplification by the MANLEY Neoclassic 300B - both very transparent. Power amplification was handled by a Parasound Halo JC5 powerhouse. Very desirable - now if we only had 75.000€ lying around somewhere..
Medlyd
The Danish distributor medlyd demonstrated a setup comprising speakers from Scottish Fyne Audio and electronics as well as a turntable from Rega.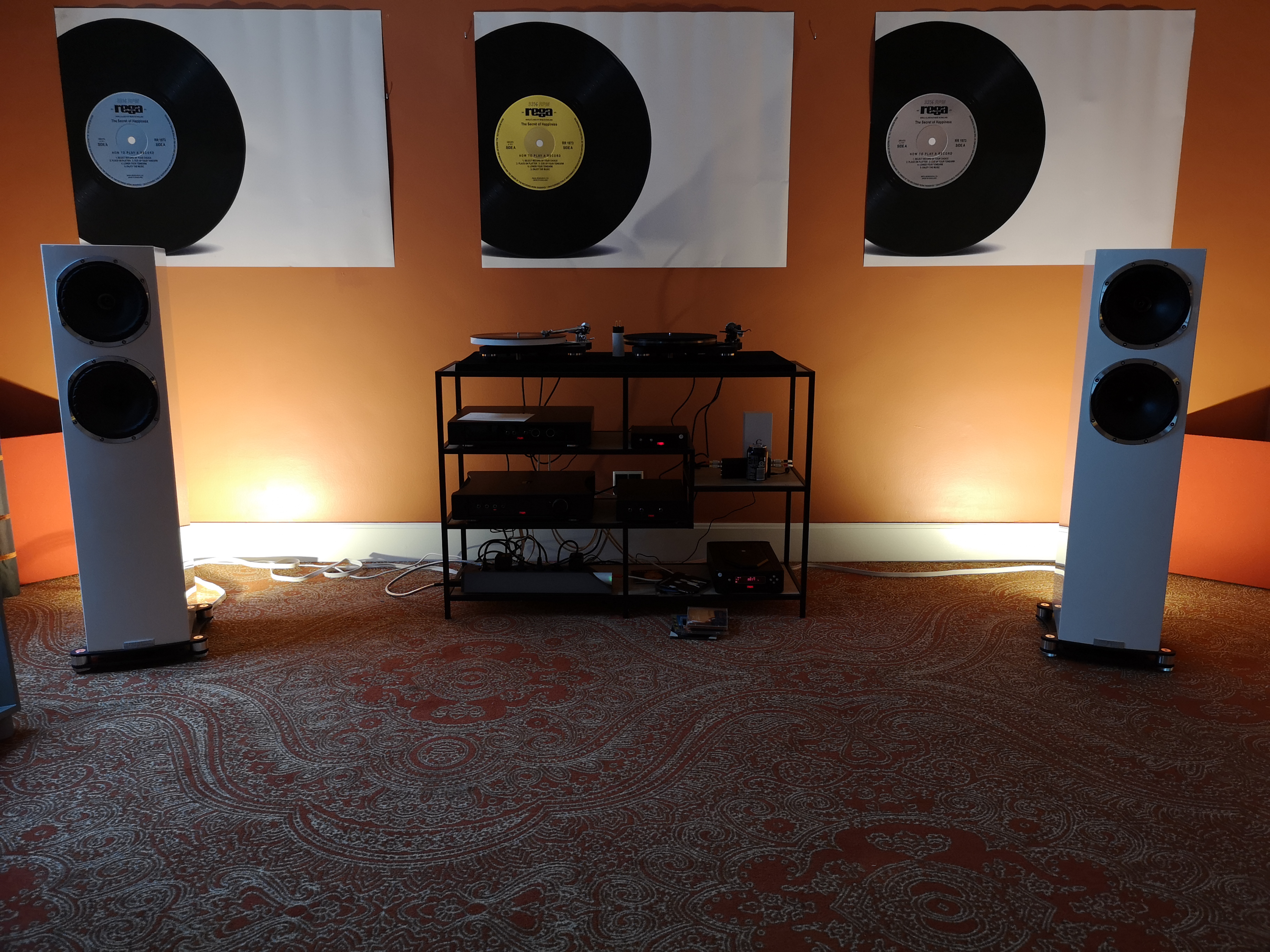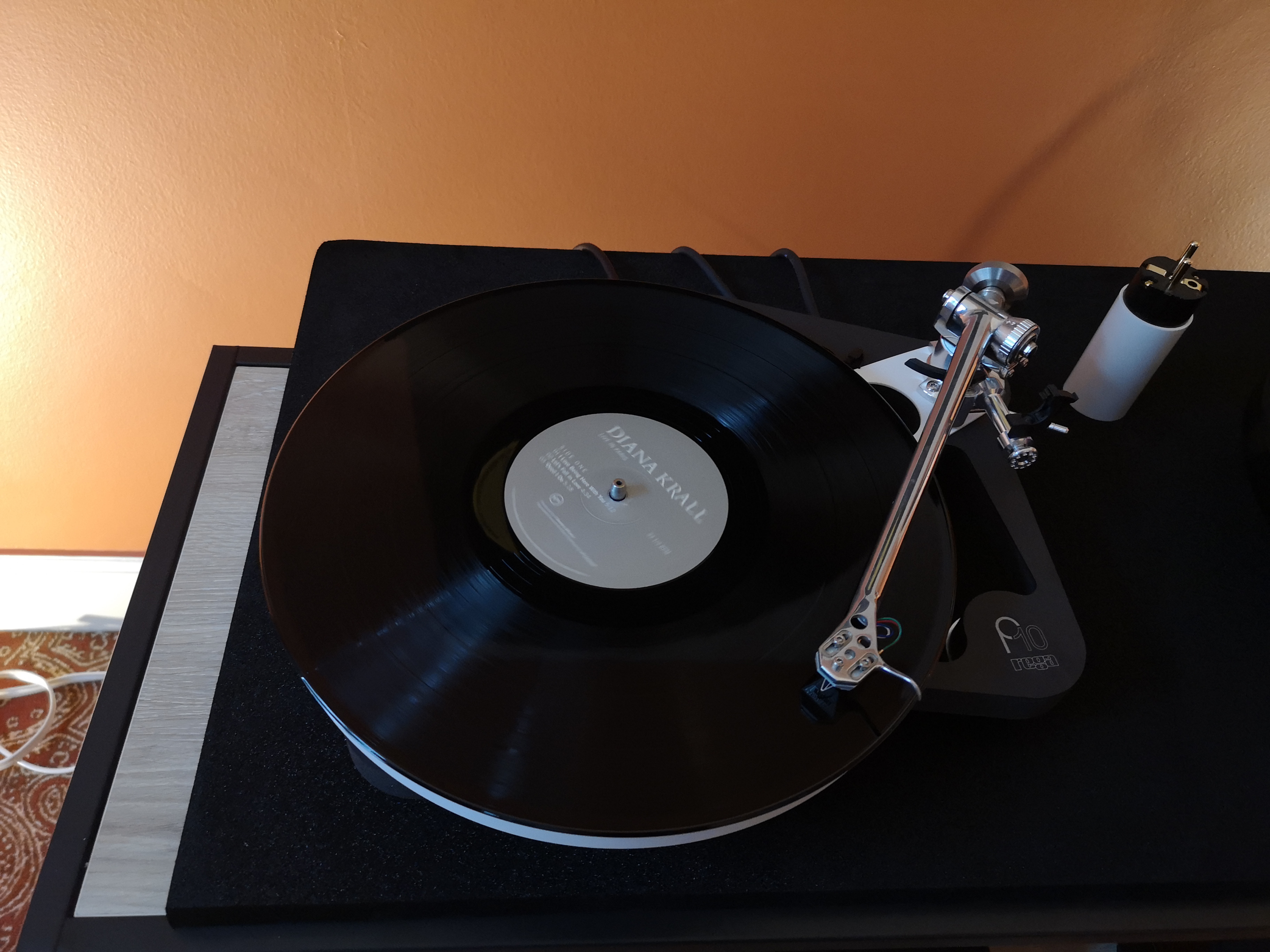 This was another quite musical system. The Fyne F502 speakers sounded natural and dynamic. The Rega electronics supported them well and the Rega P10 turntable was clearly extremely competent. The P10 seems to be popular too, as it was seen at several demos around the show.
Honorable Mentions
At the show, visitors could experience many other HiFi and high-end brands, talk to the local dealers and enjoy demo rooms. In the following we will give you a quick run-down, supported by images, of some of the ones that we did not manage to cover in detail:
Scandinavian Audio Systems showcased several manufacturers, including Nordost Cables and ELAC.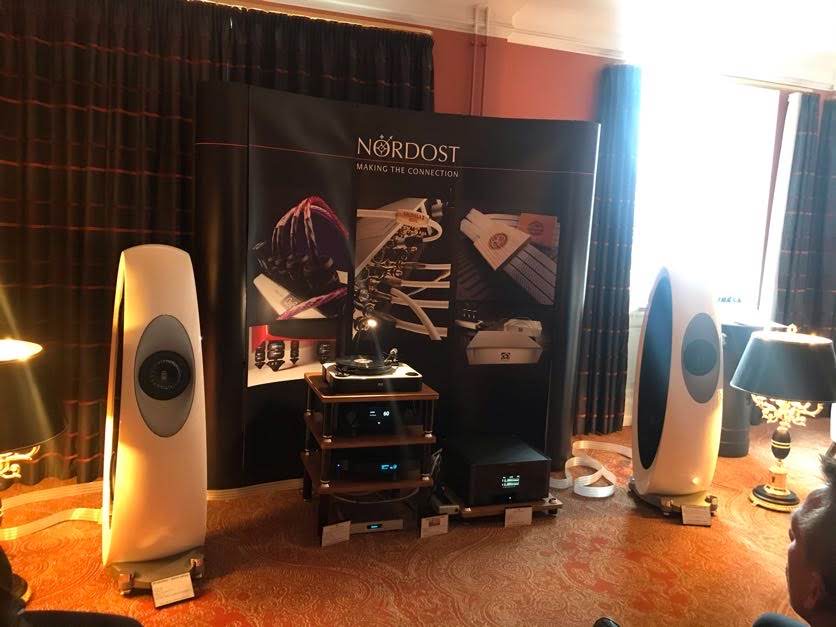 Harman Luxury Audio showcased Revel's Beryllium floorstanding speakers that sounded superb. They were powered by the Mark Levinson 5000 series.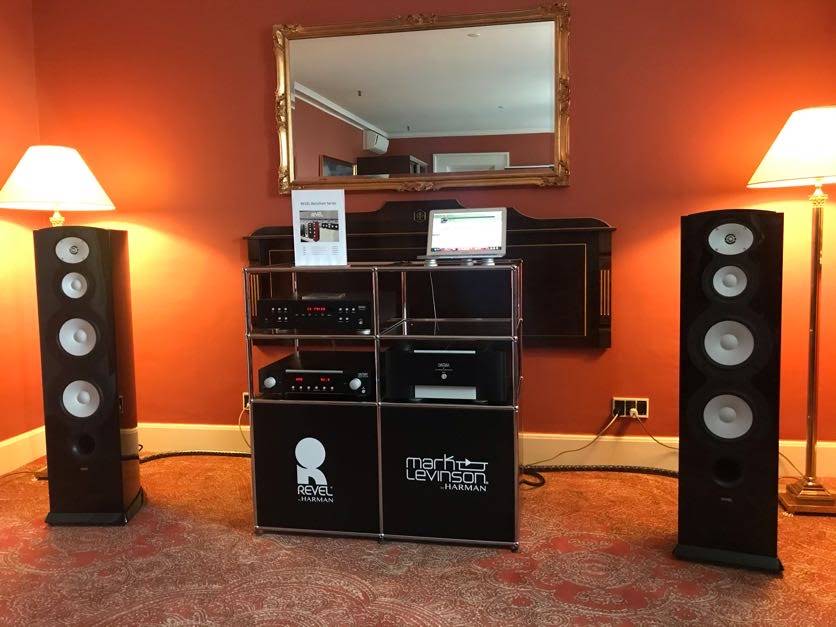 Technics was also present at the show with several products. Visitors had a chance to see the Technics SL-1000R and SL -1200G turntables, as well as the SB-G900 speakers and the new SL-G700 CD player. No surprise, the sound system performed very well.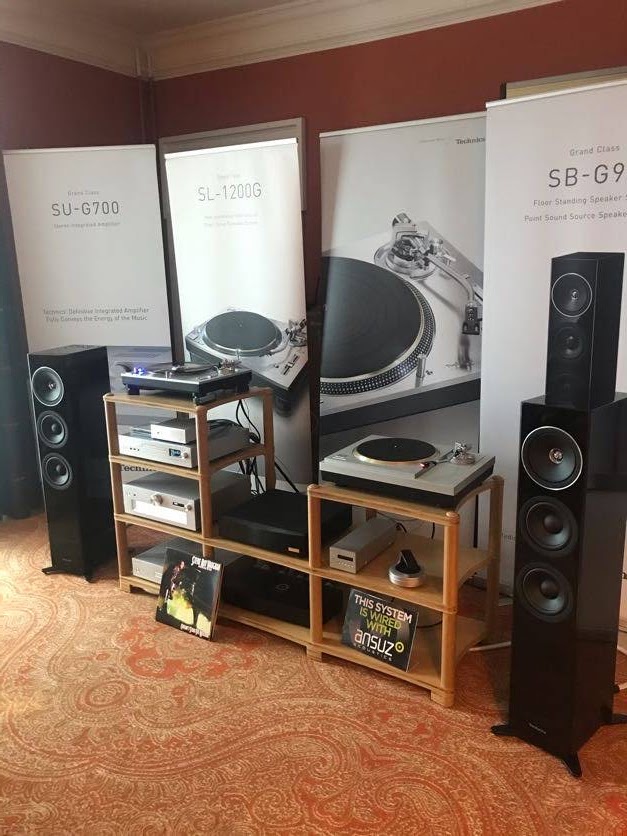 Dynaudio was there with the Evoke family of speakers that we already had a chance to listen to earlier this year. They also had a demo room where the Confidence series was showcased.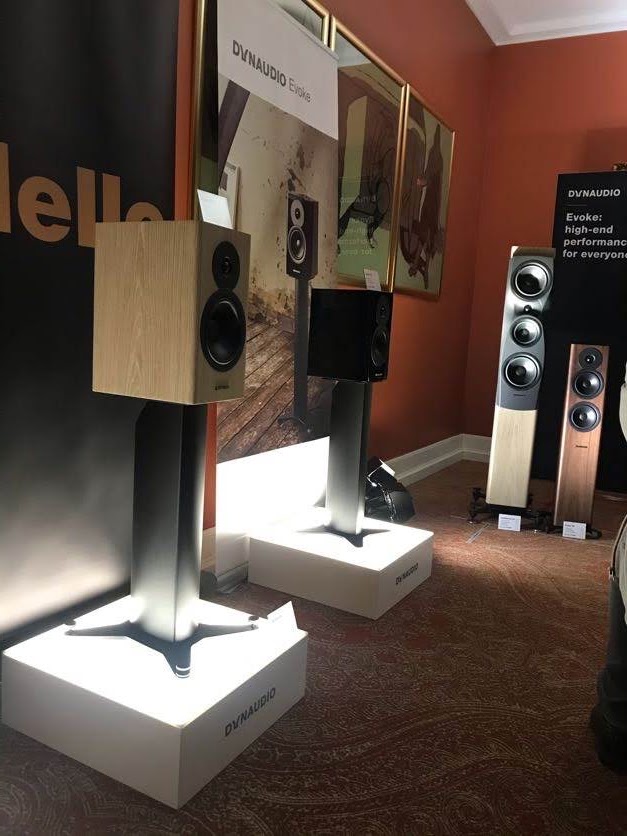 Ortofon showcased their phono cartridges, including the MC Anna Diamond that uses a diamond cantilever that, when combined with the Replicant 100 diamond tip, offers extreme speed and transparency.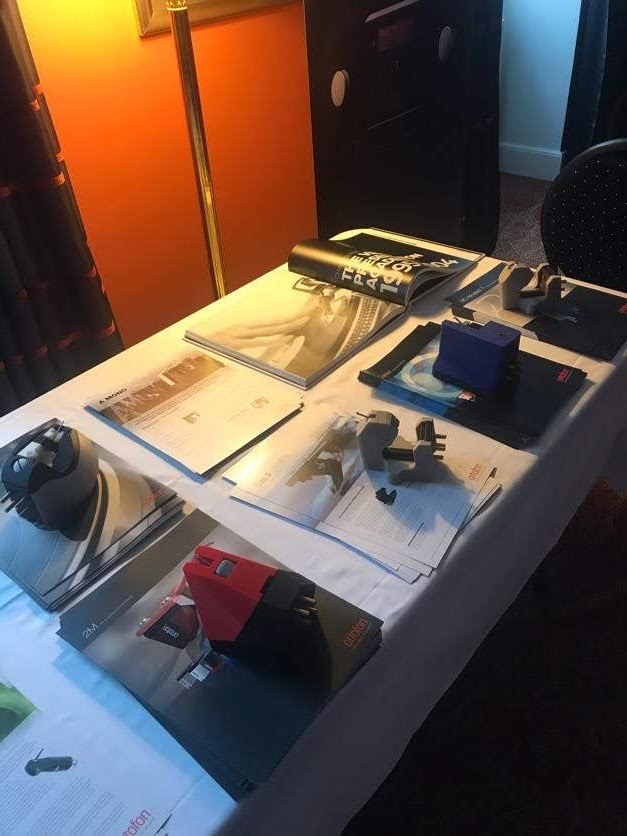 An award-winning speaker, Harman Kardon 500 from the Harman Citation family was also presented at the show.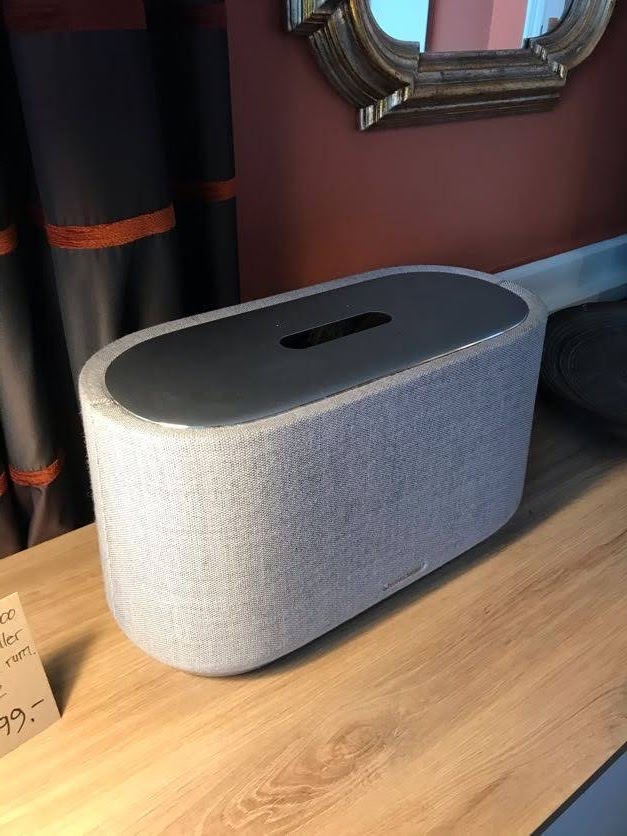 The Danish vinyl shop Renvinyl.dk showcased the Nessie vinylmaster cleaner.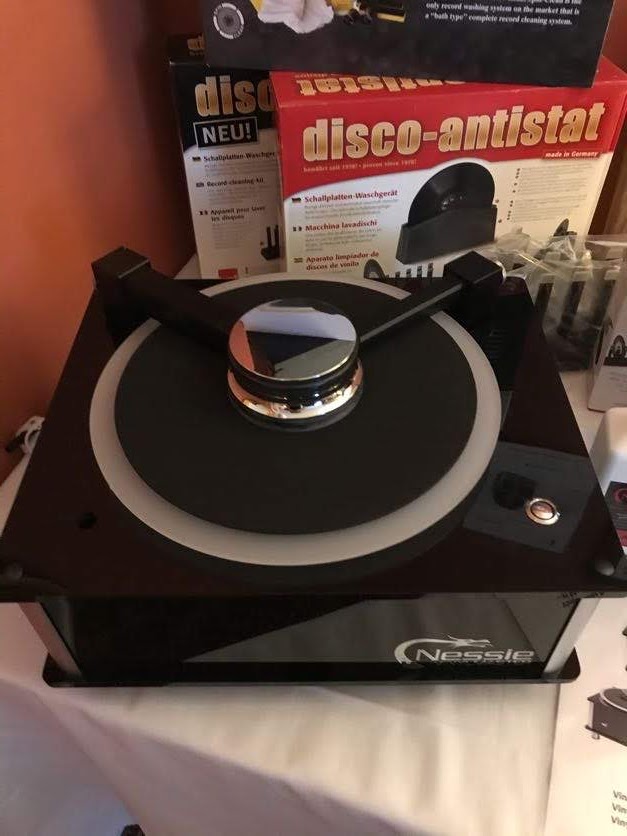 Share article