We are happy to announce that the Dutch auction specialist Catawiki has invited Hifishark.com to co-host a curated auction of premium range Hi-Fi and radio equipment. The mission of Catawiki is to offer an exciting and problem-free experience for buyers and sellers of special items that are otherwise difficult to find. At Hifishark.com we aim to provide a one-stop gateway to the world of second-hand Hi-Fi and help our users locate hard to find items while providing total global price transparency. These missions are well correlated, and we are happy to work with Catawiki on the hosting of this auction.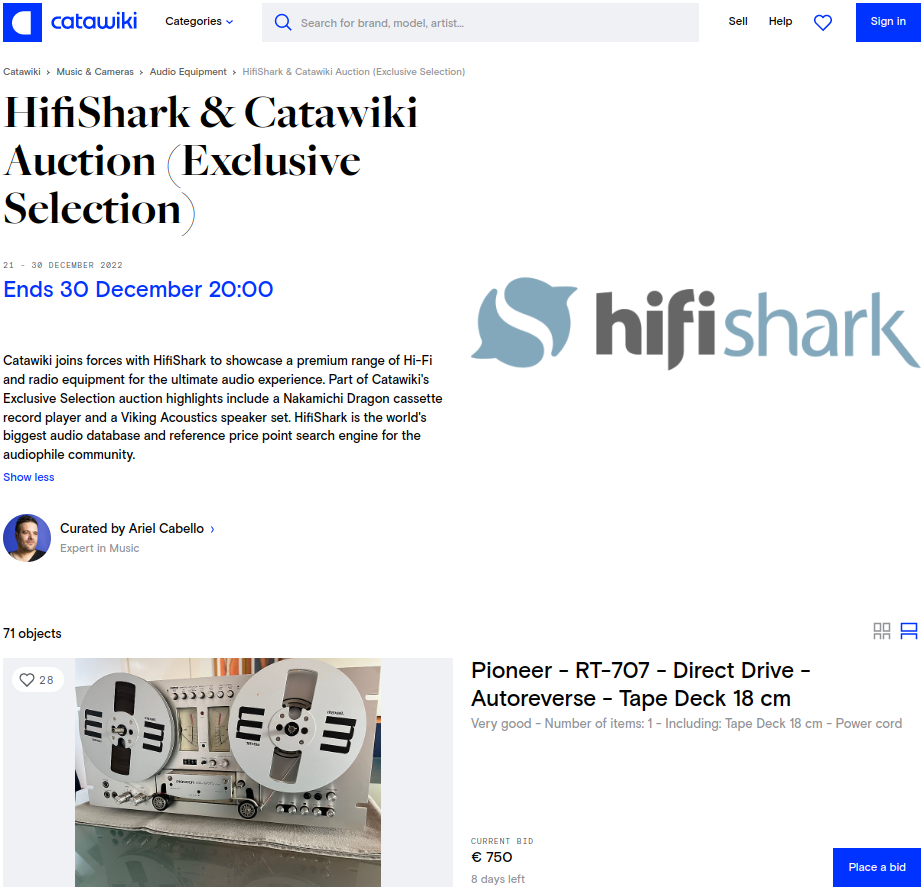 Catawiki is the most visited curated marketplace for special items in Europe and, as evident in the below examples, their profound expertise is clearly reflected in the exclusive selection of items in this auction. Note that links to specific items in the following are affiliated. Catawiki will track your use of these links in order to gouge the success of our collaboration and reward us for referrals that lead to sales.
Brionvega RR126

The Brionvega RR126 is a world-famous Italian design icon designed by Pier Giacomo and Achille Castiglioni in 1966. This anthropomorphically shaped piece of technology is a status symbol of the 60s and one of the most sought-after pieces of modern art from the 80s and 90s. It is currently exhibited at the Triennale of Milan, the Victoria & Albert Museum of London and the Museum of Modern Art of New York.

Nakamichi Dragon

The Nakamichi Dragon may be the most well-remembered cassette deck of all. In 1983 it represented the absolute pinnacle of the Compact Cassette format's performance. The DRAGON remained the de-facto recording standard until cassettes got replaced by digital tapes and recordable CDs.

Thorens TD124

The Thorens TD124 is probably the most highly regarded of the classical Thorens turntables. First produced in 1957 it is not exactly a youngster, but it remains a favourite amongst both vintage aficionados and audiophiles due to its classic look and great sound - what else could you want.

Viking Acoustics L'Instrument

The Viking Acoustics L'Instrument is something as unique as a classy looking American horn loudspeaker. While there are plenty of good American horn speakers (Klipsch anyone), they rarely have the looks to rival Italian designs - this one does.

Zingali Acoustics 2x Client Name 1.5 Evo

When talking about horn loudspeakers of Italian design the Zingali Acoustics 2x Client Name 1.5 Evo is a classic example. Zingali has specialised in this type of products for 35 years, and they cetainly know how to combine great sound with good looks. A word of warning: They will not come cheap.

Technics SP-25

For fans of Technics Direct Drive turntables this specimen of the Technics SP-25 could be the holy grail. The superb drive comes in a superb looking original Technics SH-15B3 plinth and with an original Technics EPA 501h tonearm. For most vinyl listeners this would be all that you would ever need - a pinnacle of reliability and firm reproduction.


Share article