The Danish high-end manufacturer Lyngdorf Audio has carved itself a solid name in the field of purely digital audio amplification. Many will remember their groundbreaking first all-digital offering, the TacT Millennium, that was released in the late 1990ies when Lyngdorf Audio was really just half of TacT Audio Inc. This product was arguably a true milestone in digital audio.
Since then Lyngdorf Audio has released a steady stream of amplifiers that all retain the main technological breakthroughs of the Millennium: Fully digital amplification (Equibit), essentially being powerDACs, and absolutely noiseless and compressionless volume control achieved by modulation of an extremely low-noise power supply rather than the signal itself.
As time has progressed Lyngdorf Audio have added some further tricks to the bag. Most notable is their RoomPerfect room correction system that they claim to be the best available. The advanced signal processing capabilities required for the RoomPerfect system has also made the addition of an advanced bass management system allowing the perfect integration of two subwoofers an obvious choice. Naturally, a company as technology driven as Lyngdorf has also used each product launch as an opportunity to add more features for connectivity, flexibility and convenience.
Introducing the new Lyngdorf TDAI-1120 Streaming digital amplifier
The latest addition to the Lyngdorf product family, the Lyngdorf TDAI-1120, was officially launched in a webcast on September 2, 2020. Unsurprisingly, it seems to be their most technologically advanced and feature rich product to date. Very surprisingly, however, it is also the smallest and most affordable amplifier by far to ever come out of Lyngdorf Audio.

Priced at only 1995,- euro it still contains every core technology ever devised by Lyngdorf Audio as well as more wireless connectivity and streaming options than any predecessor. At first look the only notable compromise made by the TDAI-1120 compared to its older and often several times more expensive siblings is power - the TDAI-1120 outputs 2x60W into 8 ohms and 2x120W into 4 ohms. The older siblings TDAI-2170 and TDAI-3400 both appear significantly stronger.
Being Hifishark we know the second hand market for the predecessors of the TDAI-1120 very well. We have to say that the pricing of the new amplifier is remarkable. Basically, the price is low enough to compete well against the current crop of second-hand offerings. So when given the opportunity we could not resist the opportunity to test the new unit and judge for ourselves if it really is remarkable. Read along to learn what we found and let us just be honest about it from the beginning - we are impressed.
First of all the TDAI-1120 packs a lot of functionality into a box of modest size. We are talking 30 x 25 x 10 cm so it fits easily onto a shelf or into a cabinet. According to the safety instruction only 5 cm of air is needed around the device, so you can place it very freely. The fact that the cabinet does not have ventilation holes is a testament to the efficiency of this digital amplifier. We were never able to push it to a point where the cabinet felt even lukewarm.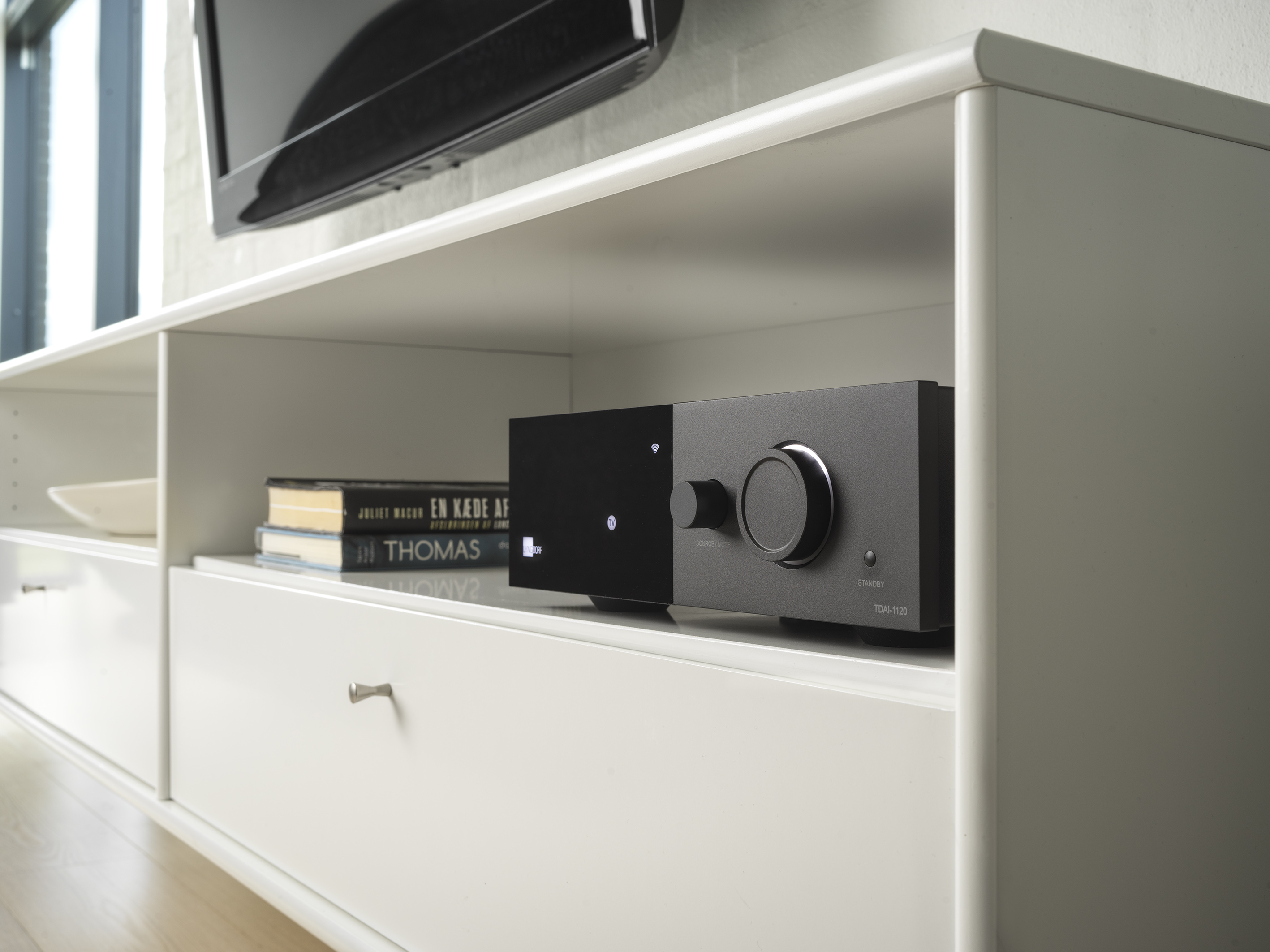 Despite its small size, the TDAI-1120 offers new functionality not previously seen in a Lyngdorf amplifier. Here we are thinking of the streaming capabilities. Built-in Chromecast is seen for the first time in a Lyngdorf. In addition we also get Spotify Connect, Roon Ready, AirPlay2, Bluetooth connectivity, vTuner (Internet radio) and network/local file playback. We tested the digital capabilities primarily using Chromecast to stream Tidal and that works very well. We are long time users of the Chromecast Audio and have been quite happy connecting them to all sorts of equipment using the digital output. However from a usability perspective this integrated device offers substantially more. After adding the TDAI-1120 to a Google Home, the device simply turns up as a Chromecast output device in Chromecast enabled apps like Tidal, Deezer, Spotify and many more. When selected in the Tidal app the amplifier turns on, changes input source to Chromecast and starts to play after a few seconds. When adjusting the volume in Tidal, the volume knob on the Lyngdorf lights up to show volume turning up or down. With an external Chromecast audio we would usually leave the Chromecast volume at max and adjust the volume on the amplifier. The integration in the Lyngdorf is just so much more convenient and once you get used to this kind of convenience it is hard to go back.
Plenty of old fashioned physical connections are offered on the back of the unit too. Digital sources are accommodated via two coaxial and two optical inputs as well as an HDMI input to use if you have a TV with an ARC HDMI port. The HDMI port is audio only allowing you to output the TV sound through your speakers. But it does offer CEC control to allow the amp to turn on together with the TV. Finally, the amplifier has a USB input and an ethernet connection. Analog sources are also catered for although there is only a single set of line level RCA inputs and another reserved for the connection of an MM turntable cartridge.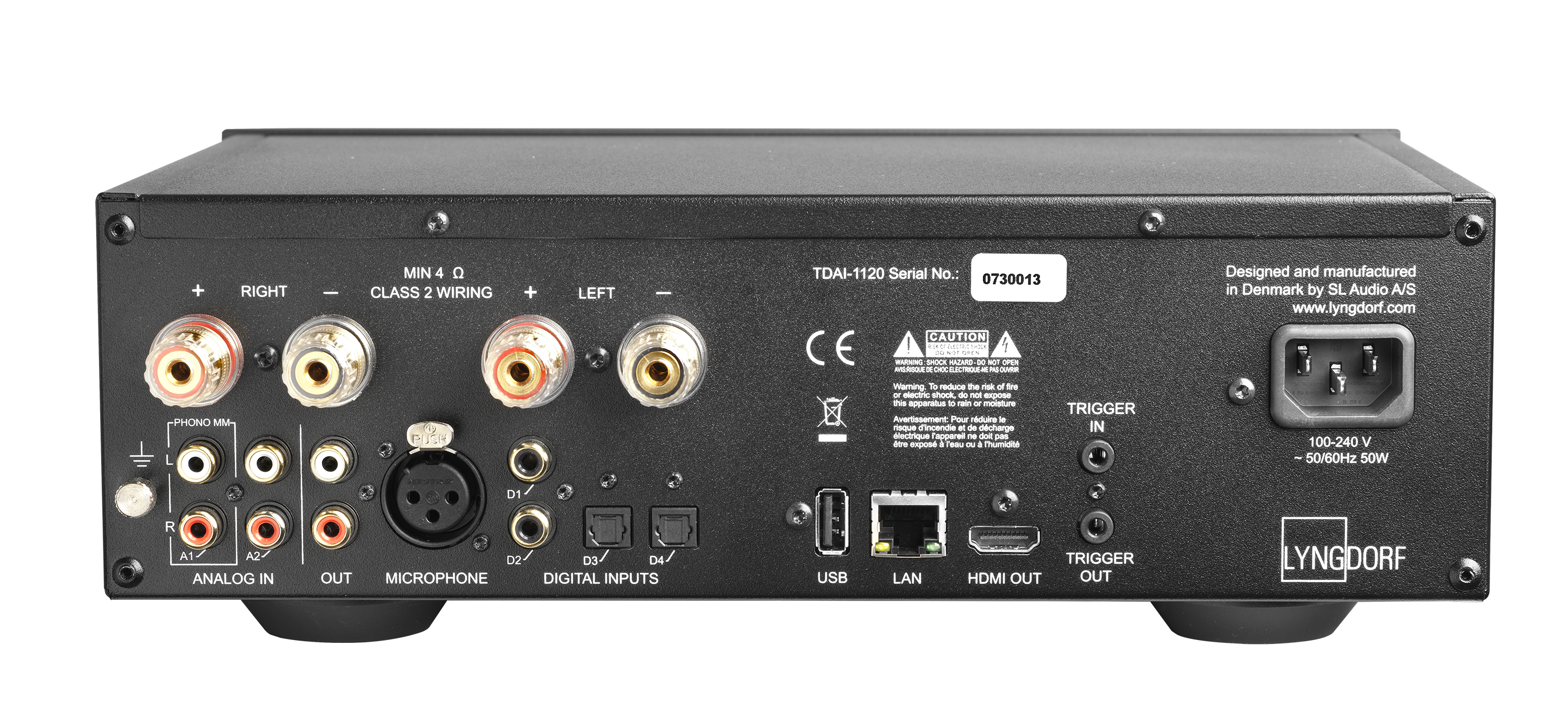 With all these input options it is nice to see that Lyngdorf thoroughly considered the convenience aspects. If you never use some of the inputs you can simply disable them in the configuration and you will not have to toggle through them with the source selector dial. At the same time they also disappear from the source list found in the Lyngdorf Remote app. We like this level of attention to detail.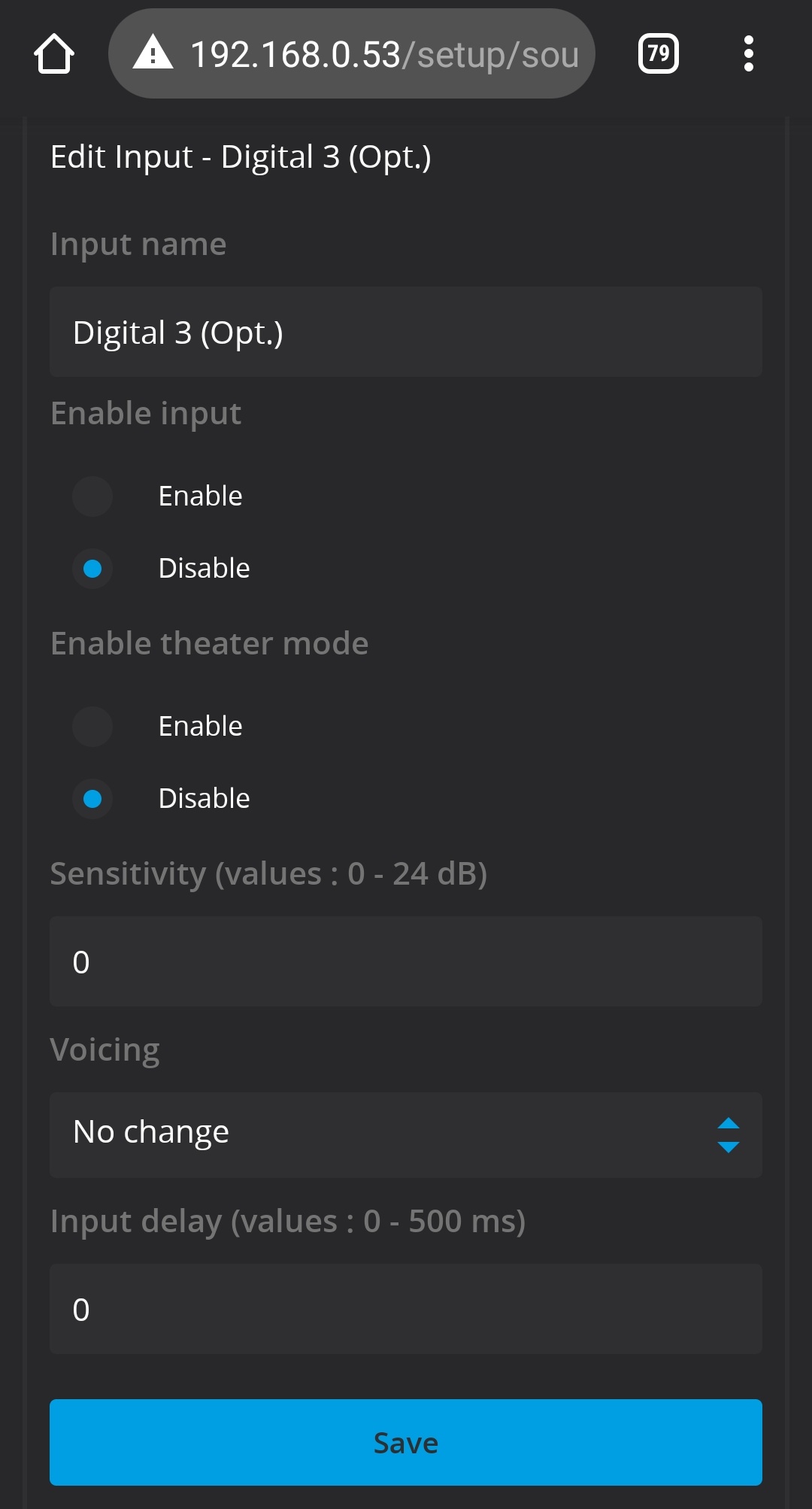 The Lyngdorf Remote app does what it says - it is a remote control. Available at no cost from AppStore and Google Play. A physical remote control is not included with the amplifier but it is an option. We did not have the physical remote control and we did not miss it either. The Lyngdorf app works well for controlling the day-to-day functionality and actually the Tidal app was more than enough for us most of the time.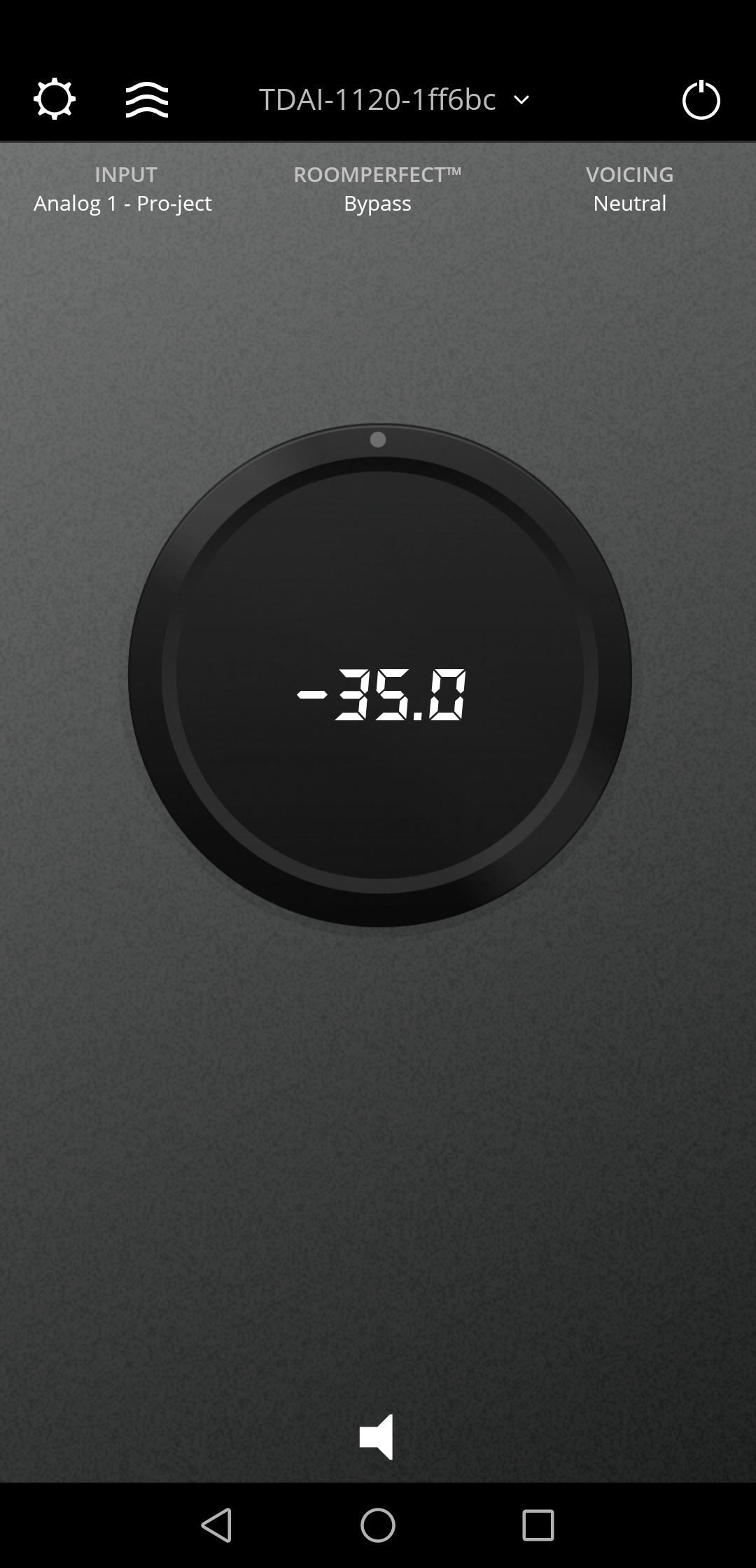 RoomPerfect Calibration
The more advanced configuration, including RoomPerfect setup, is done through a web interface that the device makes available on your network. It may sound more complex than it is. In reality you go seamlessly from the remote app to the configuration web interface on the device when required.
Also included in the box is a measuring microphone. And this is not some cheap plastic usb microphone. This is metal with a physical appearance much like a Behringer ECM8000 condenser microphone only somewhat smaller. It connects to the back of the amplifier via the included xlr cable. Even a stand for the microphone is included so you are good to go right out of the box.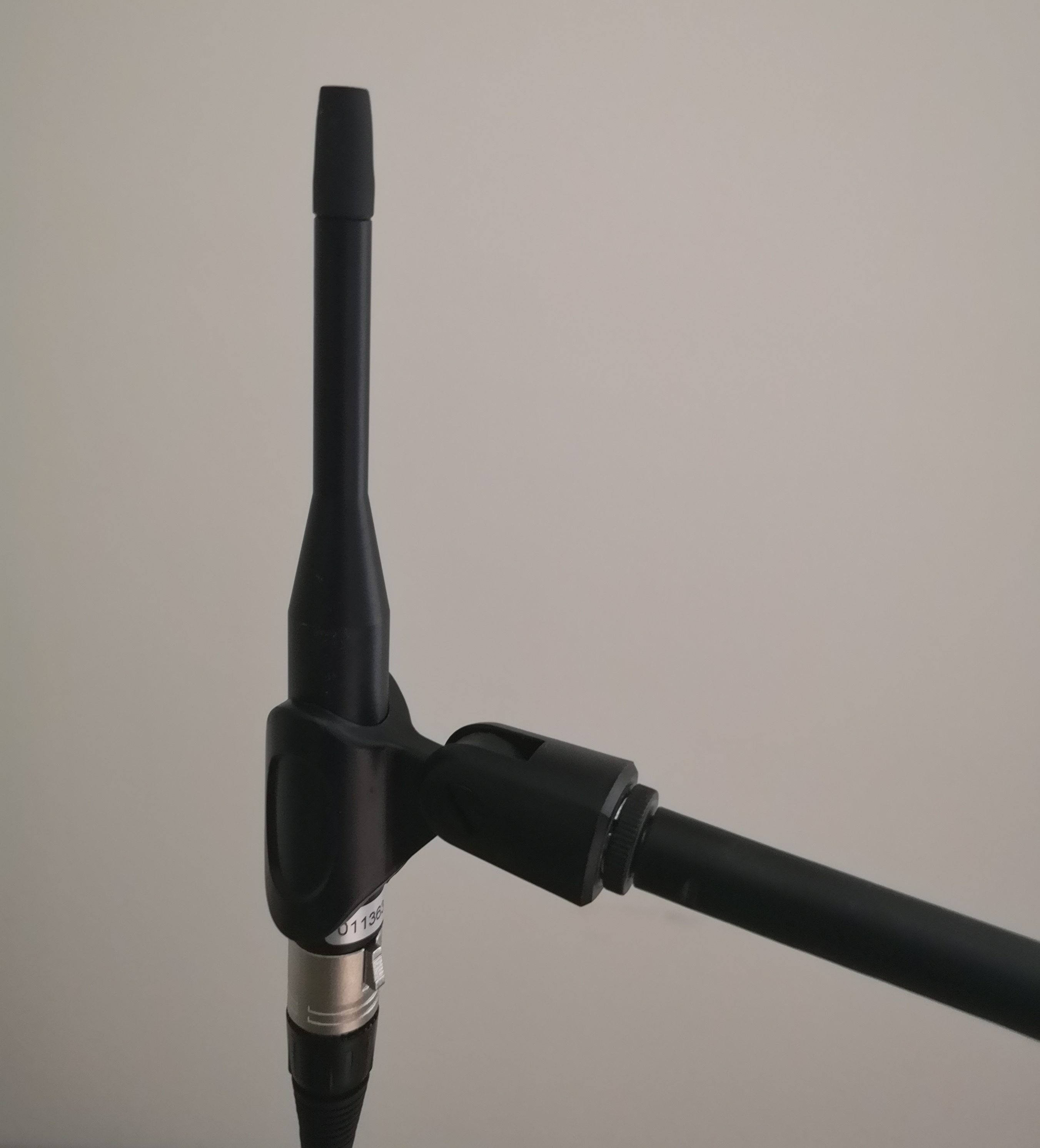 A guide takes you through the steps of measuring the room. Simply plug in the microphone, place it in the stand, and start the guide from your computer or mobile device. The first measurement will determine the primary, or first, listening position. The guide suggests a volume at which to run the sequence of test tones. The suggestion was loud - too loud if you live in an apartment with neighbours working from home these days. You are, however, offered the opportunity to set a different volume - another example of attention to detail. Even at the much lower volume, however, it was not pleasant to be in the room while measuring.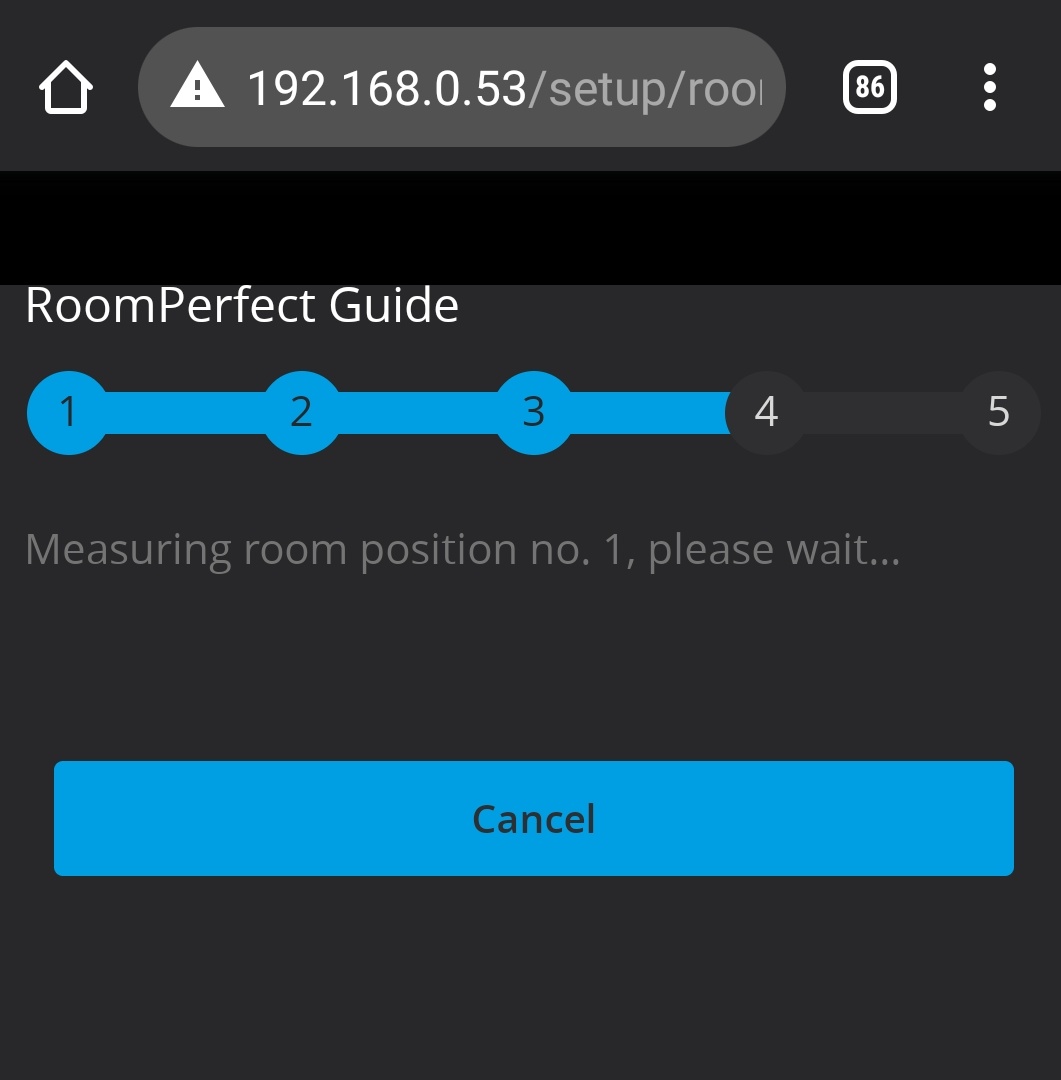 After measuring the listening position you are asked to move the microphone to random locations in the room for more measurements. You can add as many you like and a percentage indicator will tell you how close you are to 100% coverage. After 3 random measurements you are already at 90% and that is enough to finish the guided setup.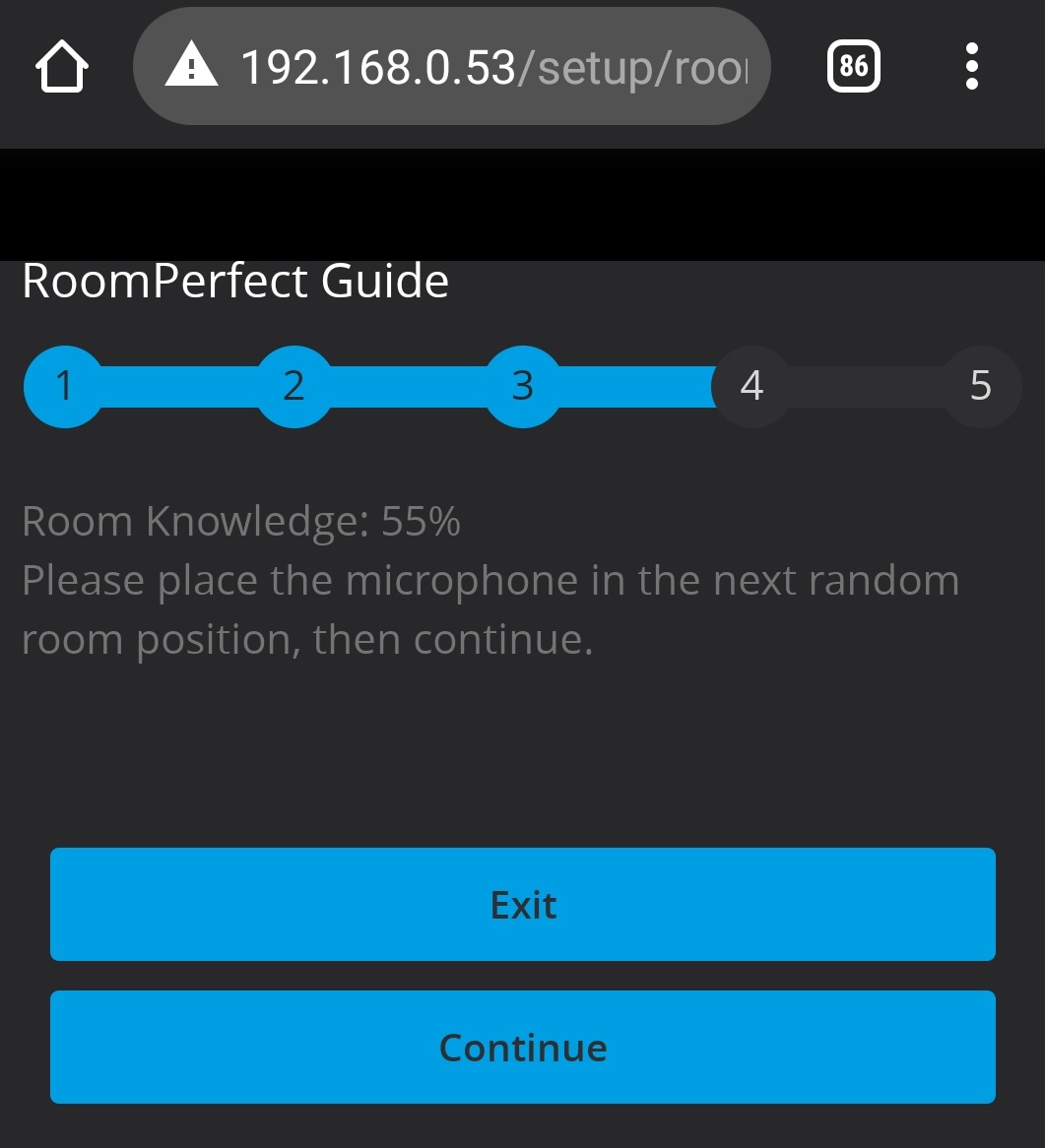 In addition to random measurements you can also add more listening positions. These listening positions can then be selected during playback. Correction can also be disabled completely but you actually have to "enable disabling it" from the configurator. It seems that Lyngdorf is very confident that you do not want to do that but they do allow it. And of course we were only glad to prove them wrong and investigate the effects of RoomPerfect with an A/B test.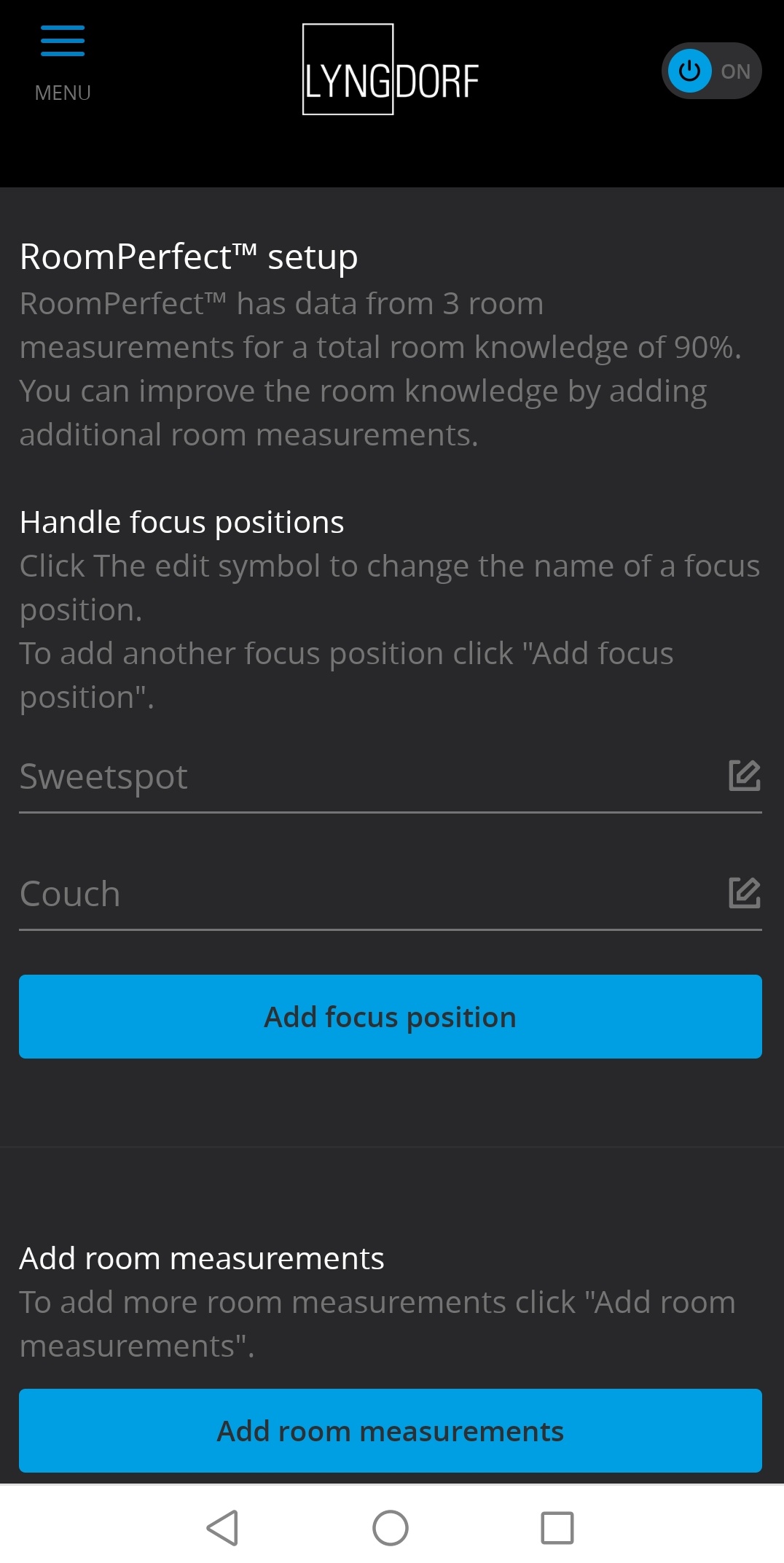 Listening with and without RoomPerfect
In our listening room we connected the amplifier with Audiovector Zero Compression Signature speaker cables to a pair of R3 Arreté speakers also from Audiovector. With a sensitivity of 90.5 db these speakers are fairly easy to drive. The 2x60W into 8 ohms promised by the Lyngdorf should drive these speakers sufficiently. We know from first hand experience that even the 2x12W from a Quad VA-ONE+ tube amplifier will satisfy many when it comes to powerful, warm, and pleasant sound from these speakers.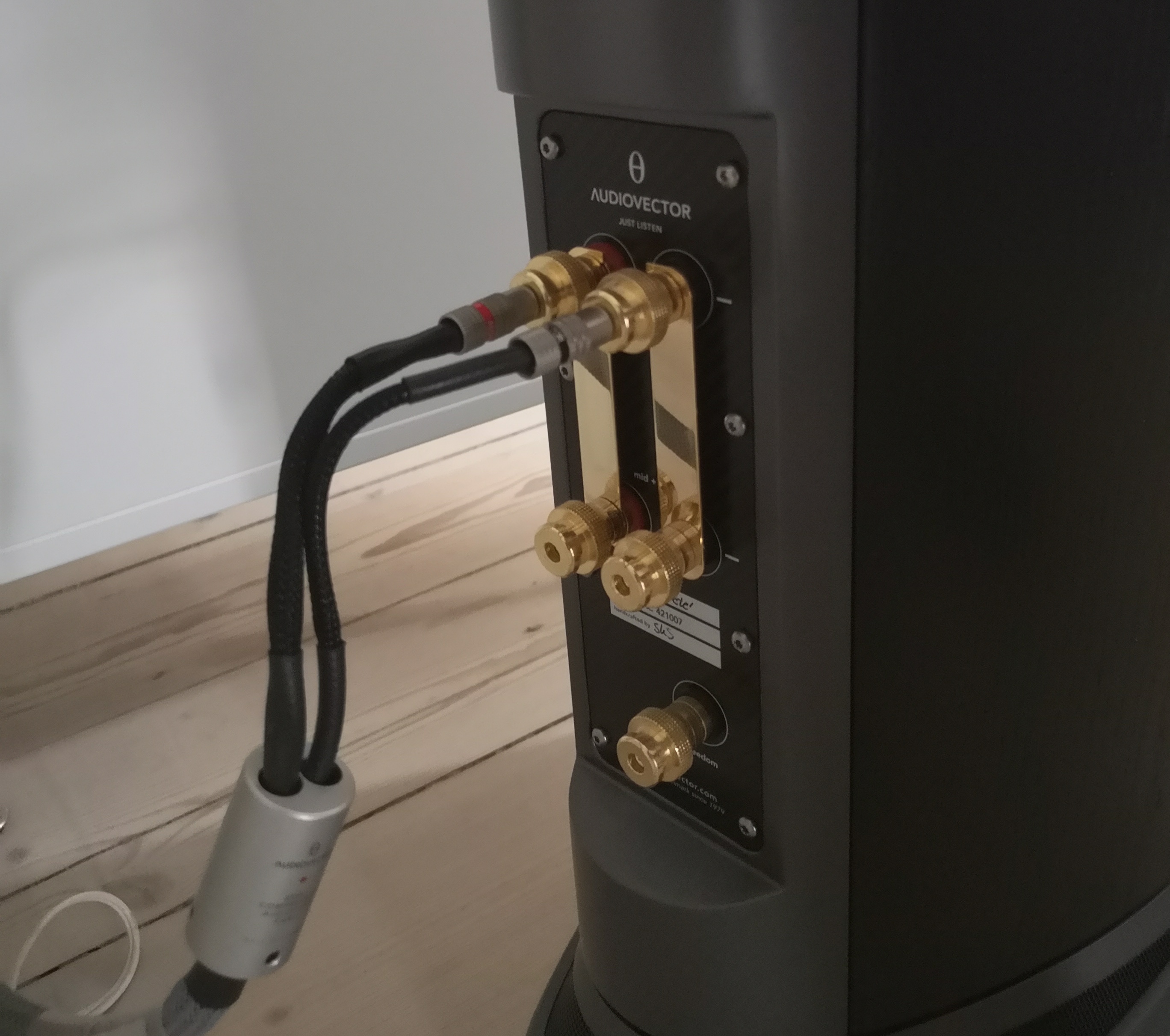 Sure enough, the TDAI-1120 delivers a firm grip and an absolutely ear-pleasing experience via the Audiovector R3 even without RoomPerfect. Although the speakers (and cables) cost much more than the TDAI-1120 (approx 10.000 euro a pair) the little Lyngdorf was right on task and was never embarrassed or out of its league in this company.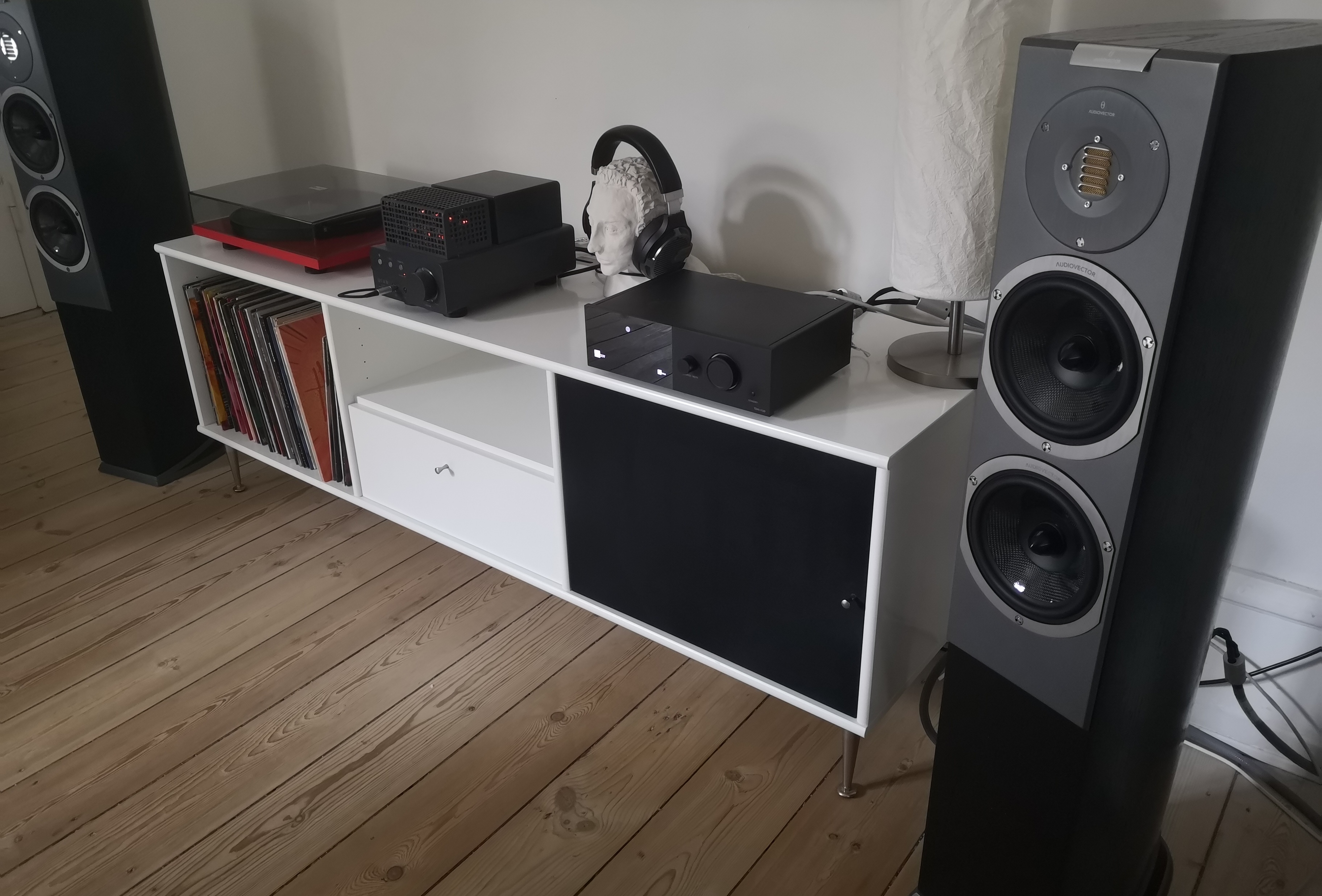 The track "Remember me" by Farose singer Eivør delivers an abyss-deep bass that provokes smiles and nodding in the room when reproduced well. The Lyngdorf and Audiovector combination certainly managed to do so. The TDAI-1120 has excellent control of the bass during the simple intro and the grip continues even when the music's complexity increases and Eivør's beautiful voice appears.
Switching RoomPerfect on definitely changes the sound. At first the effect is surprising because it is so pronounced. We are all used to our listening rooms with all their quirks and less than ideal room modes and now something is suddenly completely different. It may take more than a few cycles of switching on/off before the ears and brain finally start to understand what is going on. The low end becomes even more focused and feels more apparent. At the same time there is still room for Eivør and she feels even more present in the room. It has quite an impressive effect.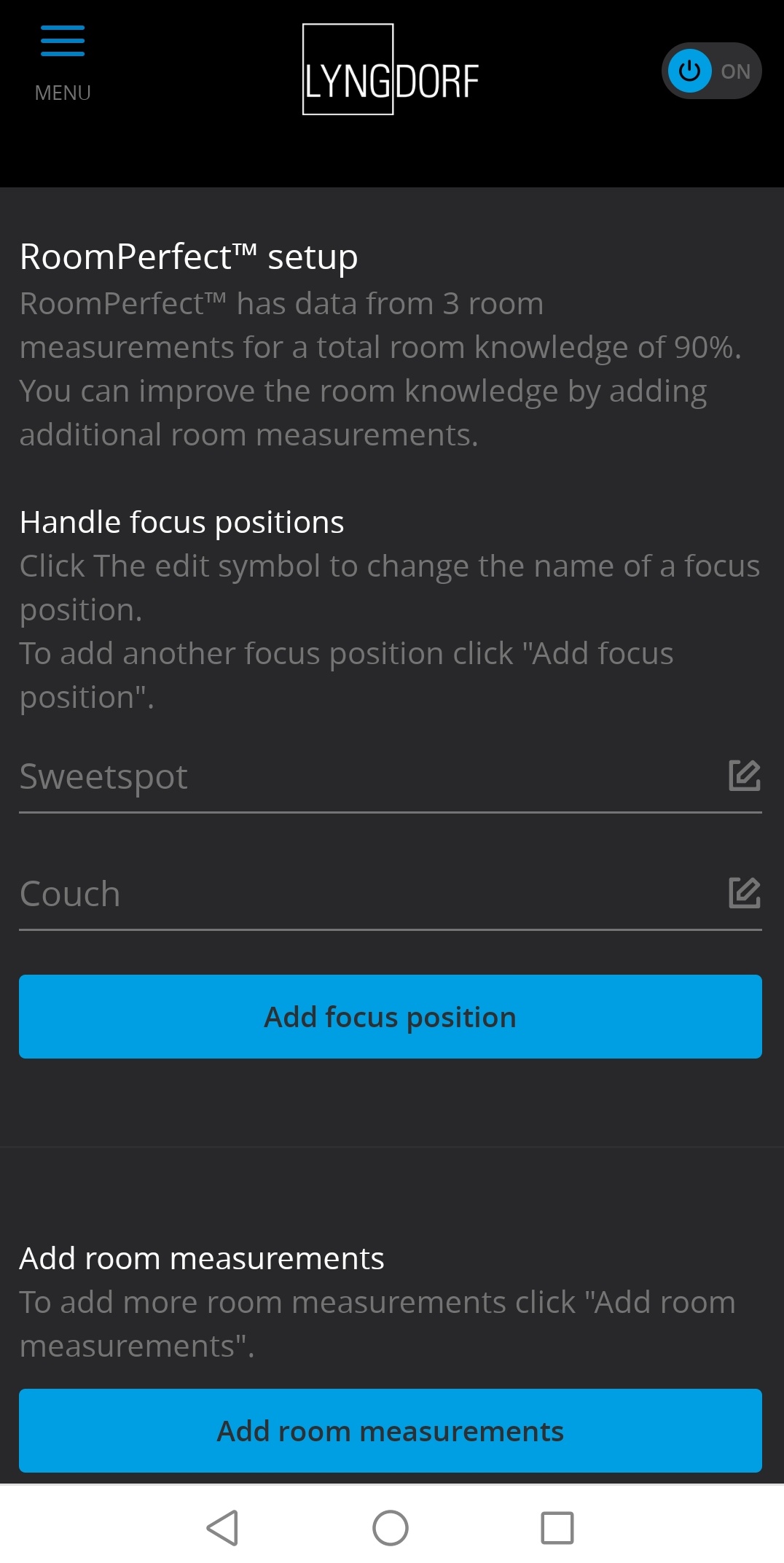 The experience repeats itself with the album Magnificat by Norwegian composer and conductor Kim André Arnesen. Along with beautiful choir and soloist performances it sports beautiful compositions for organ, strings, and piano. Played as a Tidal Master track the sustained organ points from the absolute bottom octave are delivered solidly and even more so with RoomPerfect. A Double-bass also delivers this carpet of long notes while still leaving room for a single fragile violin to be absolutely present. It is hard to find fault with the presentation and it is a wonderful feeling when the music's dissonances are delivered in a way that sends chills down your spine.
As a side-note the Magnificat album is also released on BluRay with a surround track nominated for a GRAMMY award in 2016 in the category Best Surround Sound Album.
A few things we miss
It is hard not to like a presentation as musically engaging as this a lot. We listened to a wide variety of music over several months and we never felt a foot out of place. The music delivery was always engaging, open, and very enthusiastic.
But nothing is perfect. While the 2x60W are enough to drive the Audiovector R3 with confidence at sensible levels it will for sure be a limiting factor with low sensitivity speakers. It is not that the amp ever broke a sweat, became hot, or lost its grip during our tests. We just sometimes had the feeling that we were pushing towards the upper end of its power capabilities. Thus those with much more reluctant speakers will have to consider if the more expensive TDAI-3400 is not a better fit. With 2x200W into 8 ohms and 2x400W into 4 ohms it offers all the power the TDAI-1120 lacks and will drive even the most reluctant speakers. But it is a tradeoff, because at the same time you will have to give up on the latest connectivity features including the built-in Chromecast.
Headphone users will also find the lack of a headphone output frustrating. Of course the analog output on the back can be connected to an external headphone amplifier and you are all set. We tried with Quad ERA-1 headphones and a Quad VA-ONE+ as headphone amplifier. This did satisfy our inner head-fi enthusiasts with both the warm relaxed sound from the ERA-1 / VA-ONE+ combo and the comfort of a streaming "pre-" amplifier in front but many head-fi users will have to consider if they really need the more expensive TDAI-3400.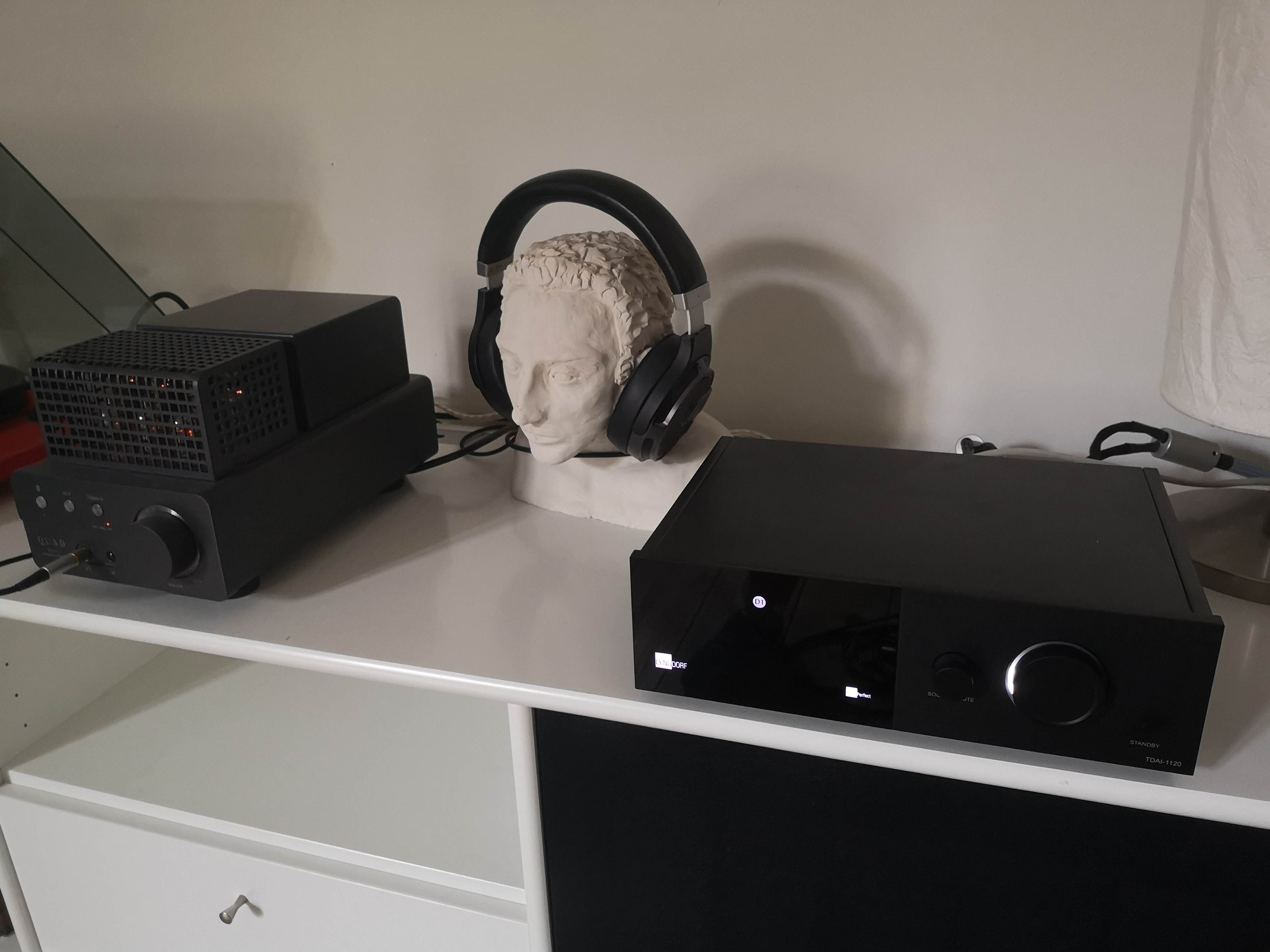 Speaking of TDAI-1120 as a pre-amplifier; it is of course possible to add a power amplifier to the output chain and use it as a RoomPerfect enabled preamp. It is always nice to see an upgrade path when you buy something and this one is very clear. The RP-1 RoomPerfect processor was the first product to feature RoomPerfect and it did so as a stand-alone processor at roughly the same price as the TDAI-1120 today. Here you get a complete integrated streaming amplifier and you can later upgrade it with a power amplifier.
The TDAI-1120 offers some clever subwoofer management we did not test. Connect one or two active subwoofers and the Lyngdorf will adjust them to compensate for the room in the best possible way. One thing to note is that the subwoofers connect to the same single set of RCA outputs as we used for the headphone amplifier. So if you need both subwoofers and headphones or a power amplifier then you are starting to run out of luck.
Final Words
In conclusion the Lyngdorf TDAI-1120 is a great little device that will serve you very well if you are in the market for an integrated amplifier with advanced digital capabilities and can live with the limited power resources and the missing headphone amplification.
The amplifier delivers a solid and engaging performance within its limitations. In our opinion it will satisfy quite a few people and their spouses as well. It is like a bouillon (or stock, if you are British) cube that packs all the flavours of the larger and much more expensive Lyngdorf amplifiers into a neat and manageable form factor.
Our main setup with Audiovector R3 speakers and the petite TDAI-1120 delivers a listening experience that will appeal both to casual living room listeners (and their eyes) as well as die-hard audiophiles.
With that in mind we do not hesitate to award the Lyngdorf TDAI-1120 our "Strong Buy" recommendation.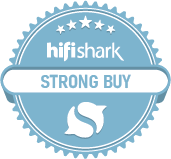 Places to go

All Lyngdorf products on Hifishark



Share article