Hamburg - the place to be for audiophiles on the first weekend of February 2020! This was our first HiFi show this year and also our first visit ever to the Norddeutsche HiFi Tage. We just managed to catch the last appearance of the show at the traditional venue, the Holiday Inn hotel. According to the organizer, next year's show will take place at the hotel Lindtner, a slightly smaller hotel not so far away from the current location. Our first thought was whether this will influence the size of the show and the number of visitors, but we were told that this is not going to be the case. The show is quite large - we were lucky to spend the whole weekend there and we still felt like it was not even enough time to discover all of the presented music systems.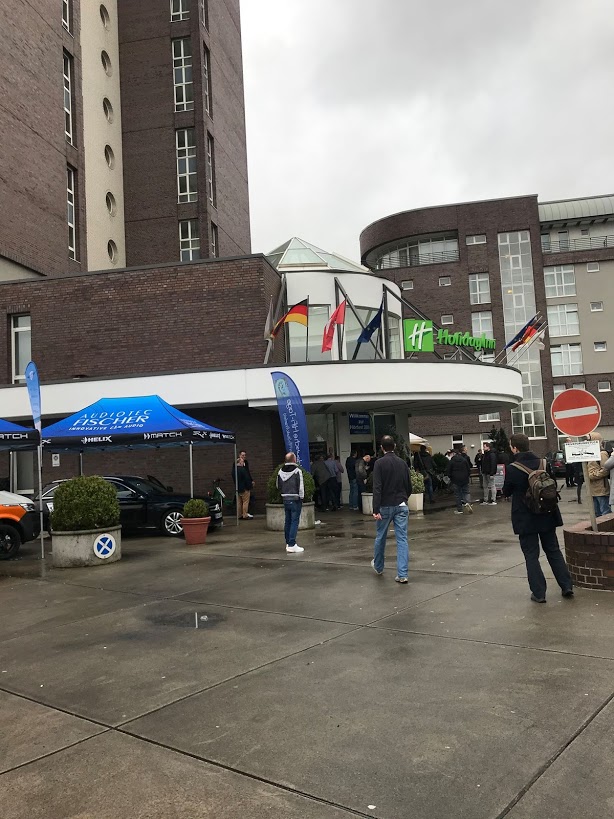 The ground floor and six other floors were occupied with HiFi gear and literally packed with visitors and HiFi enthusiasts. We noticed an increased number of digitally active speakers coming to the scene. Even though they are in a higher price range, the fact that the active speakers can play music coming from any source makes them very attractive.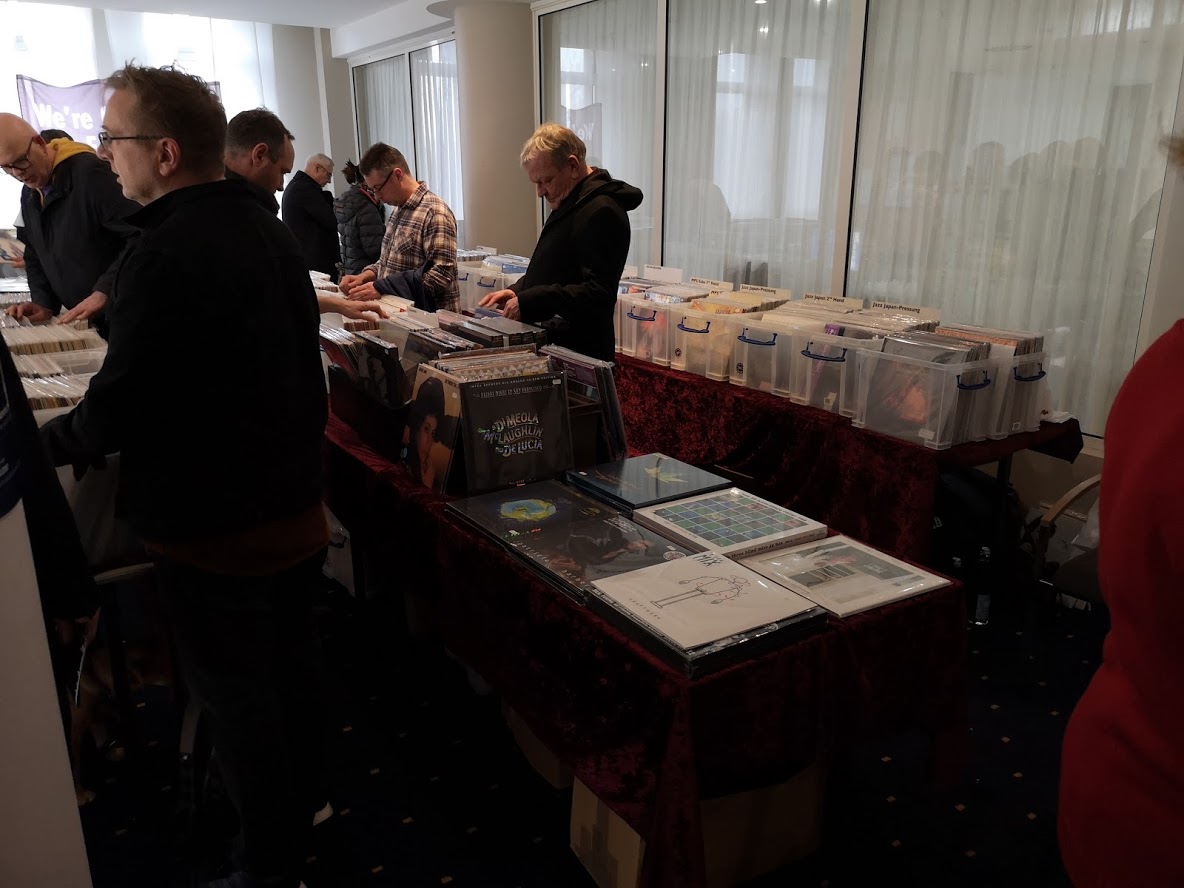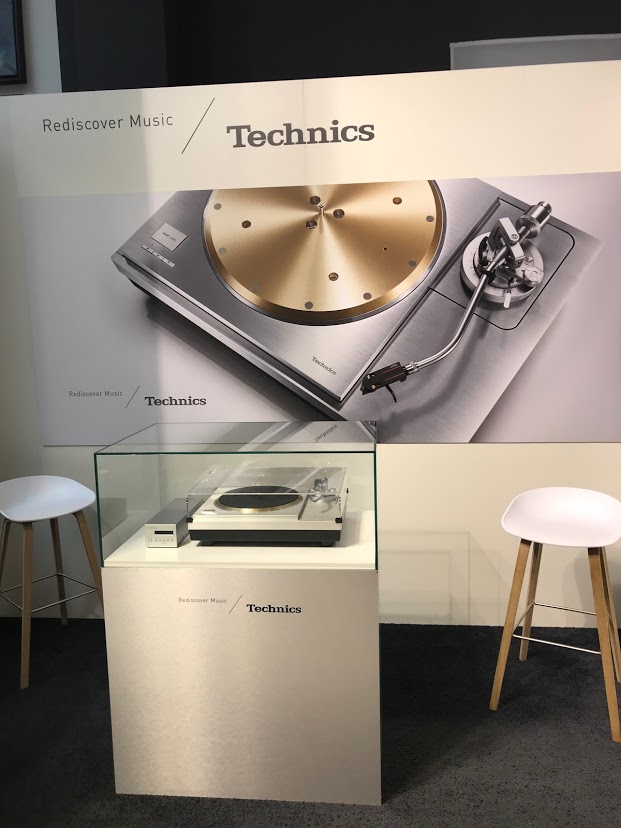 In the following we will give a sneak peek at the fabulous exhibitors that drove our attention and the utterly amazing atmosphere at the show! We haven't ranked the rooms nor the exhibitors and the order of presentation will be quite random.
KEF
Good old KEF presented various products this year but we couldn't resist mentioning the powerful and compact LSX model. This bookshelf-friendly, colorful and simple designed speaker fits almost anywhere in the room. The LSX accepts wireless connection by Spotify Connect, Bluetooth aptX, TIDAL and Apple AirPlay 2 as well as wired connection by Ethernet or TOSlink. Thanks to the usage of KEF's advanced acoustic design technology that is usually implemented in their larger HiFi speaker models, LSX produces strong, accurate and clear sound for its size.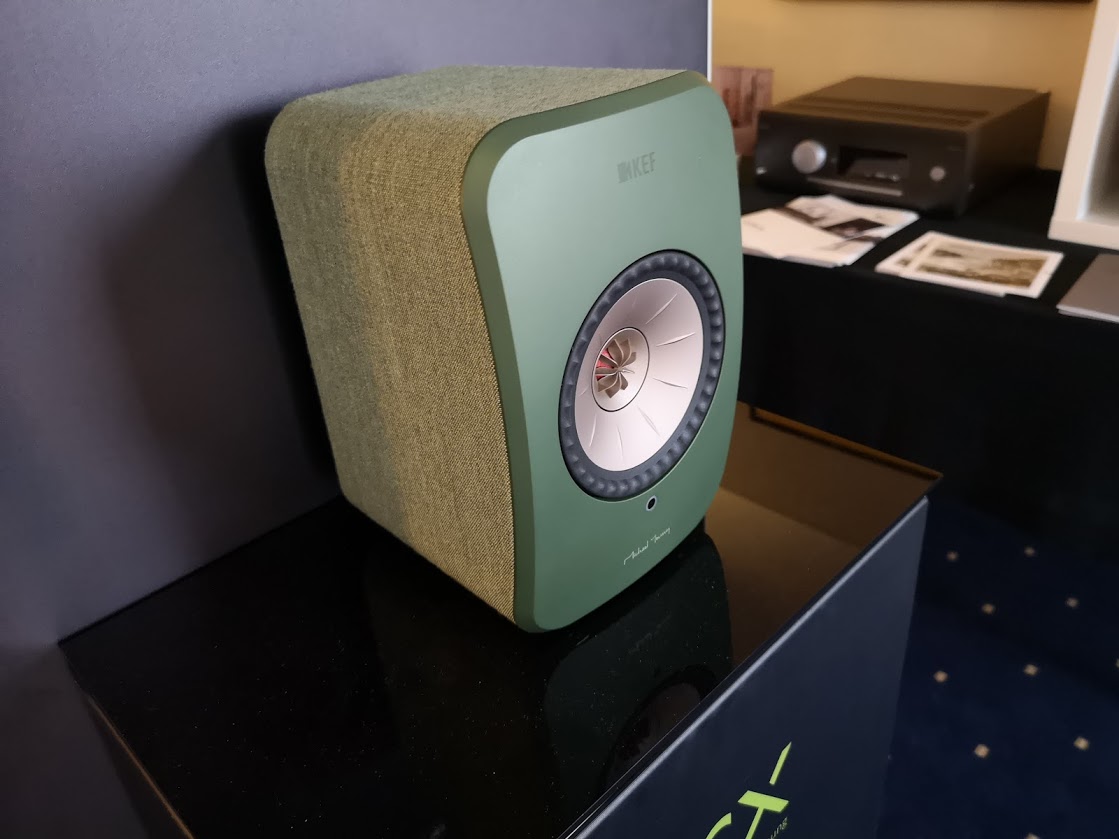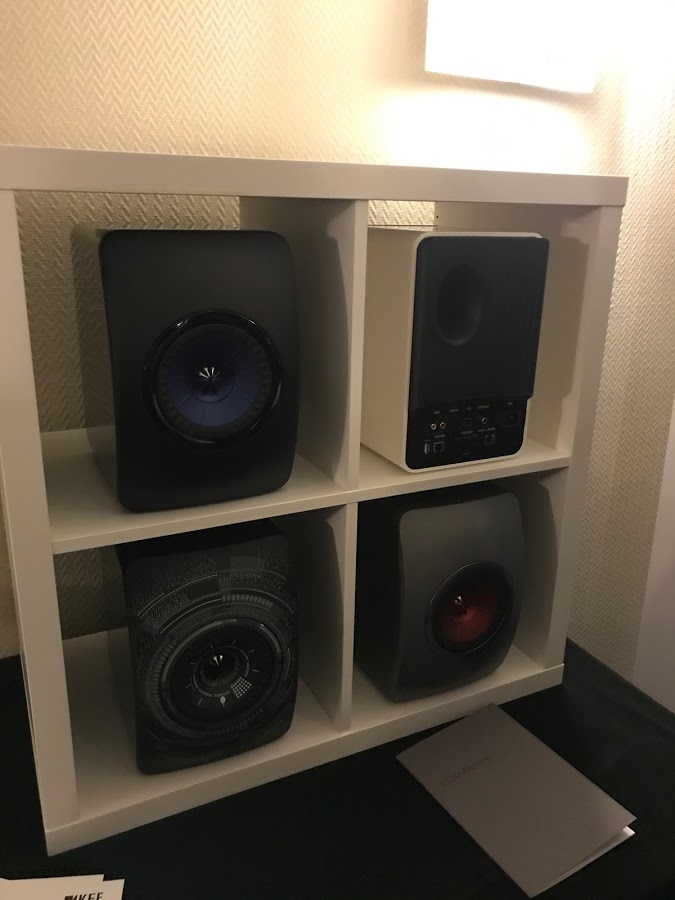 KII
It was not our first time listening to the Kii THREE active loudspeaker. It was, however, our first talk to Rui, who represented this well-known German manufacturer. As the Kii THREE is another wireless active speaker, it is accurate to say that it is not just a loudspeaker, but a complete sound system. Drivers, DACs and amplifiers are implemented inside the loudspeakers, and you neither need cables nor the whole package of HiFi gear usually needed to complete the system. We were surprised that the demonstration took place in a very small room, but there was a good reason for that - to prove its consistent performance in a room of almost any size.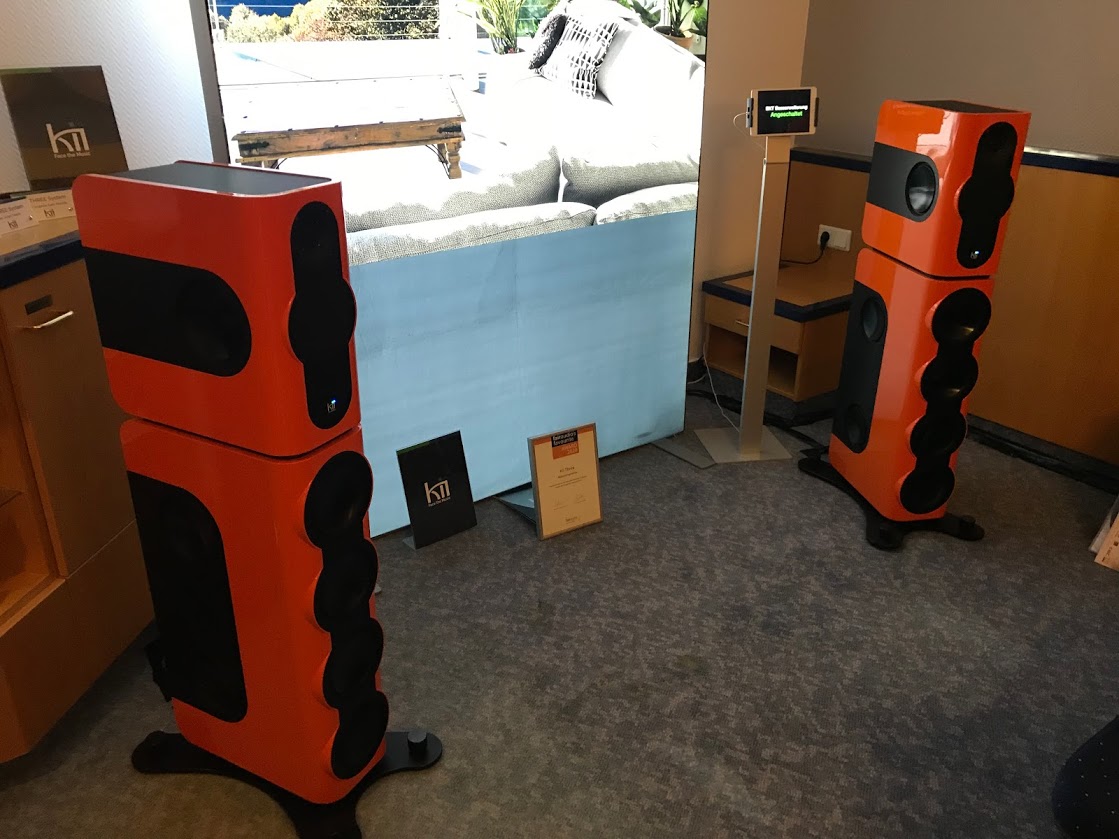 FINK TEAM
When we entered the room, we expected to see their famous Borg floor-standing loudspeaker. Instead, they presented KIM, a compact version of the Borg. What a great surprise! The new KIM is going to be officially launched at the High-End Munich show in May this year. They were demonstrated with a ROON server and their performance was stunning! We can't wait to see it again! Yet another reason to head to Munich in May.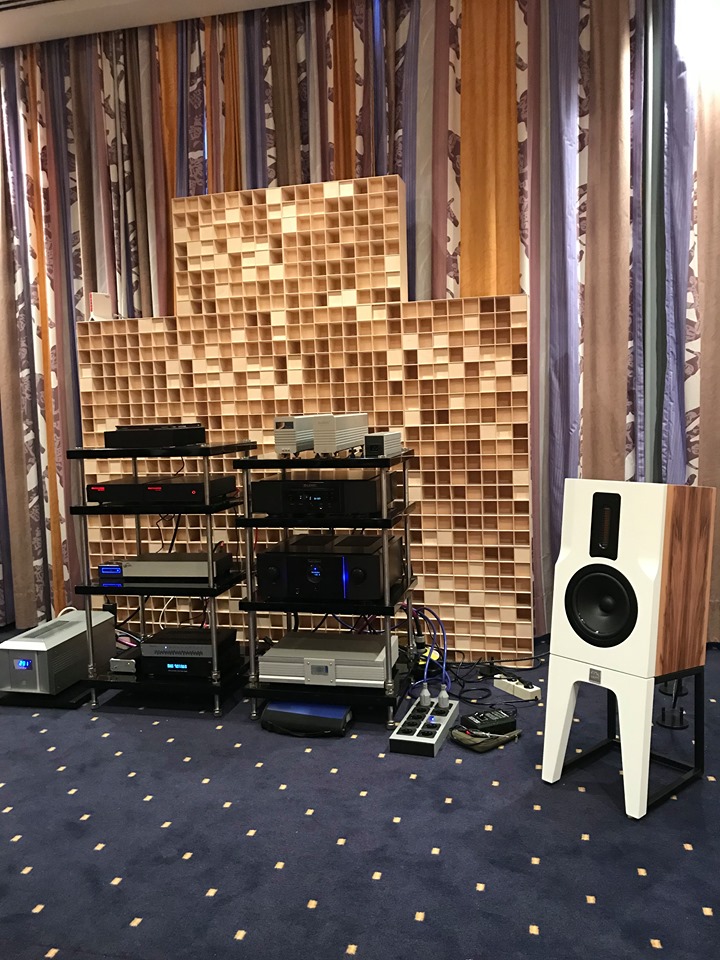 ACAPELLA
The German manufacturer Acapella made us feel like we were at the concert hall! We had a pleasant talk with Richard, the son of one of the founders who also shares his passion for music and good sound. He told us a bit about Acapella's history and explained that their loudspeakers are handcrafted in their factory. They were presenting fabulous Bassonobile horn loudspeakers that reproduced a very powerful and undistorted sound. Even at high volume, the sound was amazingly detailed with an explosively dynamic presentation.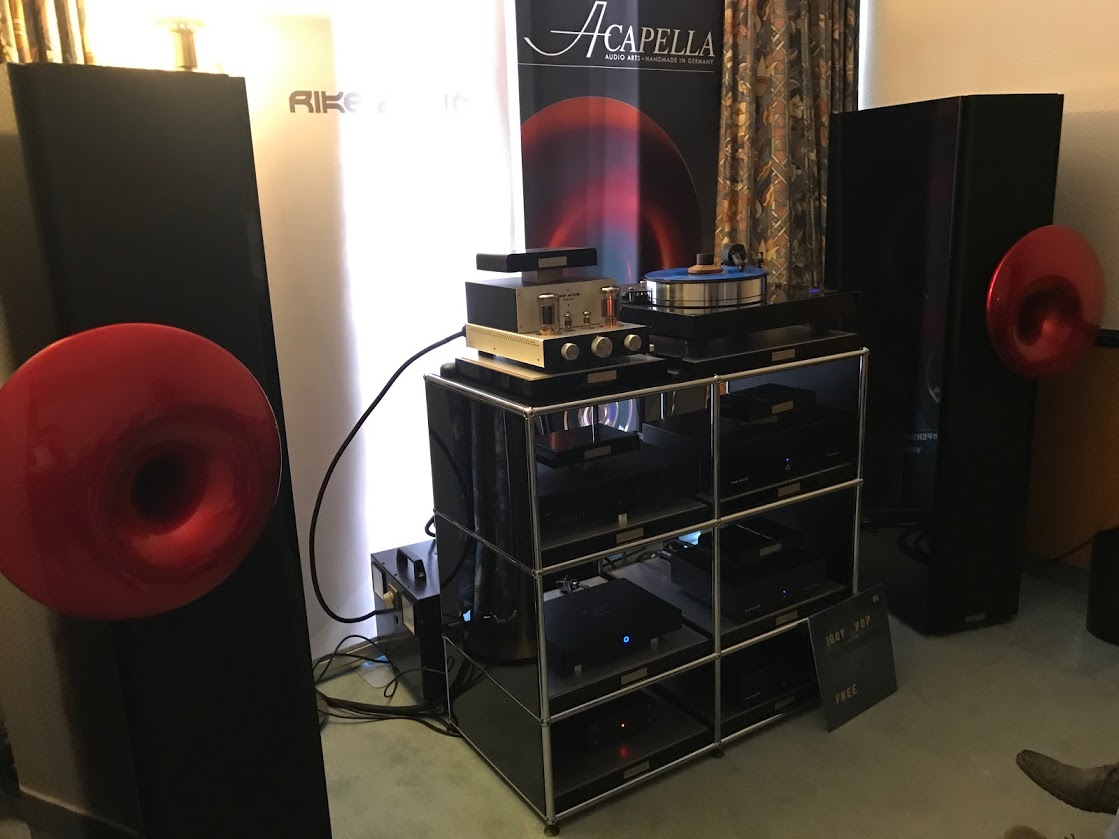 BLOCK TEAM
We can't say that we expected to encounter a piece of furniture that would interest us, but Block Team presented a very unusual speaker table! That's right, they call their Stockholm Bluetooth table "the most beautiful piece of sound furniture". We had a nice chat with Marcel, one of the team members, and he explained that the table can be connected to any smartphone, laptop or tablet and that the user can wirelessly charge this device on the icon on the glass surface. With a very affordable price of 499€ maybe it's time to think about replacing your old side table?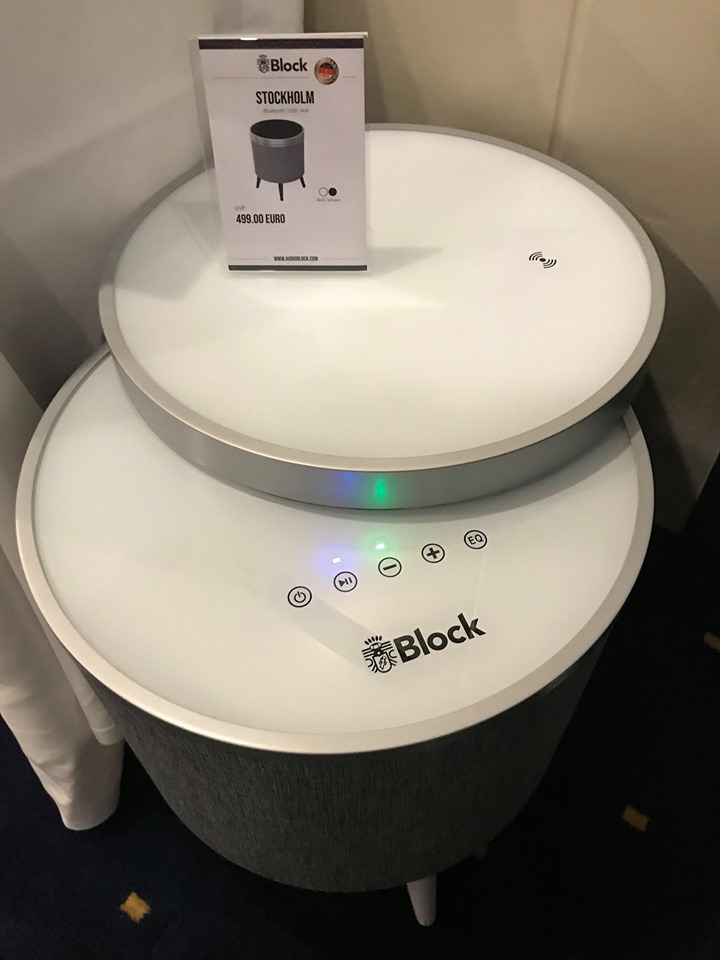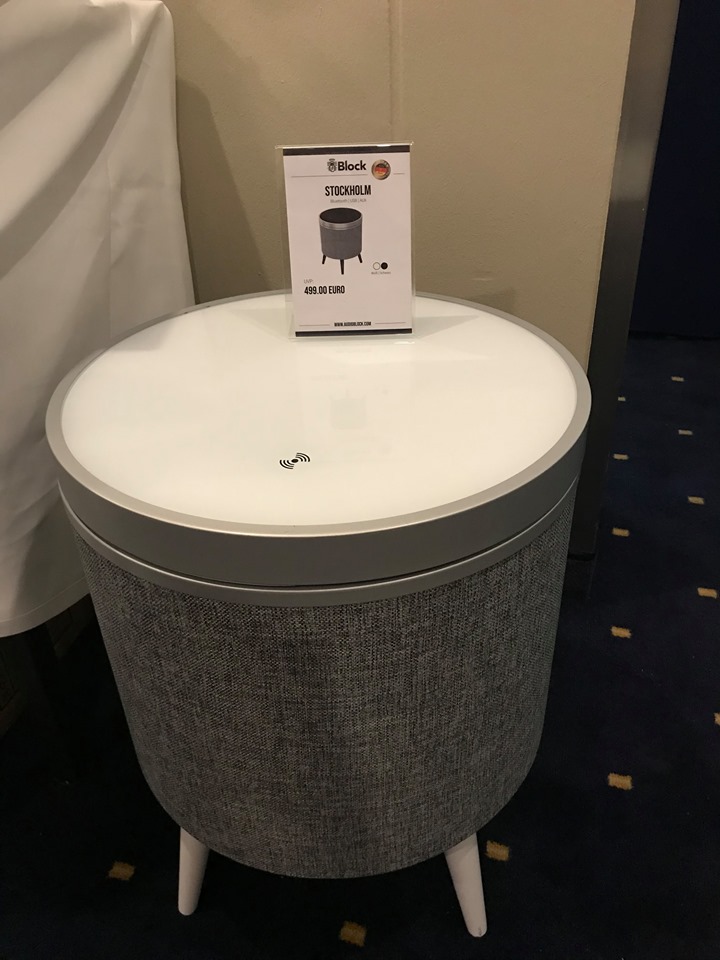 BOWERS & WILKINS
Calling the B&W room one of the biggest at the show would not be an overstatement. And it was packed with people literally every second of the show. They presented the B&W 800 D3 loudspeakers, combined with the new MICHI series from Rotel (not to be confused with the previous MICHI series from the '90s). This combination was wonderful and no wonder that everyone wanted to be in that magical room.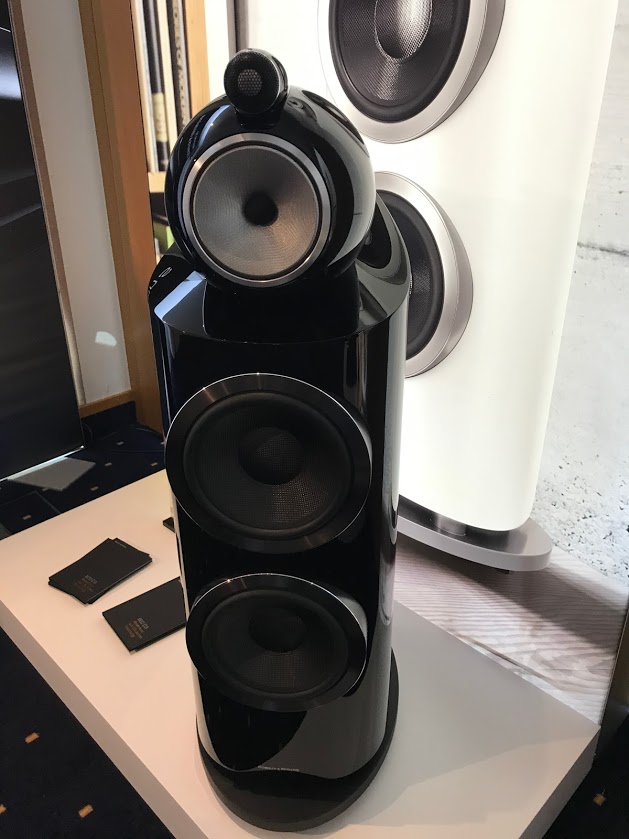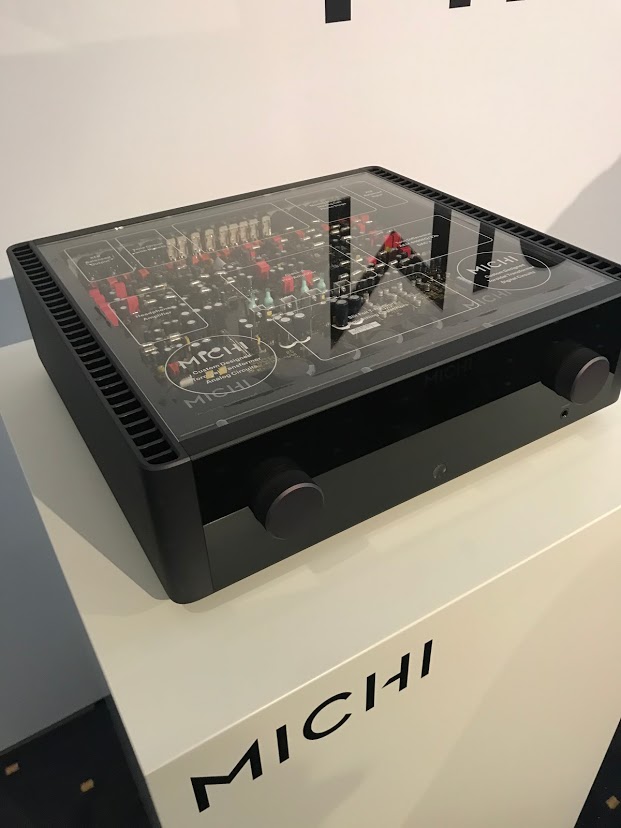 AURIS
It was wonderful to meet up with the Serbian high-end brand Auris again! Last time we were lucky to visit their room at the Warsaw show, but now in Hamburg we managed to have a nice chat with Miroslav, one of the Auris team members. They presented mostly headphone amplifiers - the flagship Headonia, Nirvana and Euterpe. We were particularly attracted to the classy design and wooden enclosure of the Euterpe headphone amp. The device is multifunctional which means that it can work like a preamplifier, amplifier or DAC. Euterpe can be connected to any PC or smartphone.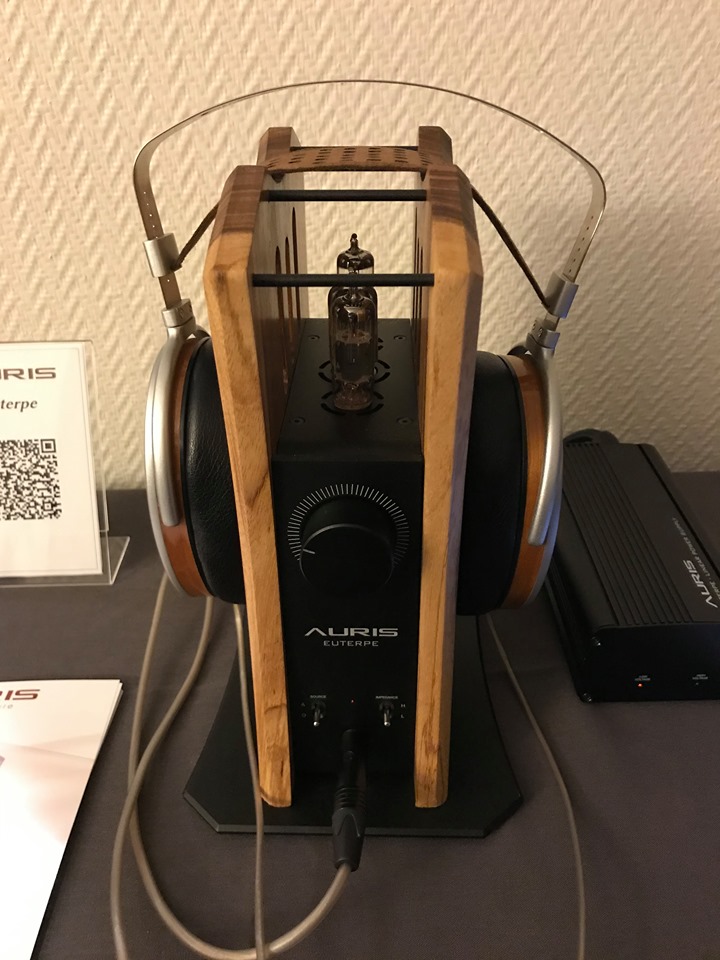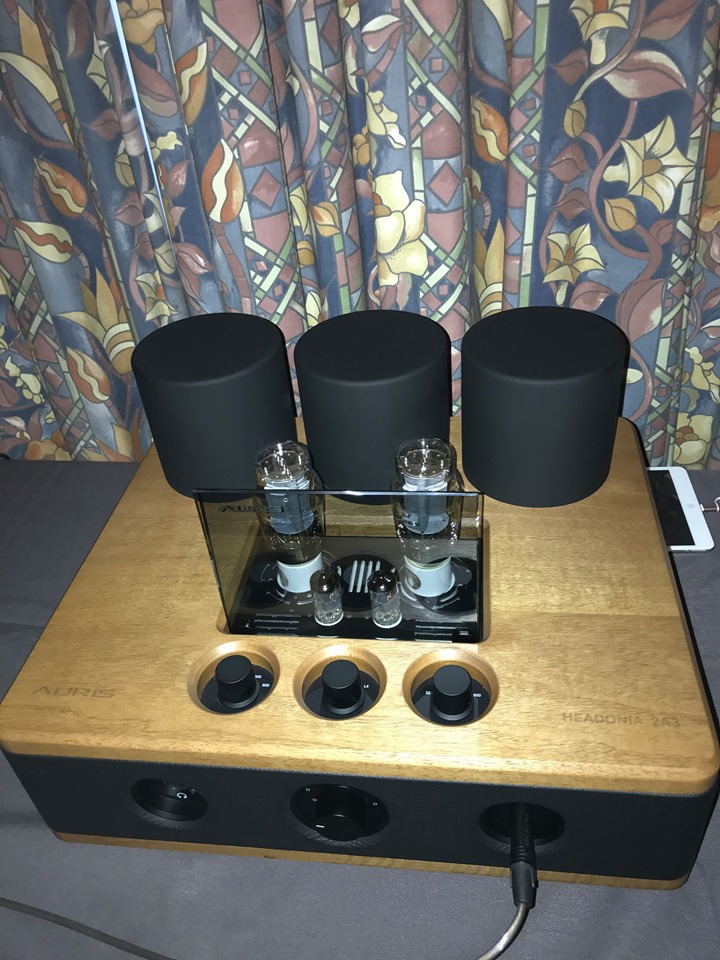 VOXATIV
This Berlin-based award-winning loudspeaker manufacturer simply impressed everyone who visited their room! They presented their new Alberich (full-range) system for the first time. The system combines their award-winning π full tone speakers with the new π-bass active woofer module to form the 9.87 (π²) system. The frequency range is 20 - 33.000 Hz.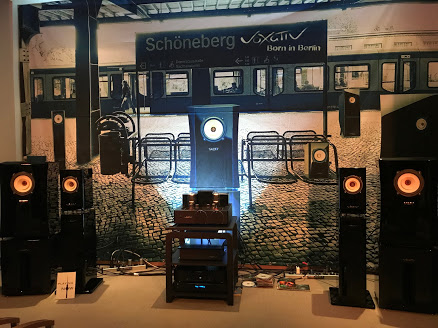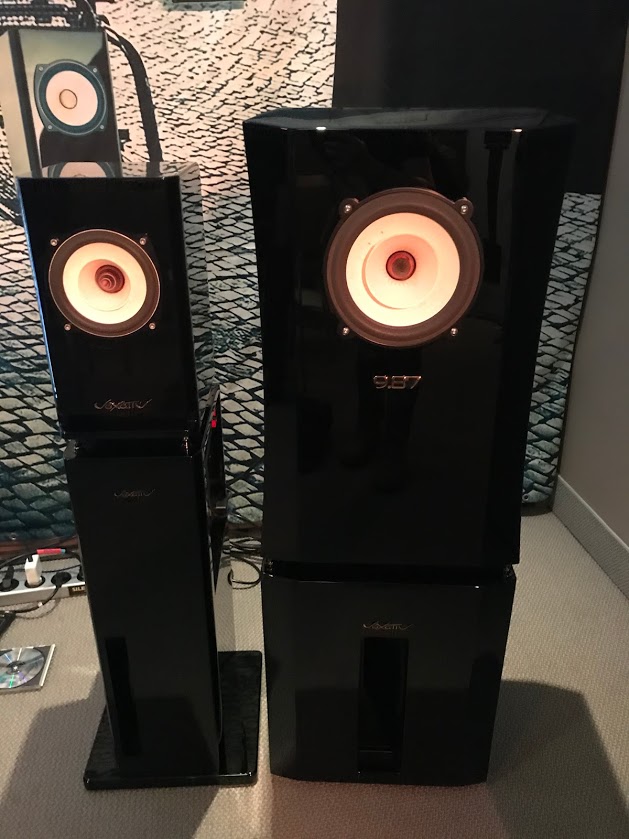 TECHNICS
It's a pity if any of the visitors skipped visiting Technics. The SL-1200G with its impeccable sound simply impressed, to the extent that it was very hard to visit any other room afterwards. The platter construction is three-layered. It is a combination of brass and aluminium die-cast platter and deadening rubber covers its surface. A newly designed direct-drive motor prevents cogging and the twin-rotor construction reduces vibrations. The result is an extremely detailed and clear sound on analog records.
The magnificent SL-1000R was not demonstrated but featured prominently at the hotel entrance. It is a beauty to behold.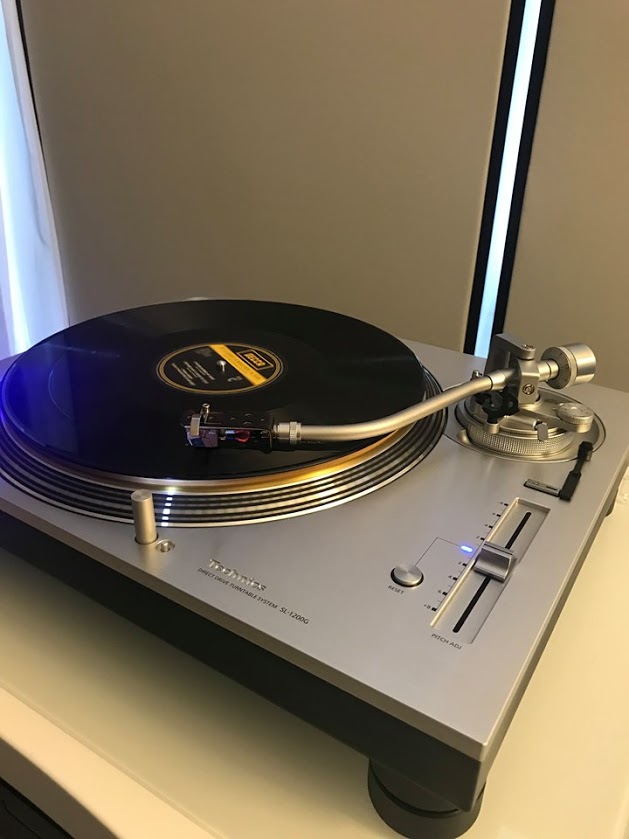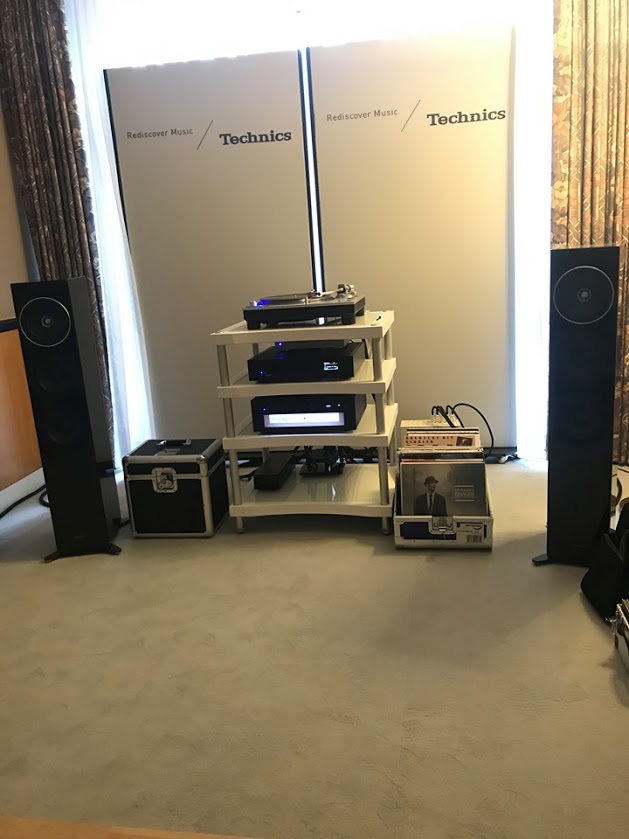 ELAC
ELAC presented new compact bookshelf speakers DBR62 that are part of the new Debut Reference series. They weigh slightly above 8 kg with the frequency range 44 - 35.000 Hz. The speakers are already available on the market and you can get a pair for 500€. Besides DBR62, the floor-standing loudspeaker DFR52 and DCR52 belong to the same series.
The new Debut Reference series retains all of the good features of the original debut range, even improved on some, and then pairs them with a much more premium design. As the price increase is very modest this series could become quite a hit for ELAC.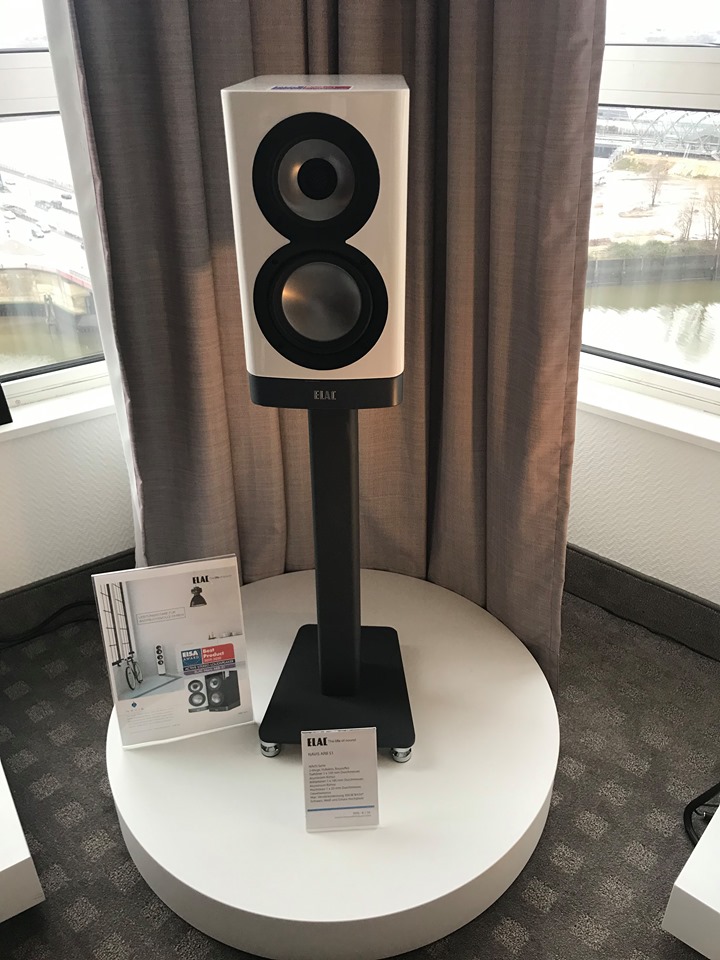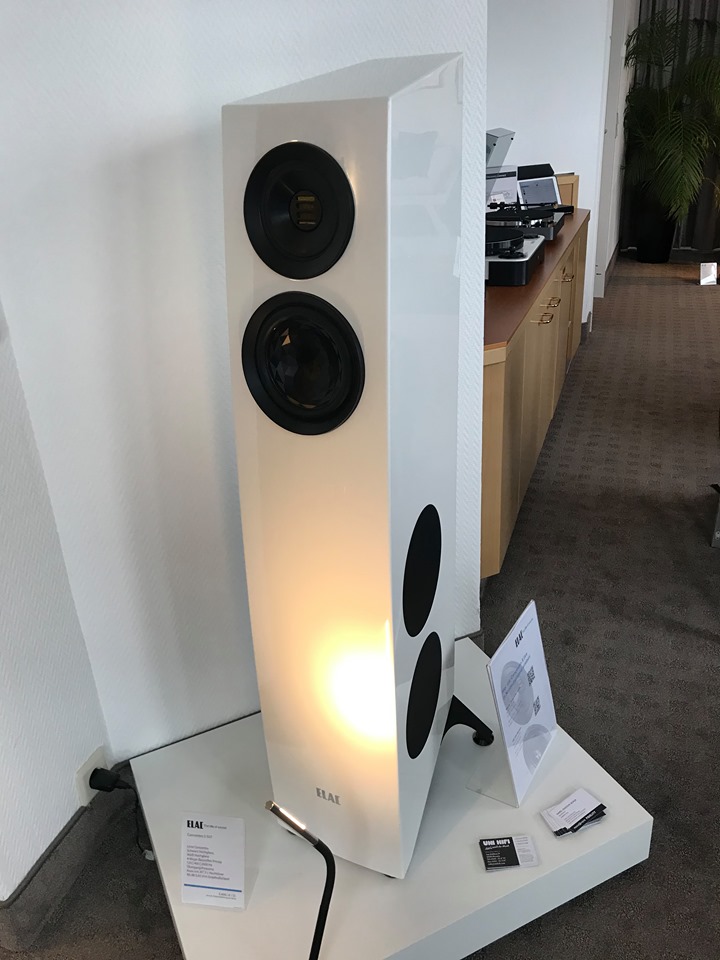 RUARK AUDIO
Ruark Audio is a British audio manufacturer with a very specific and lifestyle-oriented approach to design. Their products were presented by the German importer, TAD Audiovertrieb. We had a pleasant chat with the two TAD representatives, Jürgen and Pavel. They exhibited several products but the R5 "all-in-one" system attracted special attention. It has both digital and analog inputs so it's very easy to connect it to other devices, like a TV or a turntable. You can easily connect to Spotify, Amazon Music or Tidal (most probably other services too). There were several other manufacturers distributed by TAD Audio present at the show, like Rega, Gold Note, Fyne Audio and Excalibur.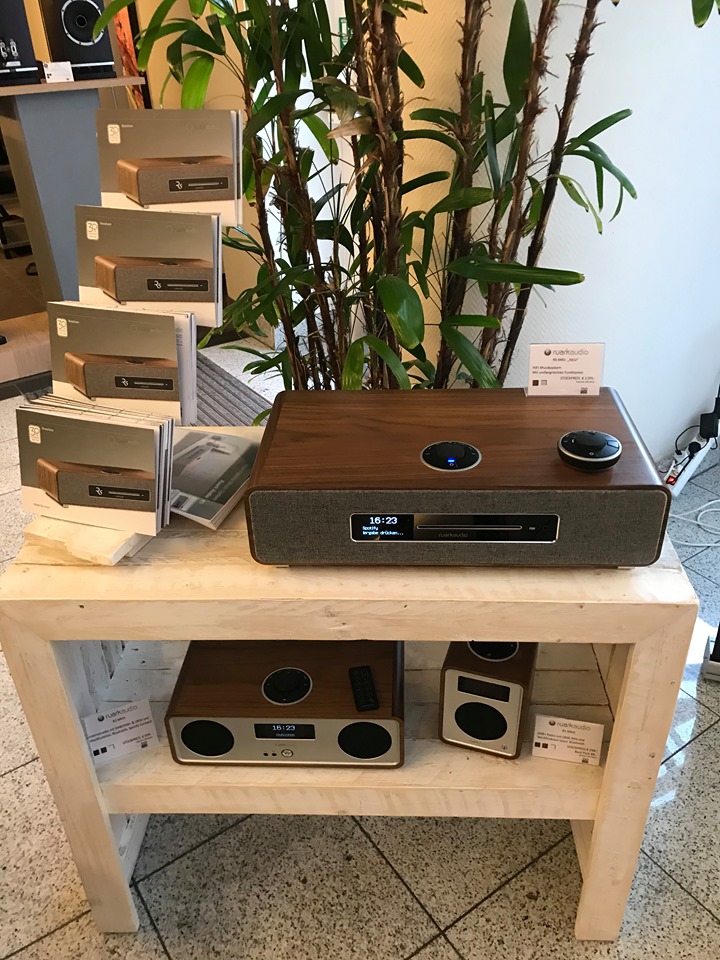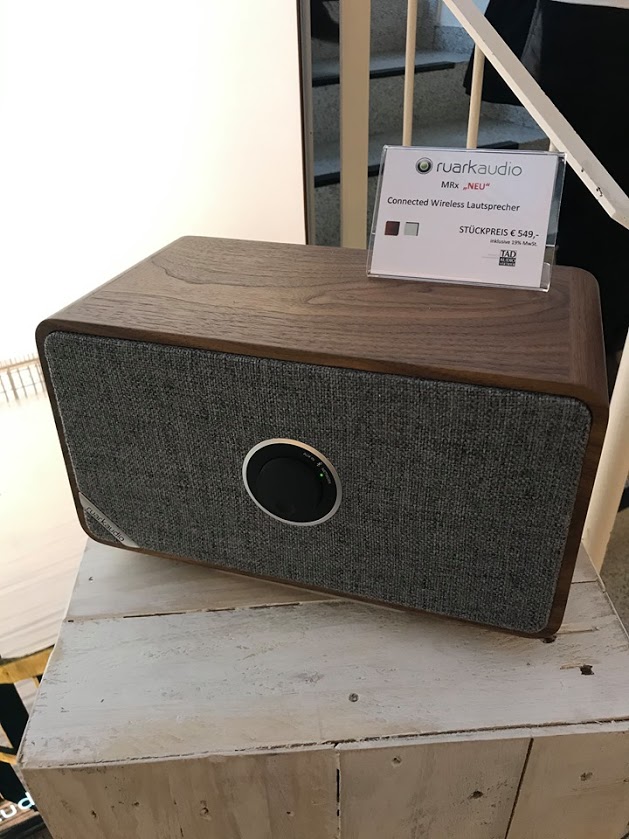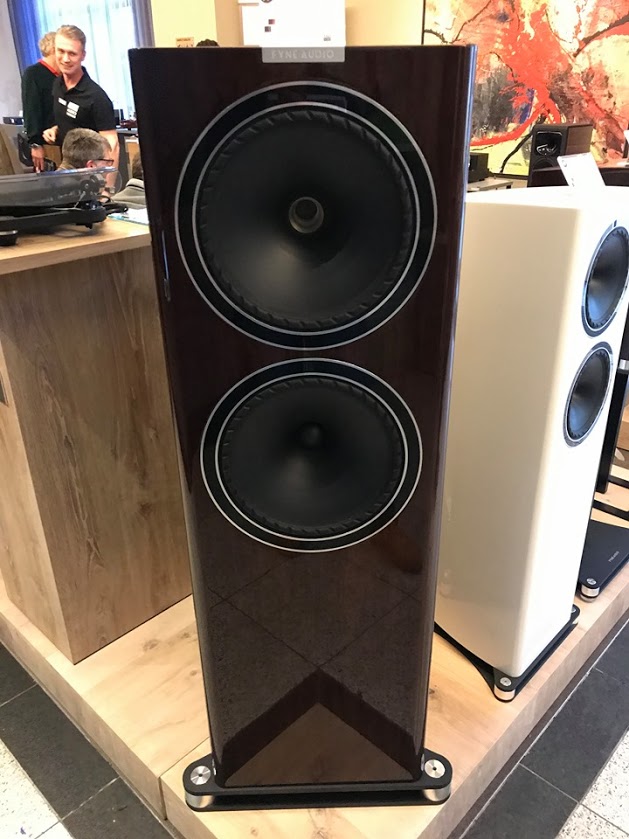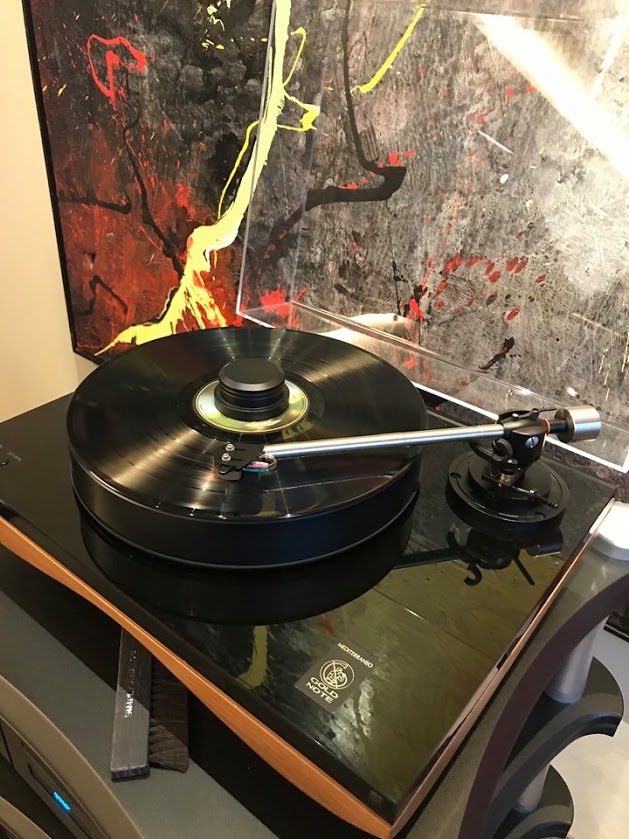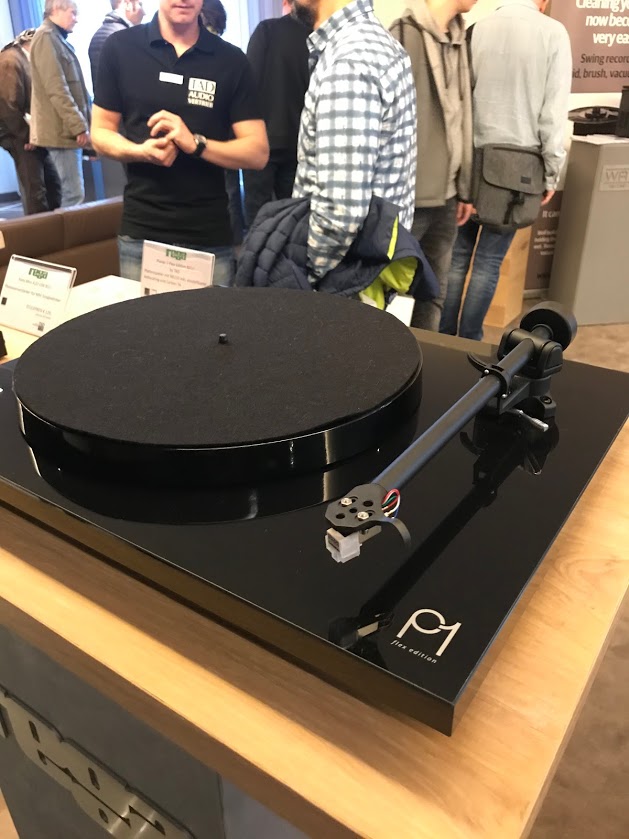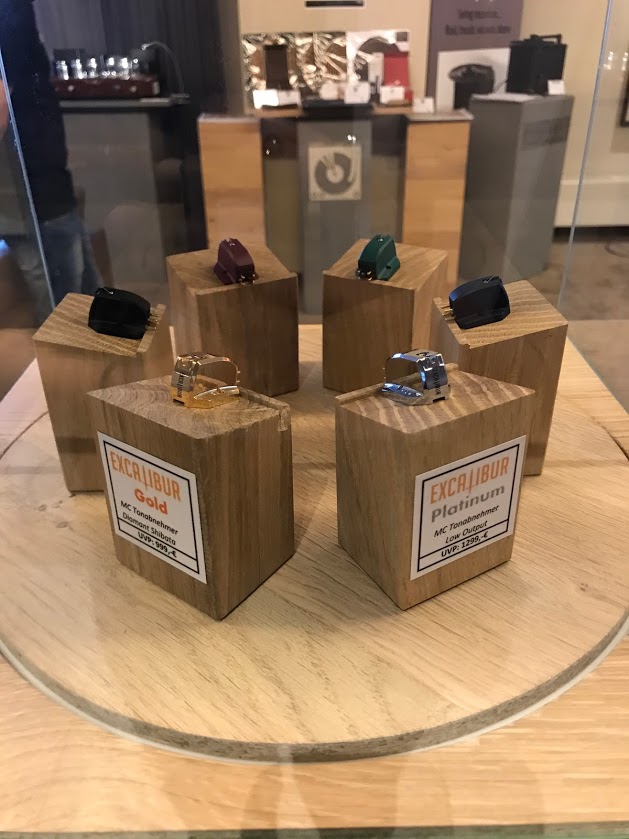 SYSTEM AUDIO
Being based in Copenhagen and knowing the Danish HiFi scene make it easy for us to recognize good vibes. Thus, we had a good chat with the guys from System Audio, who drove down from Denmark to showcase their latest gear and support their German distributor libraAudio. They demonstrated the active SA Legend 40 Silverback, which is arguably a very impressive loudspeaker with an incredible rated performance of only -1.5dB at 20Hz. The speakers were fed from the new 7.1 Multichannel Surround version of the SA Stereo Hub. The functionality is identical except that the new version will connect any 7.1 multi-channel source to a full 7.1 setup via the low-latency high-resolution WiSA protocol.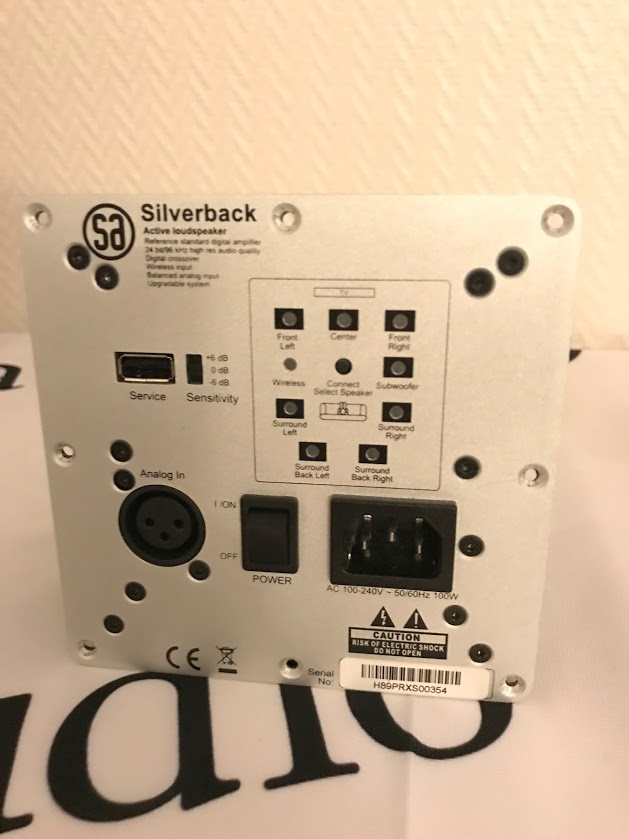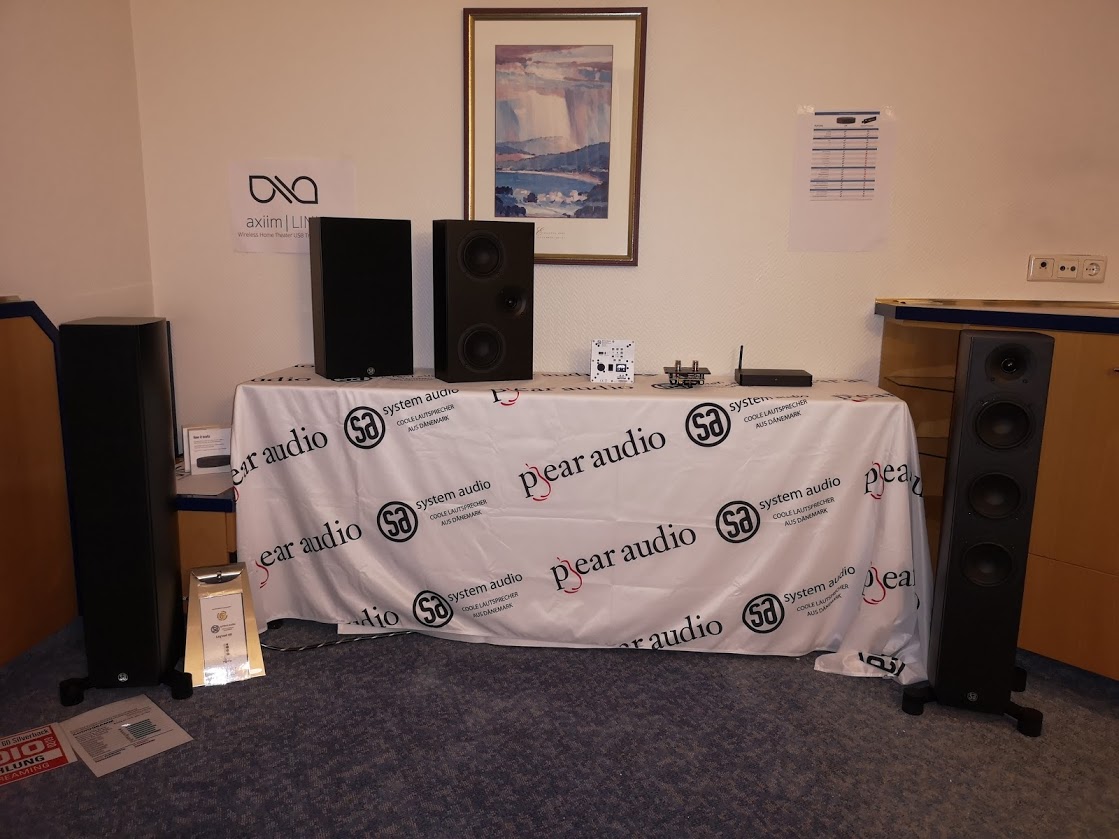 DYNAUDIO
Another Danish delegate, Dynaudio, was also hard to miss. This is another remarkable Danish loudspeaker manufacturer - this one with over 40 years of experience. No wonder their room was packed with curious visitors. This year Roland Hoffman presented the new Evoke loudspeaker series with special attention to the Evoke 30. For Dynaudio this is a mid-level series placed just under the renowned Contour series and just above the Emit series and the wonderful Special Forty standmount speaker. As typical for Dynaudio the design is classical and clean in a timeless manner.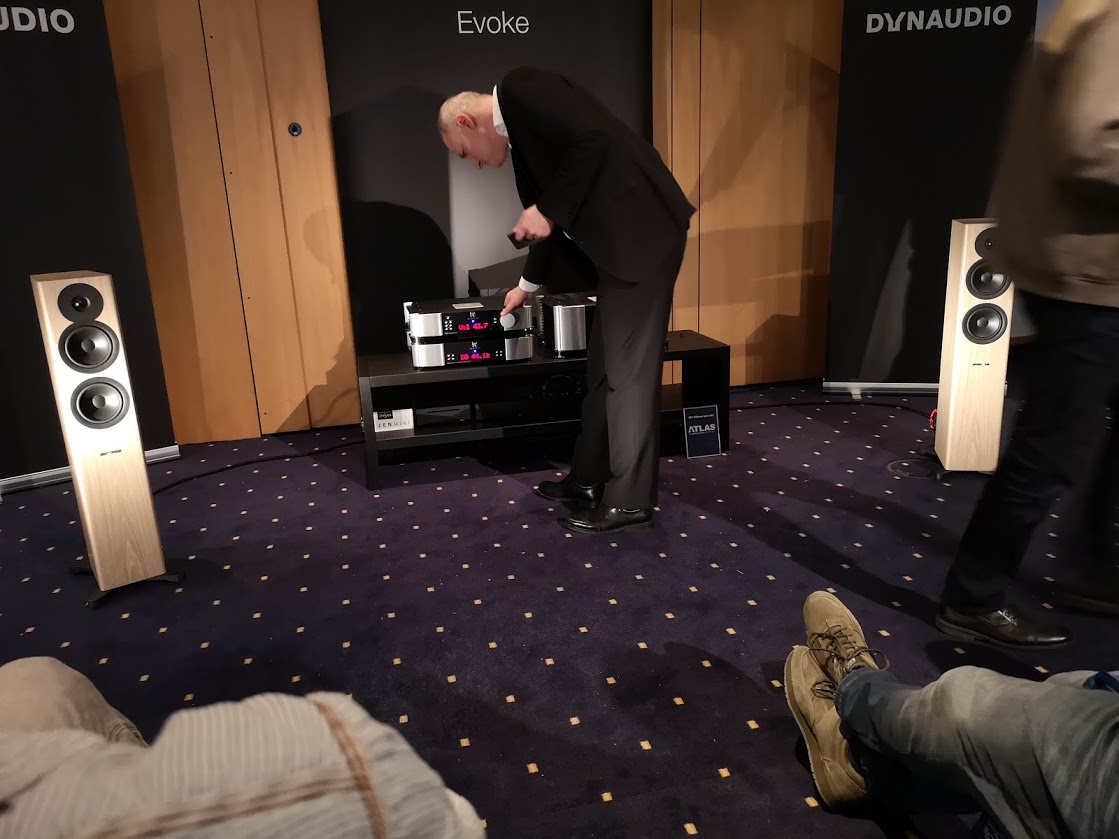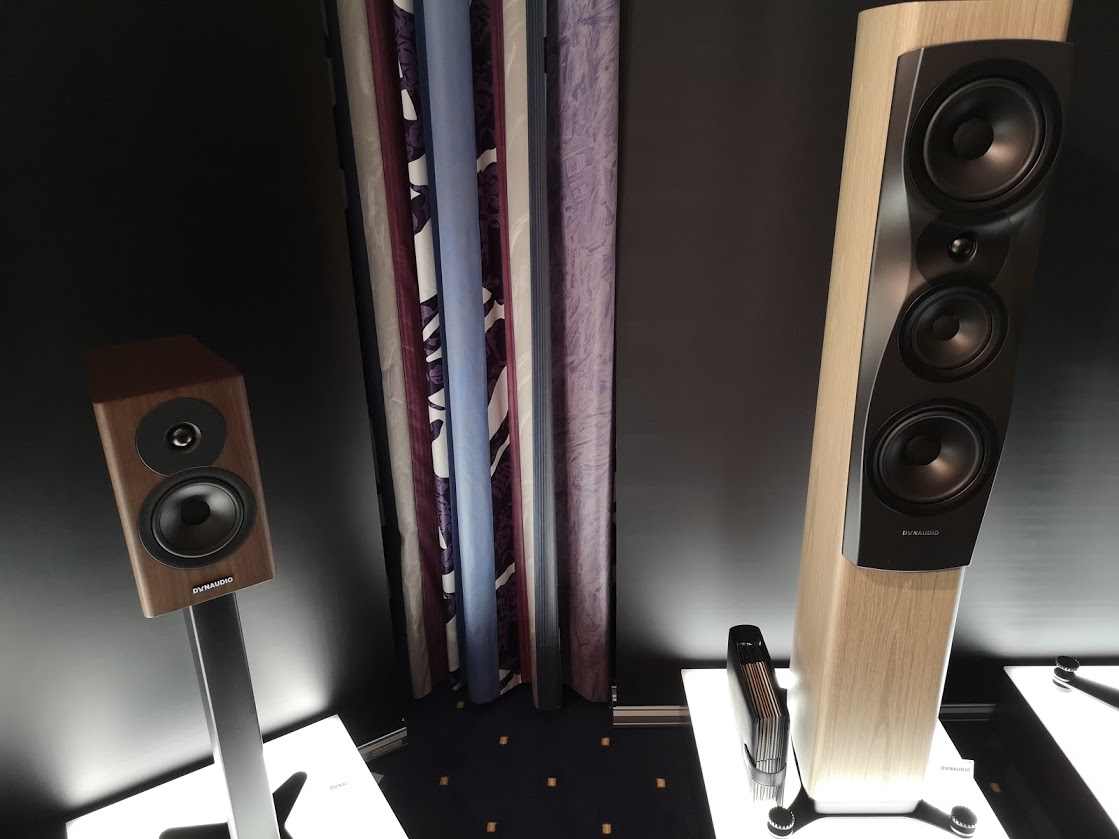 VIKING SOUND WAVE AND DANISH AUDIO DESIGN
We also met Viking Sound Wave for the first time. They introduced DISA, a bookshelf compact speaker that has surprisingly solid bass and clear highs. Impressive for a speaker that small! They shared a room with Danish Audio Design, who presented their PRE 75 pre-amp and the powerful monoblock amp, The One.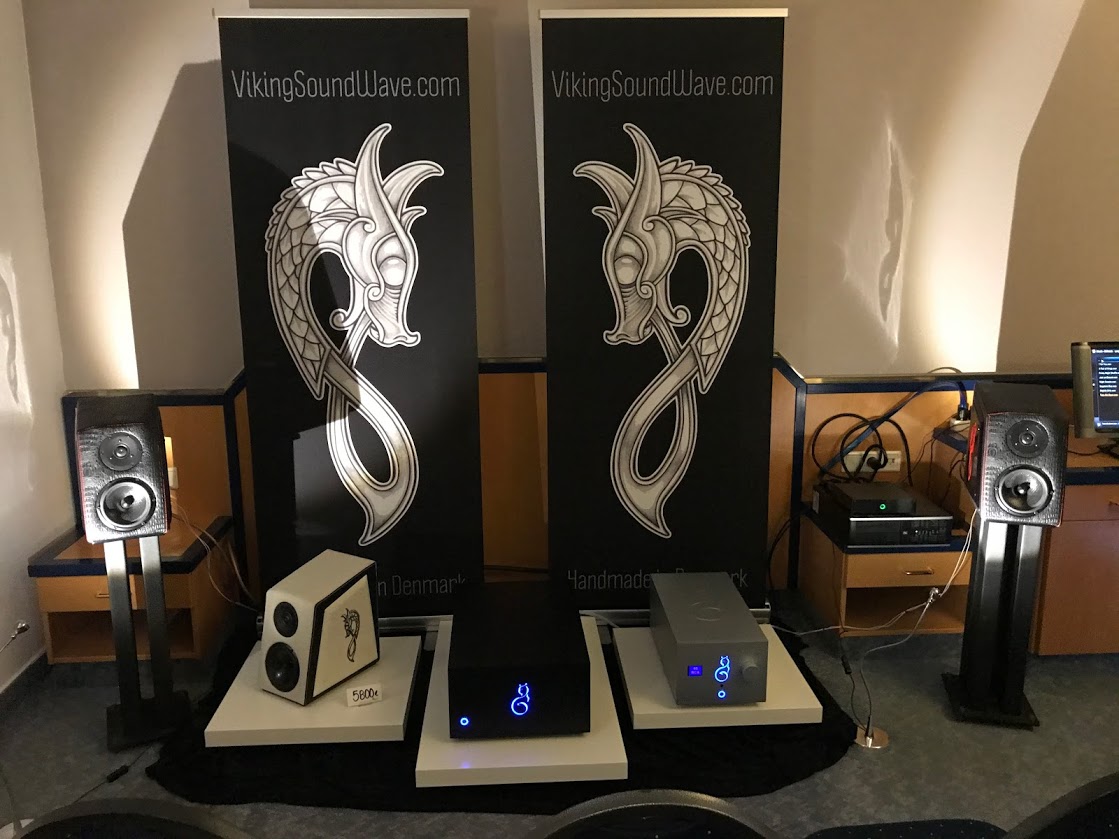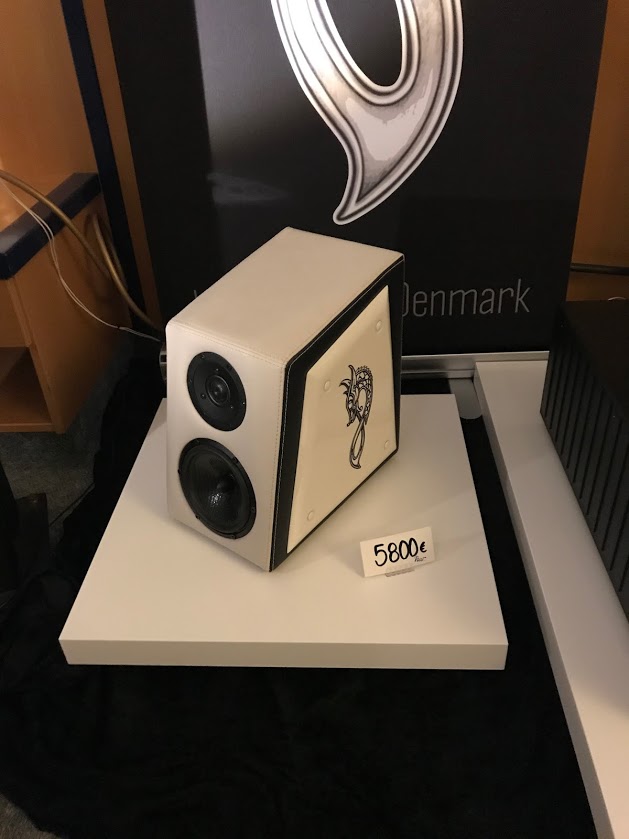 EAR/YOSHINO AND LIVING VOICE
As if there to prove how close Hamburg really is to Denmark Exotic Audio, a Danish/Scandinavian distributor of mid and high-end HiFi equipment, exhibited superb sounding equipment from EAR and Living Voice. We had a very pleasant chat with Kim, one of the Exotic Audio representatives.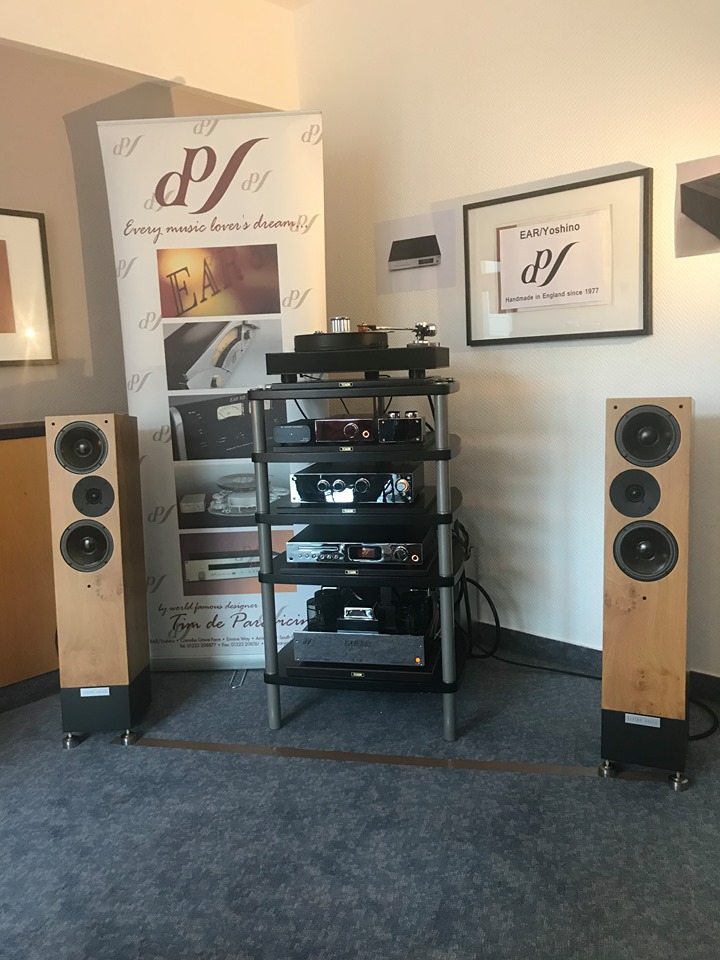 ANALOGUE AUDIO ASSOCIATION
Thanks to the positive atmosphere during breakfast on the second day of the show, we met some wonderful people from the Analogue Audio Association and learned about their work. The Analogue Audio Association is a German association founded in 1990 with the purpose of promoting analog music playback. We could say they are ambassadors of analog recording technology and the revival of vinyl has been a priority goal for them since 1990. Now that this goal has been accomplished to a large extent the next big goal is to get young people interested in High Fidelity and Analogue Audio. It's a great initiative and we were glad to hear that so many people still work hard to share their passion for quality sound reproduction. They organize "Stammtische" (informal member meetings) every once in a while and the dates are always announced in their Forum. Besides, they organize Analog Forum Krefeld every year in November where different workshops are held and new products and hot analog topics are discussed.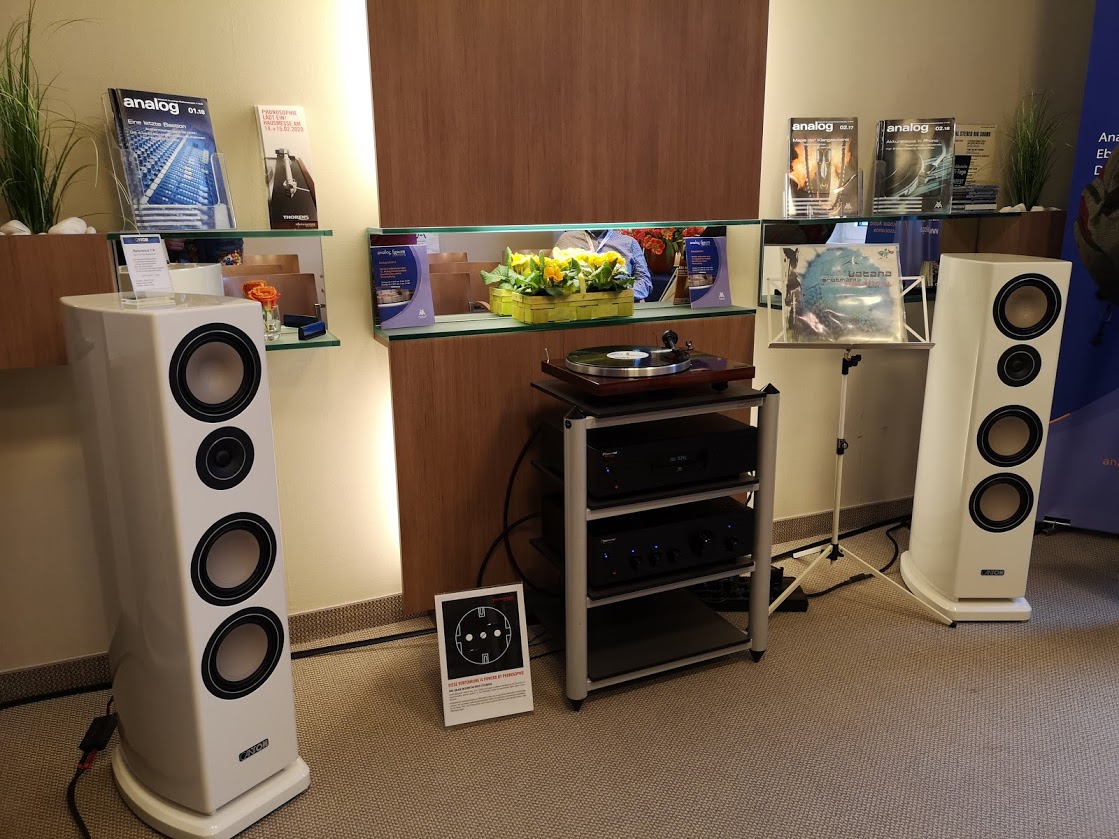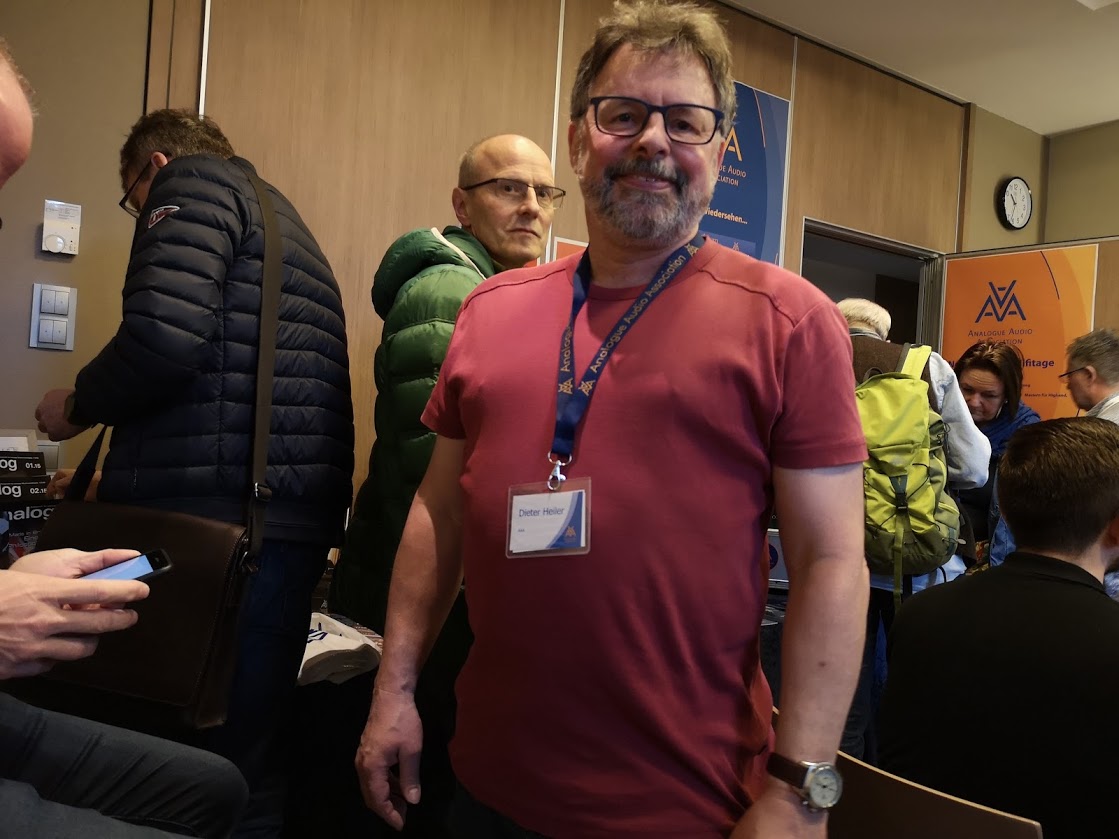 AVANTGARDE ACOUSTICS
As has become custom at high-end oriented HiFi shows Avantgarde Acoustics were demoing some of their recent models. This time we had the pleasure of the Avantgarde Uno, one of their more affordable models, being driven by their own integrated amplifier, the Avantgarde XA Int. The sound was well balanced, transparent, and very dynamic.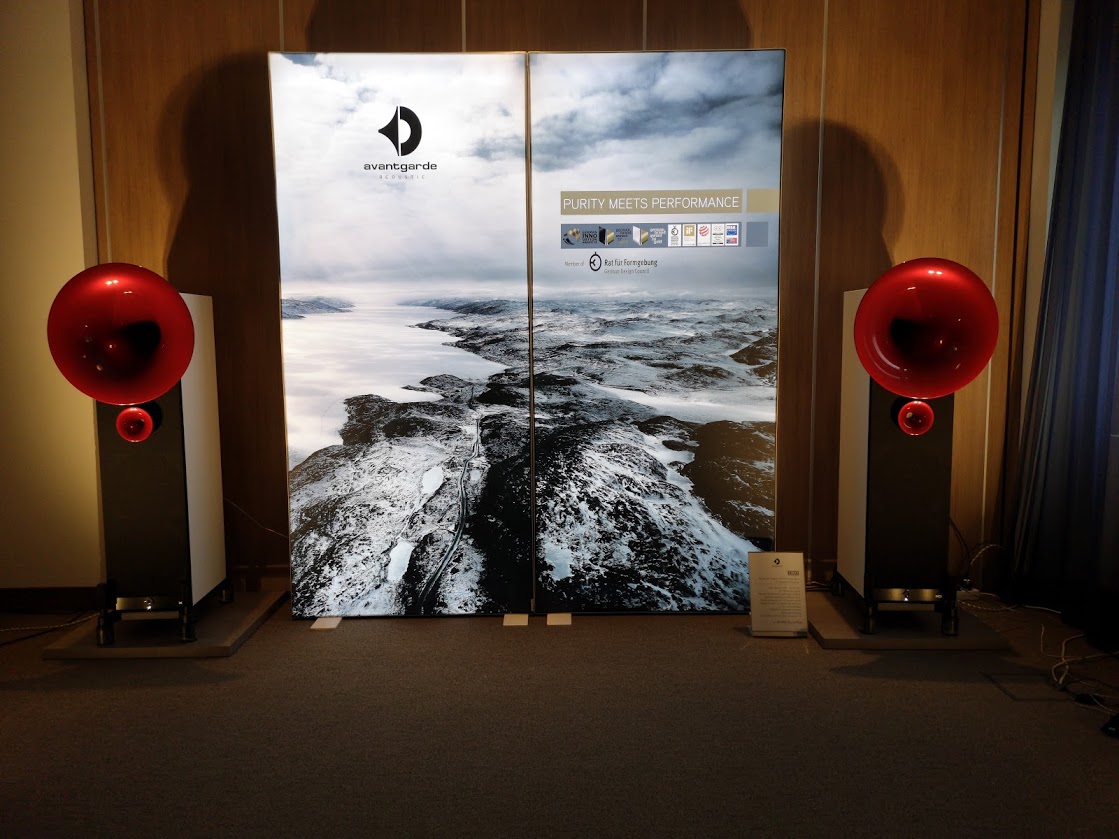 ACCUPHASE, BØRRESEN AND ANSUZ
The nice people from HiFi Studio Bramfeld demonstrated the latest speakers from Danish high-end manufacturer Børresen Audio with the current top of the line equipment from the prominent Japanese manufacturer Accuphase. The whole system was wired with cables from Danish Ansuz Acoustics and the total cost was approximately half a million Euro. The sound was full, musical, and very fast - but at that price it has to be.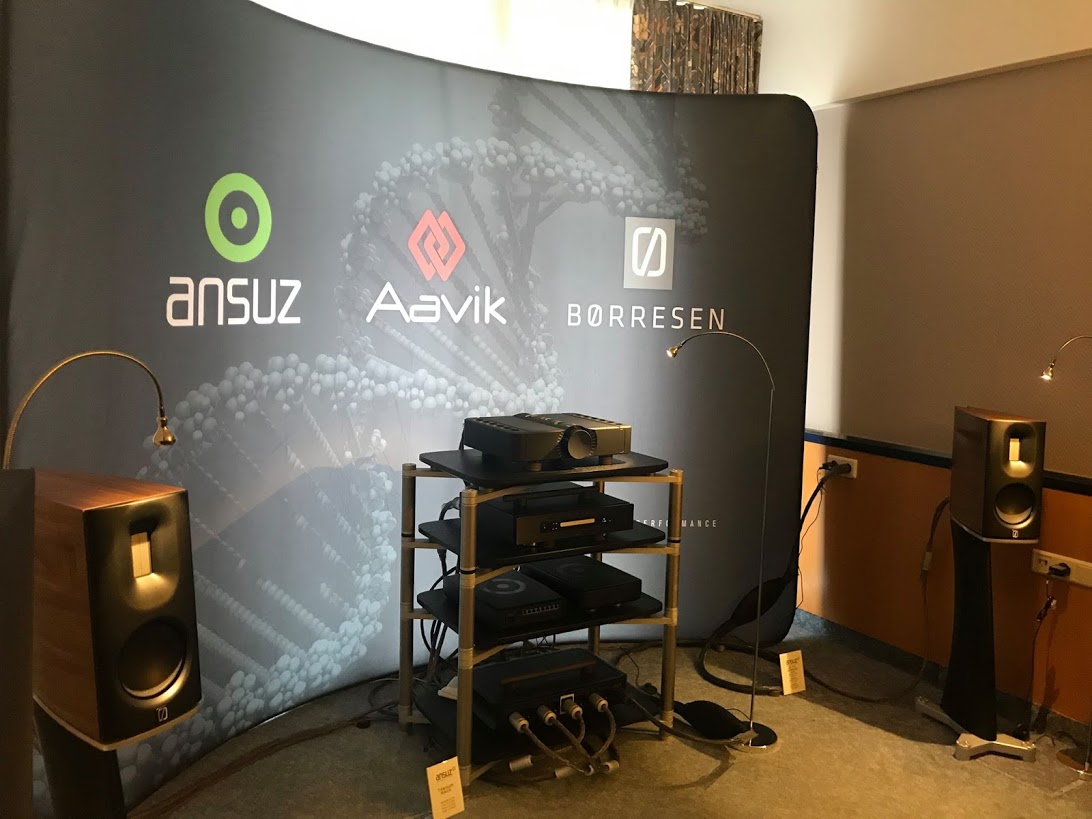 THIVAN LABS
The extremely nice sounding and quite affordable equipment from Vietnamese Thivan Labs were demonstrated by Eckhard Derks from Trade Company Germany. The Thivan S6 driven by the Thivan 211 Gold Swan integrated amplifier and the Thivan P-10 phono pre-amp sounded melodic and calm yet very dynamic. At less than 10k Euro this system provided excellent value for money.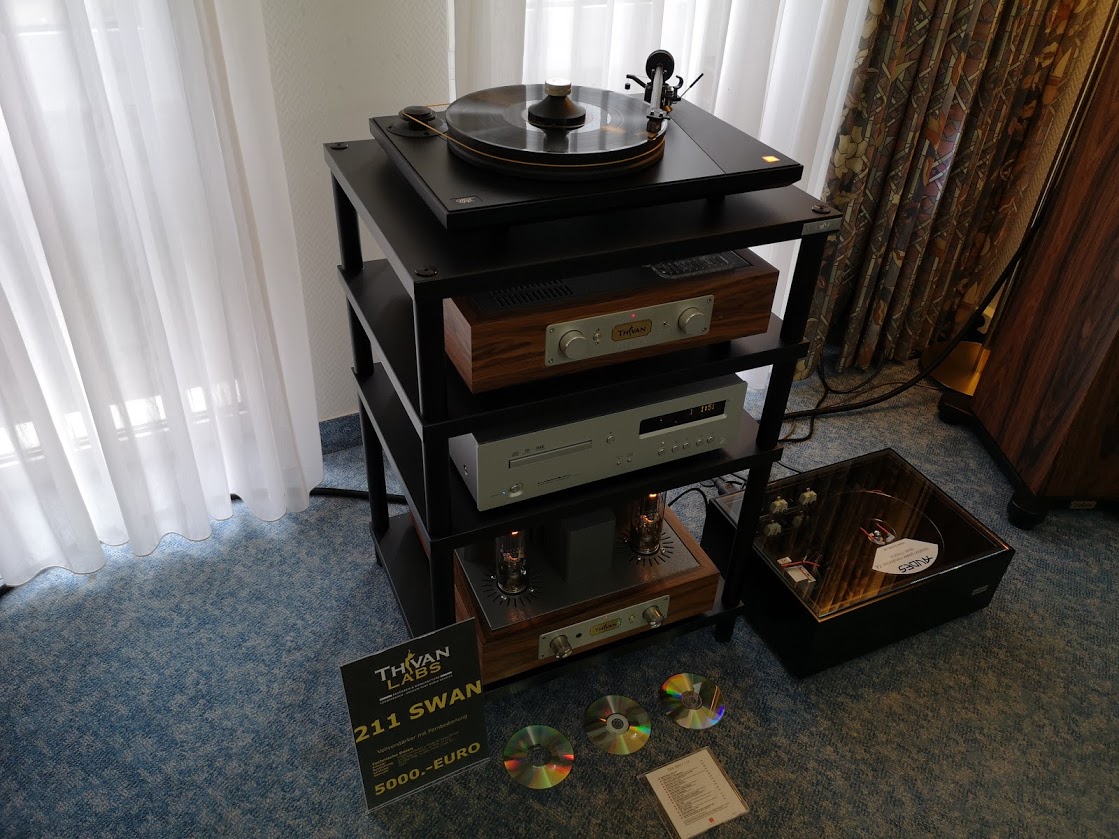 SOUND STEIN
The Kubus series of audio components was the first all-stone series of products including both speakers and components that we ever encountered. The series was showcased very effectively by its inventor, Dr. Hans-Otto Vollert. The sound was transparent and musical as we would expect from a 30k Euro system. The theft-protection is built-in - it is pretty difficult to make a run for it with more than 550kg of gear on your back.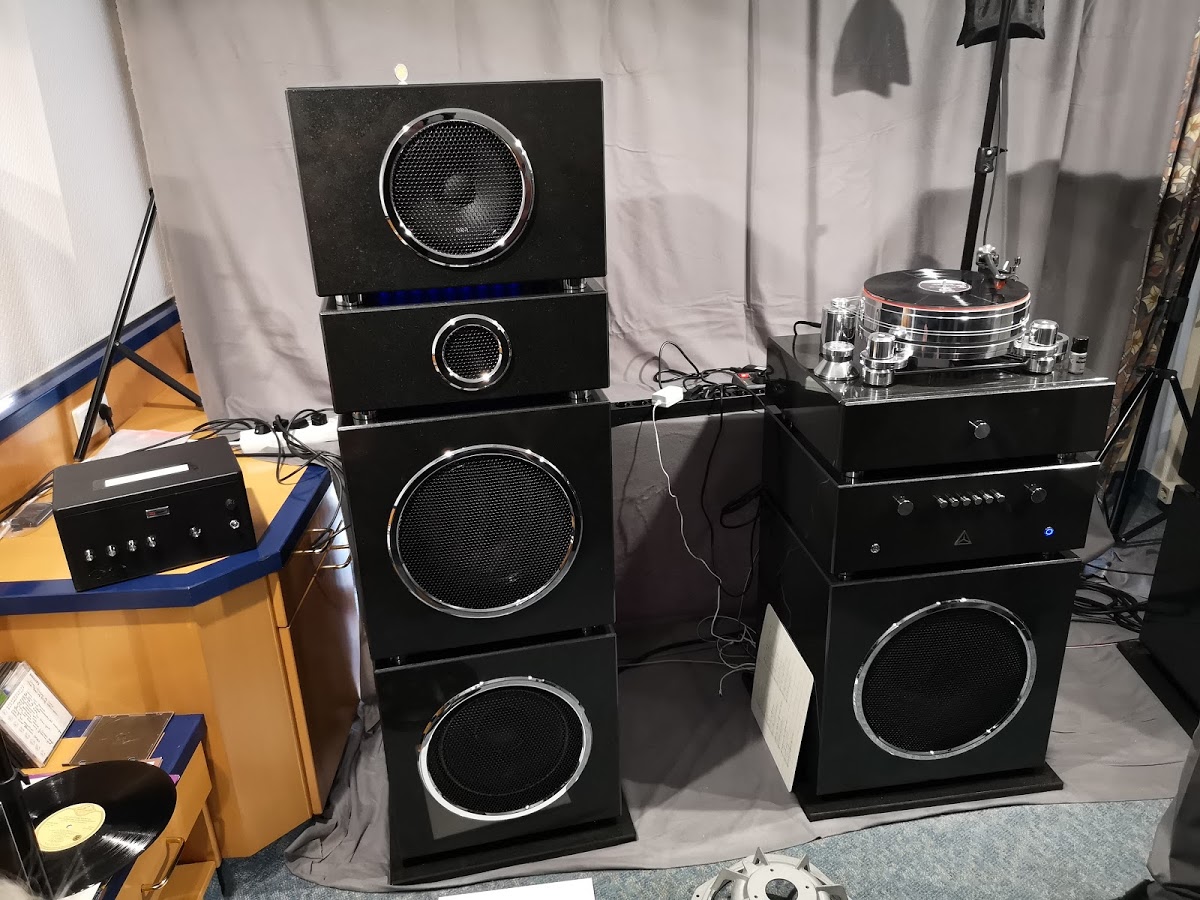 FONICA INT. AND KECES AUDIO
The German distributor Robert Ross Audiophile Produkte was showcasing the Flag M magnetostatic loudspeaker from the Italian brand Fonica Int. The speakers were driven by hardware from the German brand KECES Audio. The sound was pleasant and very precise - an excellent example of the box-free sound that can sometimes be achieved by dipole speakers. The Flag M is comparable in size to the Magnepan MG-12 but produced a more punchy and precise sound. This may be due to the rigid metal frame and high quality neodymium magnets used by Fonica Int. The speaker impedance is 6 Ohm and the sensitivity is stated as 78dB, which makes them an easier load than the Magnepans too.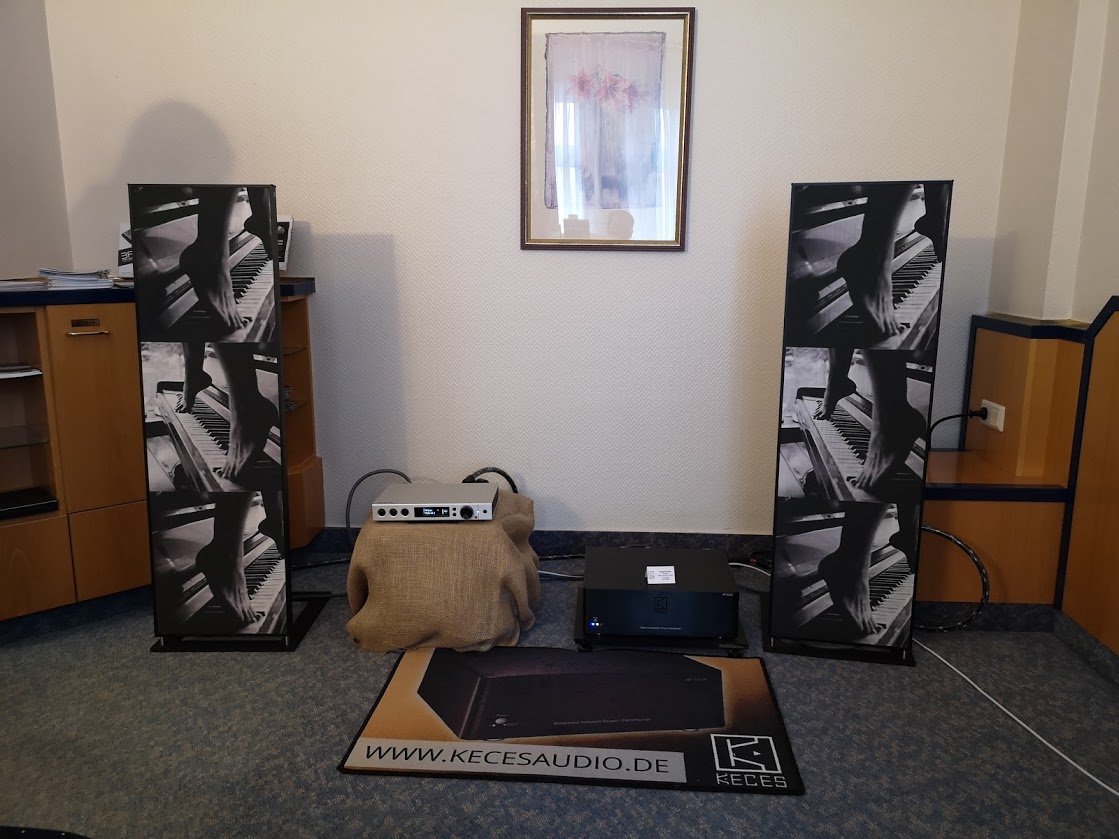 CLASSICS BY HIFI-ZEILE
Since second-hand HiFi gear is in our blood, it pleased our hearts to see the exhibition of beautifully renovated HiFi classics exhibited by second-hand specialist HiFi-ZEILE. The collection included an Accuphase E-206, a Transrotor Delight, a Luxman L-410, a Burmester 808, a Marantz CD-10, and a Revox B-77 mk II. All beautiful classics restored to a condition almost like new. Caregiving at that level must be respected and certainly comes at a cost - the offered prices were invariably beyond the original RRP for the units.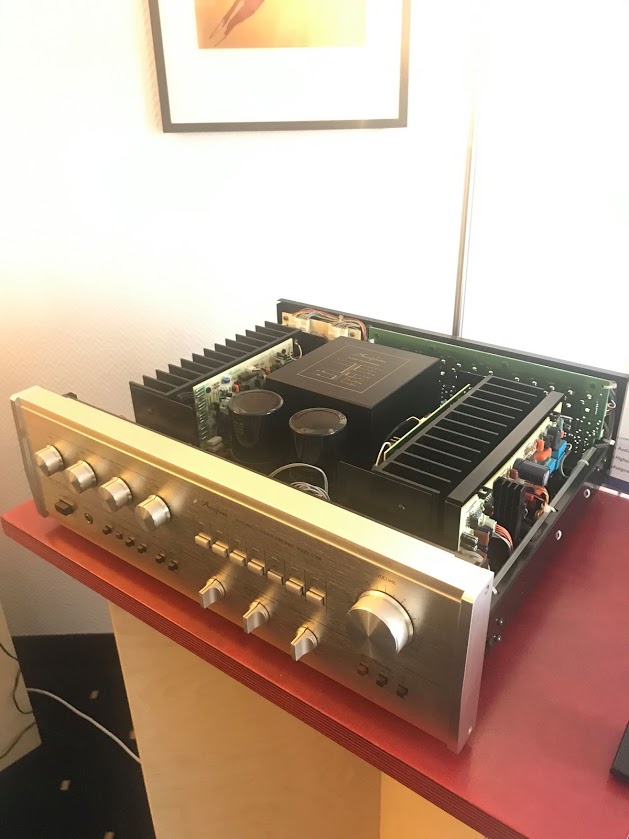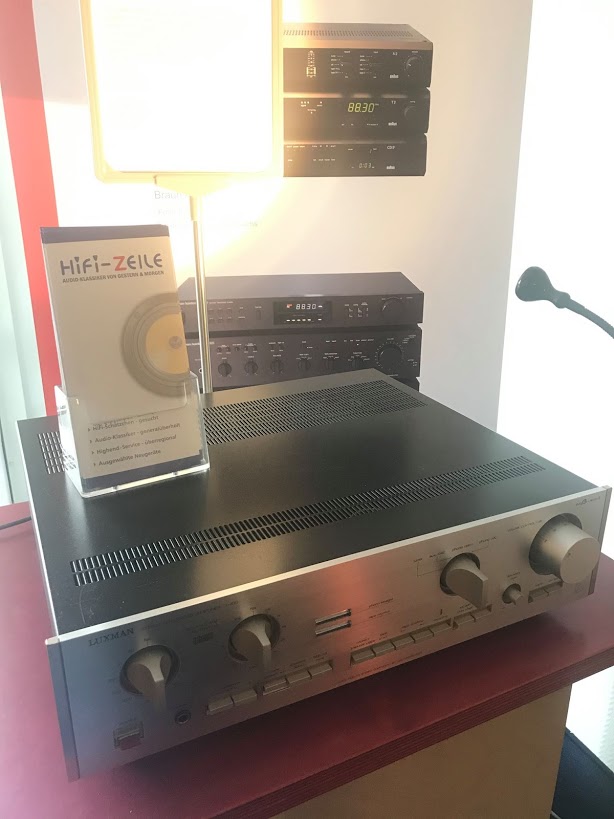 STEREOKONZEPT
Johannes Rickert, the owner of the German loudspeaker brand Stereokonzept, was demonstrating the Stereokonzept model 2. It is a beautiful speaker that sounds good to. The most remarkable feature is the very slim cabinet that makes the footprint very small and also makes the speaker appear quite elegant.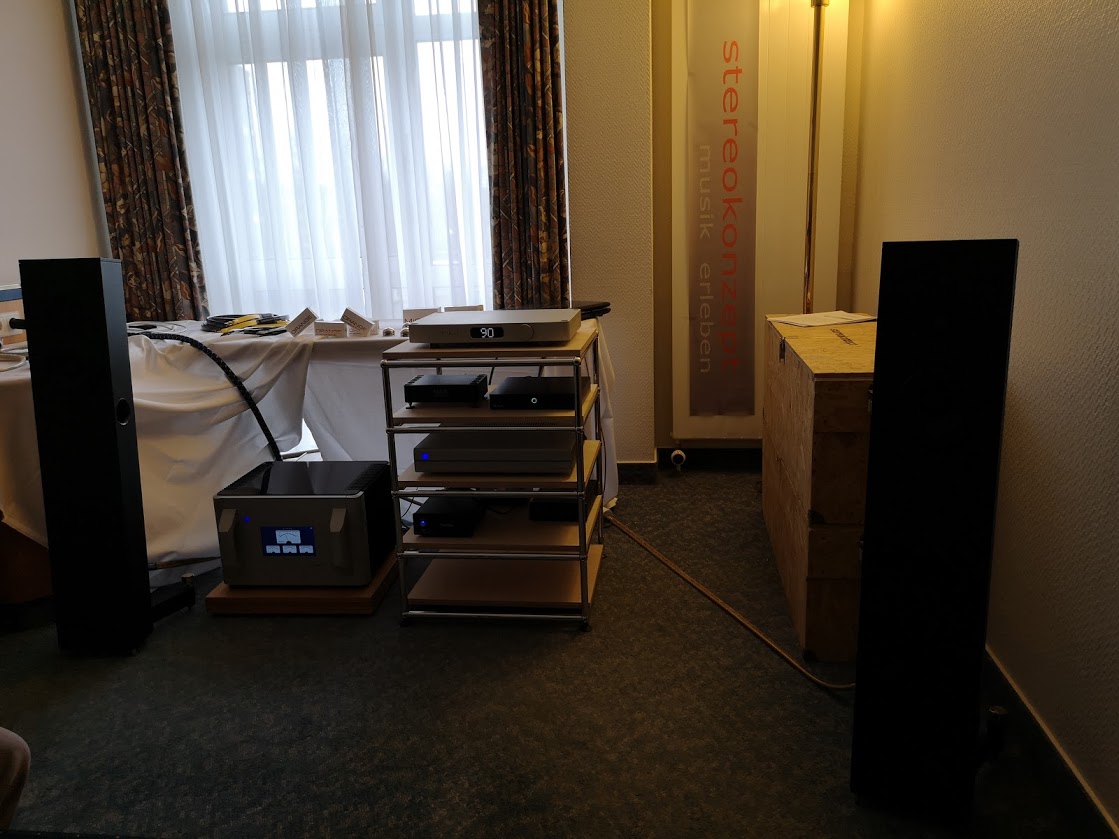 APERION AUDIO AND IOTAVX
Berthold Daubner from the German shop HifiPilot Gmbh performed one of the most value-oriented demonstrations of the show. The Aperion Audio Novus T5 and Supertweeter driven by the IOTAVX SA3 integrated amplifier made a good sounding system. At a total price of about 2150 Euro it must be considered exceptional value. The Aperion Audio Supertweeter was only 299 Euro a pair.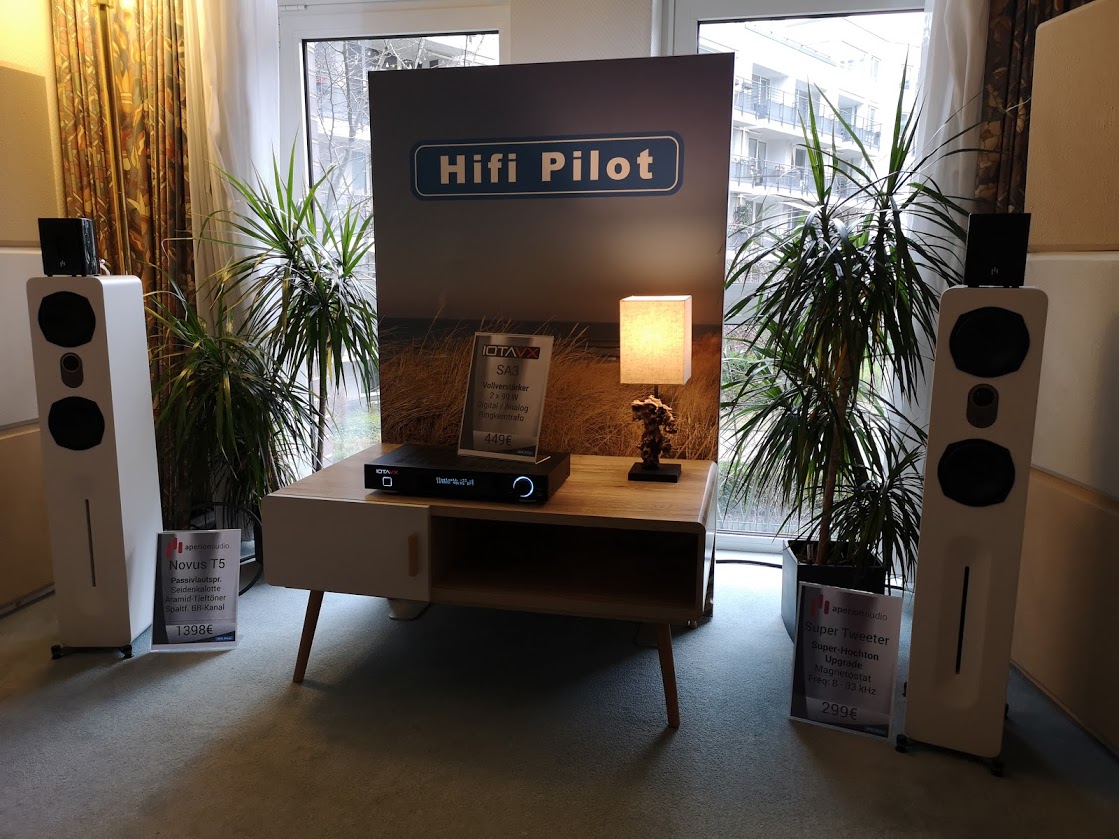 CONCLUSION
As always, we were not able to explore all the rooms and talk to all the exhibitors. But we covered a lot of ground and had an exciting two days with acoustic impressions, a beer with new acquaintances, and a lot of fun. It was, in other words, a really good show and maybe we will see you, dear reader, at the show next year?



Share article