Denmark is a small country with a strong tradition in electroacoustics that dates all the way back to H.C.Ørsted's discovery of electromagnetism. At Hifishark we have taken it upon ourselves to visit the current champions of the Danish loudspeaker tradition and see where the legacy is currently headed. On the second trip of our grand tour we visited Audiovector - another giant in the Danish loudspeaker scene that has been producing excellent loudspeakers under the technical direction of founder Ole Klifoth for more than four decades.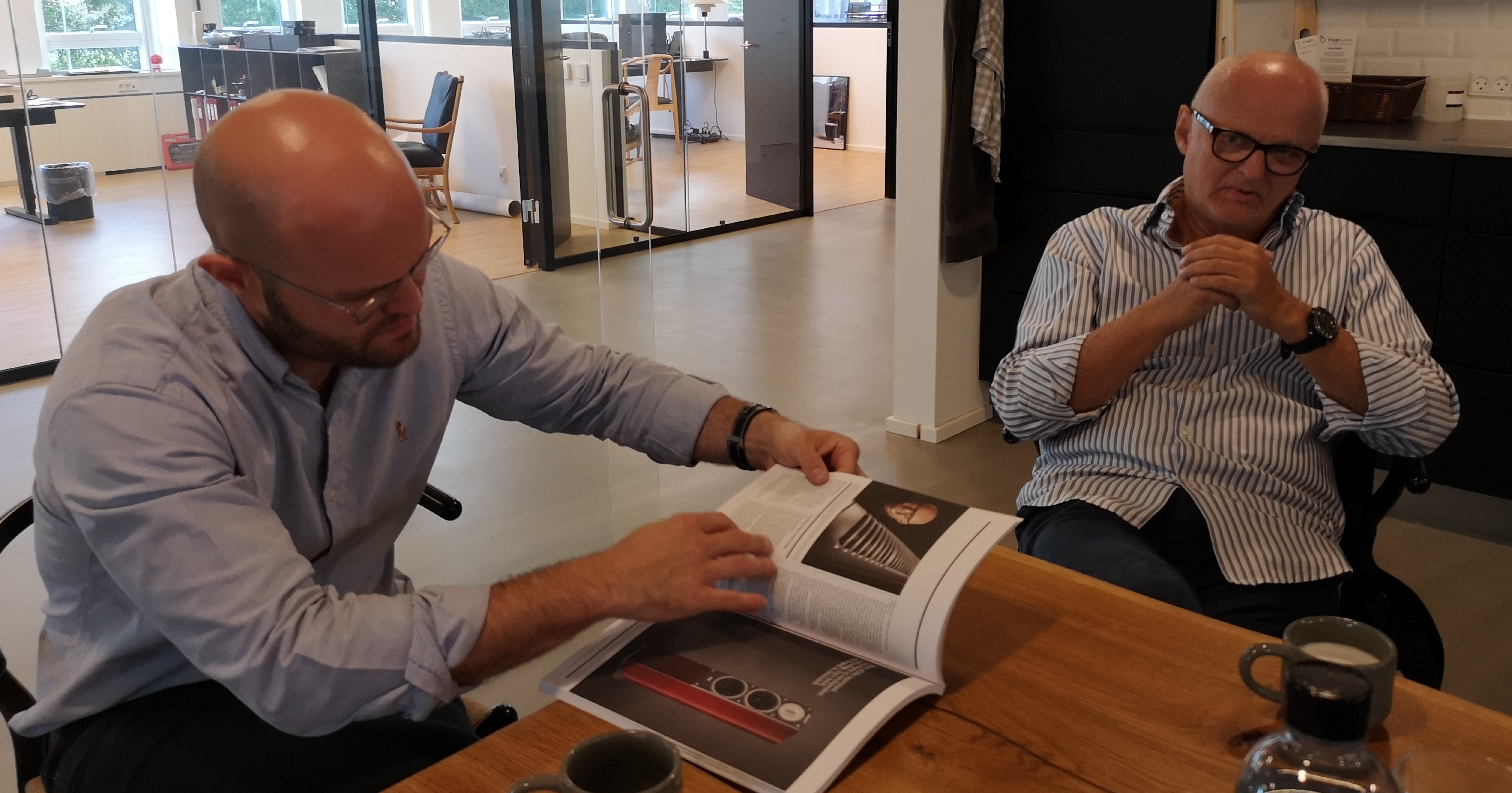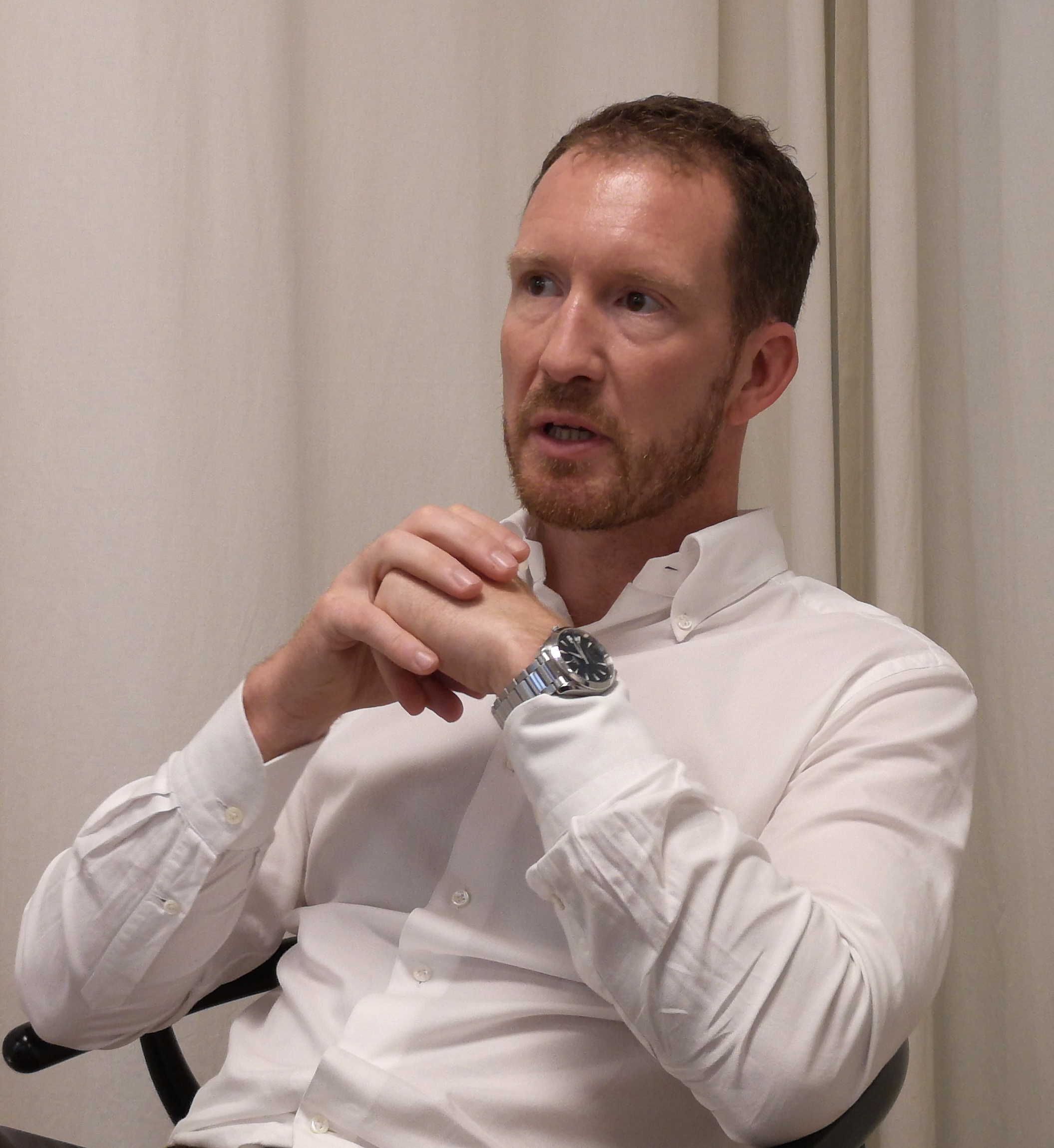 Audiovector recently moved to larger facilities in Skovlunde, just outside Copenhagen. Here we met Ole Klifoth himself, his son Mads Klifoth who is now CEO and owner of the company and finally the European sales manager, Martin Dunhoff. For the better part of a day they hosted a factory tour and an in-depth talk about Audiovector's history and philosophy. Our visit happened to coincide with the imminent launch of the new Audiovector R6 series. We had a good couple of hours listening to the new R6 series speakers as well. As you can read in the following it was a good and very interesting day.
Early History of Audiovector
Ole Klifoth seems to be a compulsory loudspeaker builder. Ole, who is now 72, remembers his first project vividly: He was 14 and built a pair of speakers using drive units scavenged from old radio consoles that he put into new boxes so that he could listen to Jazz music on his old Danish tube radio. This began a life-long love affair with loudspeakers (and Jazz music) that has allowed him to accumulate nearly 60 years of experience so far.
When he was in his twenties his skills as a loudspeaker builder were recognized and he was hired to construct a complicated 7-way loudspeaker intended for the high-end market. In 1979 he decided to commit fully and form his own loudspeaker company, F3 Lyd.
Ole had quite firm ideas about his requirements for a good sounding loudspeaker and his 7-way high-end project had allowed him to test these ideas in practice. With F3 Lyd he set out to create a scaled down and affordable realization of his ideas. The result was called the Trapez and was named after the shape of its cabinet. It aimed for low driver compression, minimal cabinet dampening, high efficiency, and simple first order crossovers - the main idea being that the freer the music flows the more natural it will sound (and the more Jazz you will get). In the absence of significant cabinet dampening the trapezoidal cabinet shape, which became the defining aspect of this speaker, was essential to avoid parallel surfaces and internal standing waves.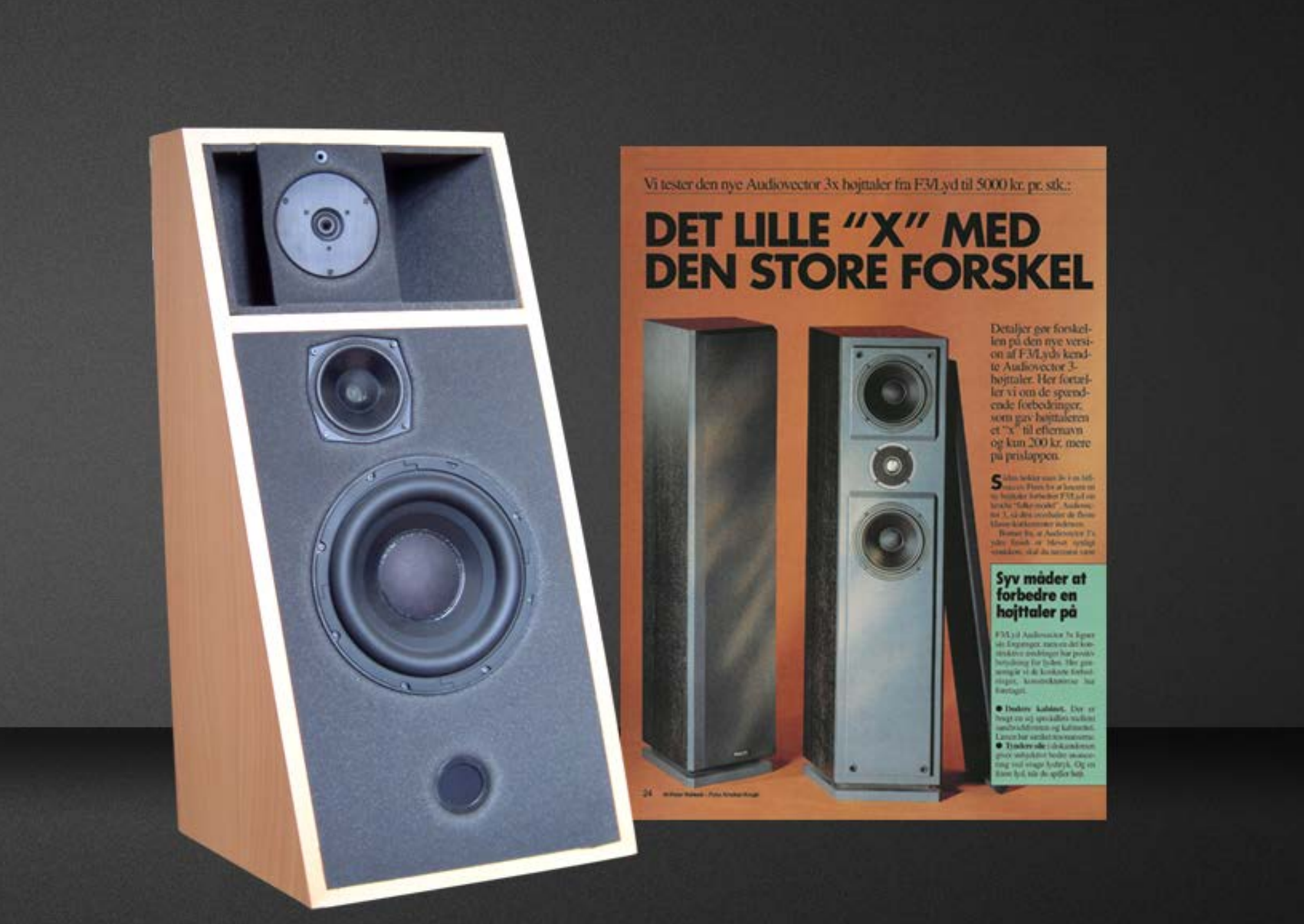 At first the Trapez was produced only as a kit and Ole made a marketing scoop when he was invited to write an article about loudspeaker construction for the Danish magazine High Fidelity in 1979. He basically deconstructed his own loudspeaker and presented his ideas about loudspeaker construction while doing so. The kit became very popular in the DIY market and before long F3 Lyd was also selling ready-made versions of the speaker that would go on to sell an impressive 50.000 units between 1979 and 1991. Crucially, all versions of the speaker used the same cabinet, and whenever Ole upgraded the Trapez he would also offer the upgrades to those who already owned an earlier version.
Still today 30 years later a search for "F3 trapez" on Hifishark will yield specimens for sale and our recorded history of listings shows well over 300 advertised not only in Denmark but also throughout Europe. So if you are interested you can find a pair for small money.
In 1984 F3 Lyd started working on a new series of loudspeakers called Audiovector. By now international marketing and sales had become an important concern and Ole decided to change the name of the company from the very Danish sounding F3 Lyd to the more international F3/Audiovector or just Audiovector.
Upgrading concept & Sound philosophy
Many lessons were learnt during the first 20 years of business. Audiovector carefully accumulated this experience into a toolbox of construction principles or, as Ole calls them, solutions that each contribute to a successful loudspeaker. Nowadays it comprises roughly 20 principles but it started out simply as the aforementioned ideas about low compression, high sensitivity, and simple crossovers.
Also Ole had become more and more happy with the idea of a long life and a customer-friendly upgrade path for all products. At the end of the 1990s he decided to commit to the idea and when the M series was released it offered a multi-dimensional upgrade path. A particular model, like the M3, came in three versions, M3, M3 super, and M3 signature. A customer not able to afford the M3 signature at first could buy the M3 or M3 super and later pay Audiovecter to upgrade the speaker to a higher end spec. Also buyers of the M3 could buy an upgrade to the later Mi3 revision down the line.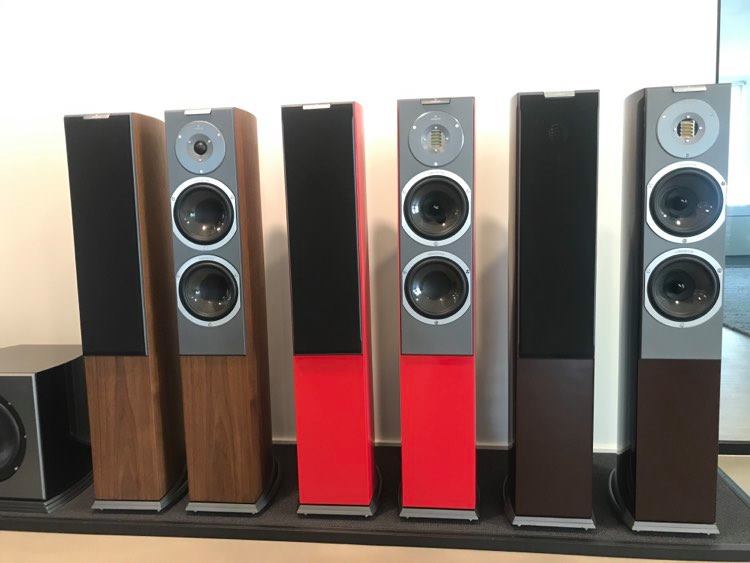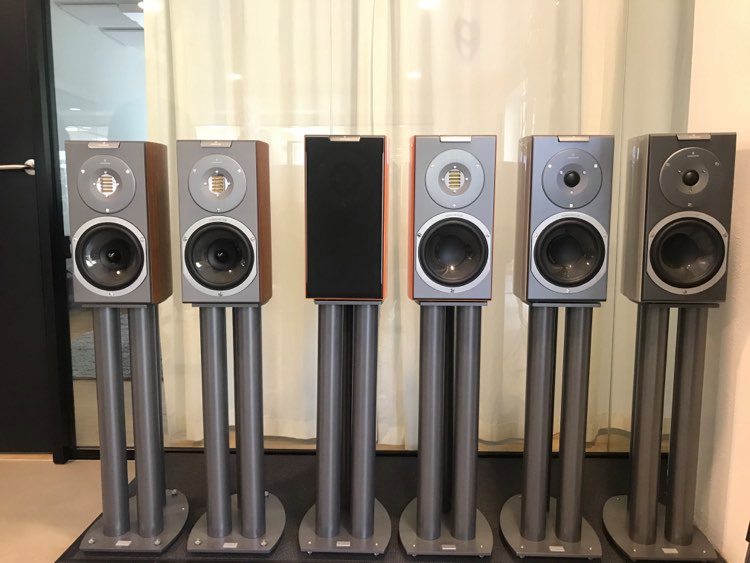 This approach, friendly to both customers and environment, turned out to be a success for Audiovector and they have offered this service for every model since. In order to qualify for a straight upgrade you must supply a pair of fully functional speakers, otherwise a premium will be charged for any required repairs. However, the only inescapable condition for an upgrade is that the original cabinet can be reused. For that reason Audiovector decided to design acoustically optimal and long-lasting cabinets when bringing the earliest predecessors of the current R6 and R3 models to market in 2001 (the S6) and 2004 (the S3), respectively. So, if you have any 6 series speakers newer than 2001 or any 3 series speakers newer than 2004, then you can contact your Audiovector dealer and order an upgrade to your preferred newest R-spec for essentially the price difference + 30%.
Being Hifishark we can't help getting the thought that one might scoop up a pair of 15 year old S6 speakers and have them upgraded to 2020 R6 speakers. We suggest you create a search agent and watch the market for new listings.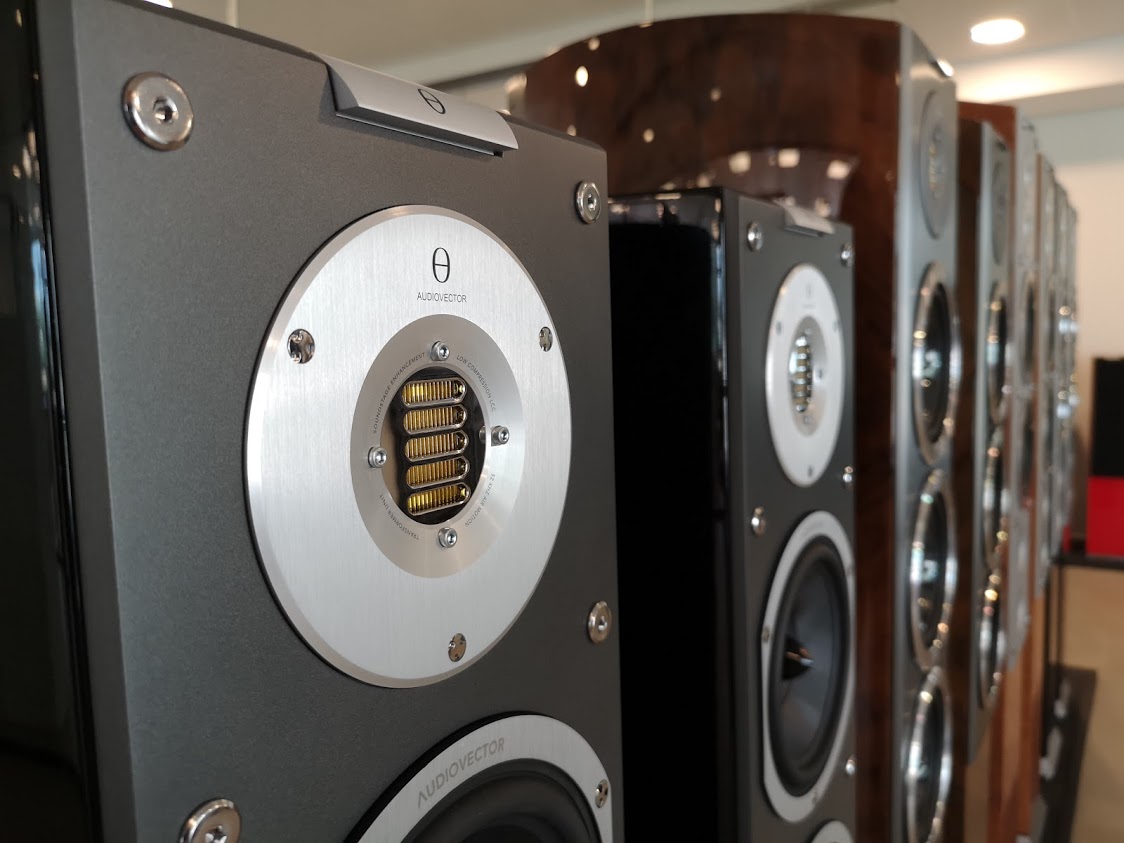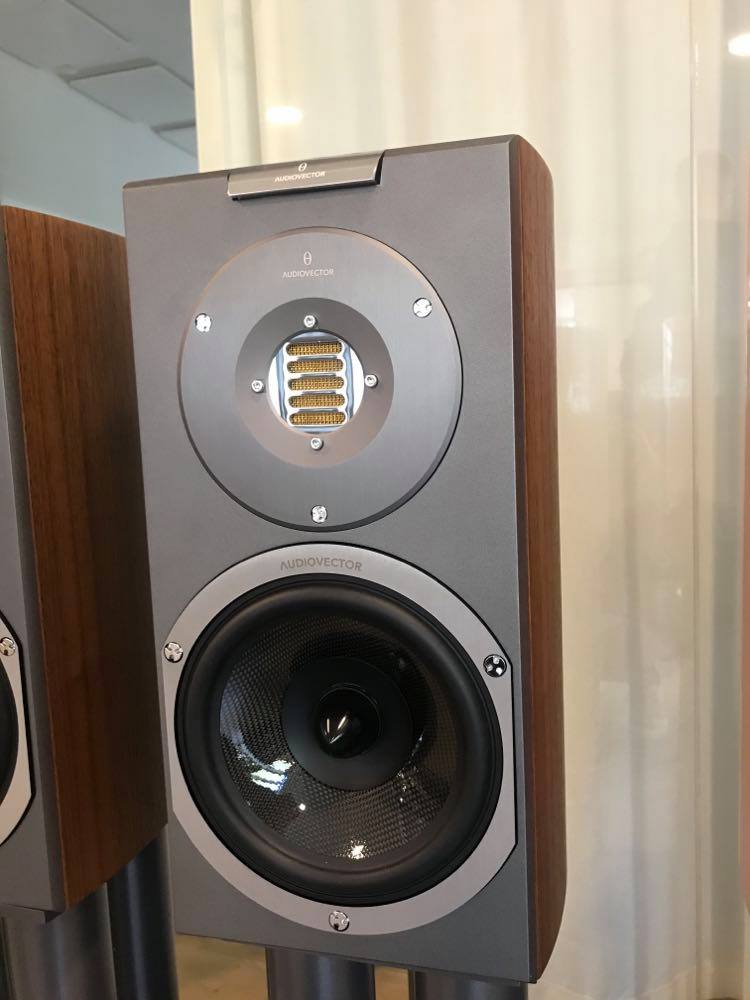 The Audiovector R11 and the Audiovector DNA
There is no doubt that Ole Klifoth is a man that knows exactly how he wants a speaker to sound. His ultimate reference is live music, especially Jazz, but he eventually came to the conclusion that live music is not the most handy benchmark in the everyday life of a loudspeaker designer. Towards the end of the 2000s he therefore decided to build the ultimate loudspeaker - one that implemented all of the concepts in his toolbox to perfection and sounded as much as live music as possible. The result was the large, beautiful flagship Audiovector R11 that came to market in 2009. The cost is astronomical and only few people will be able to afford it, but it represents a current pinnacle and Ole is thrilled about the tool that it also is: A pure manifestation of the very DNA of the Audiovector sound and thereby a viable reference for alle other developments.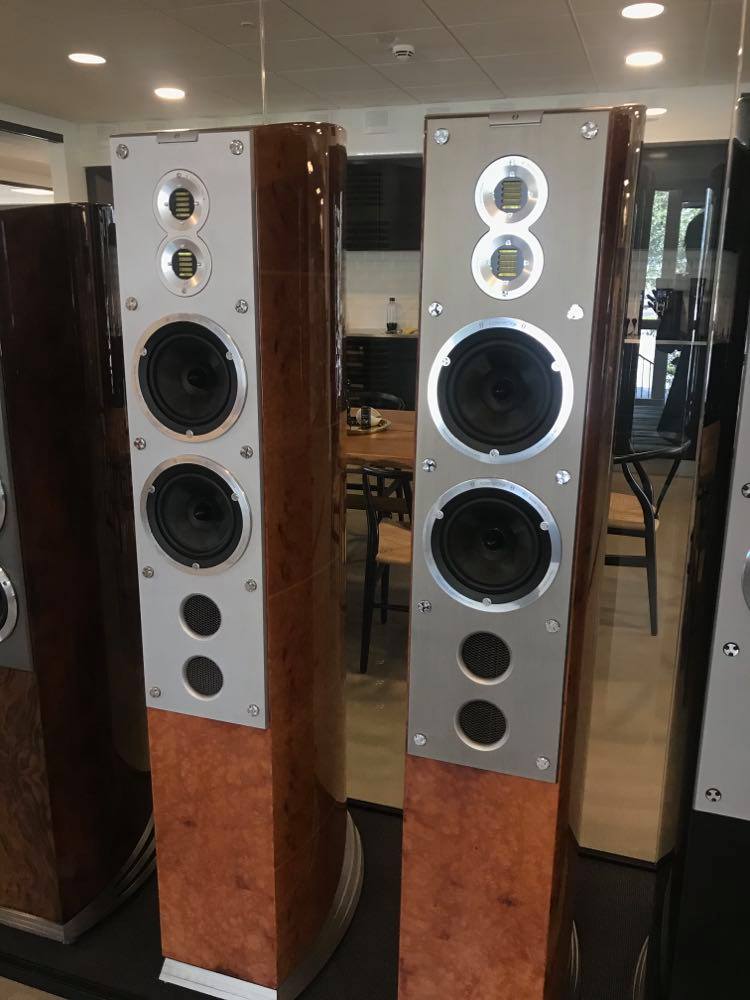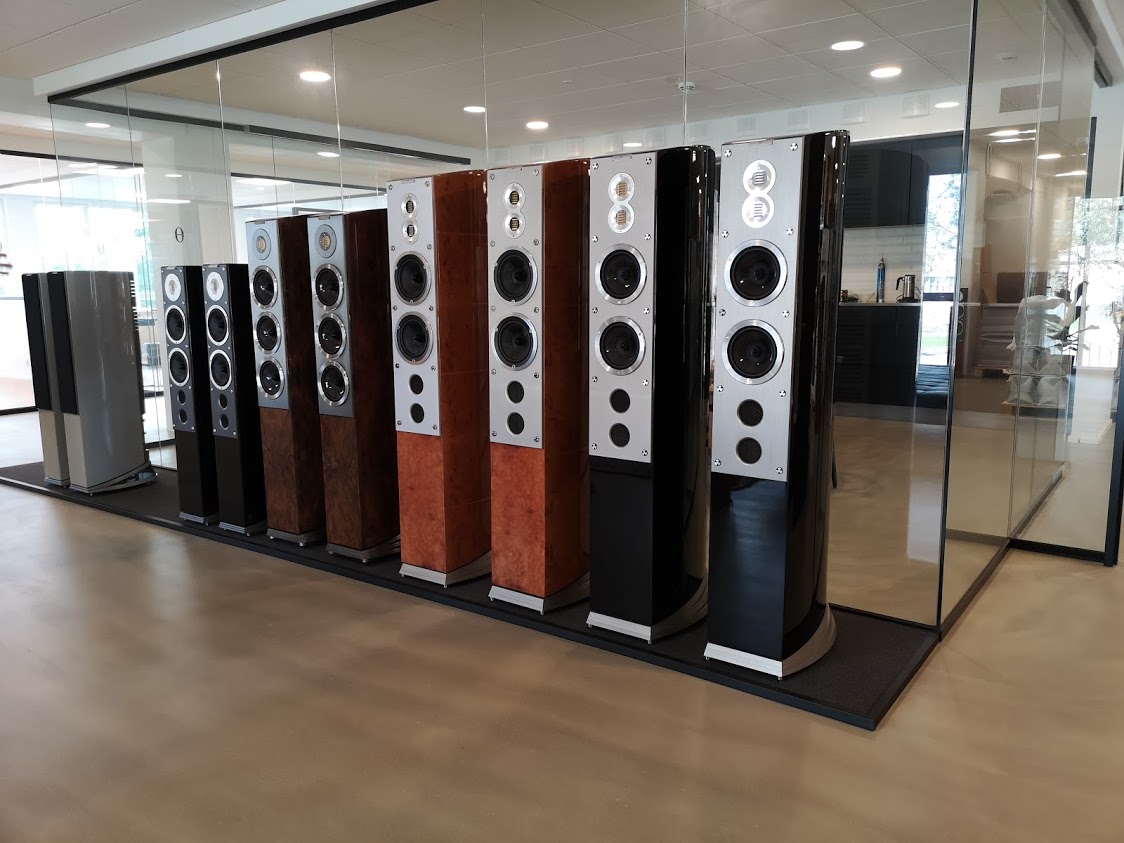 Besides the R11, Audiovector more or less designs all speakers to a price point. In every case they incorporate as many of the 20 toolbox solutions as the budget permits and use the R11 as a yardstick to ensure that the resulting product is in line with the Audiovector house sound. They never rush the development process and sometimes it can be quite lengthy.
Ole told us that the sourcing of appropriate drivers is particularly difficult and usually takes up a disproportionate amount of development and listening time. The drivers are always proprietary Audiovector designs. Manufacturing is outsourced to the Danish drive unit specialist Scanspeak and often the units are further modified or even rebuilt by Audiovector before use.
With only a few exceptions almost everything is produced and assembled in Denmark. During development Ole, Mads, and Martin serve as the main listening panel. But once a speaker is 80-85% finished or more they also invite listening panels from the outside to make sure that no glaring omissions have been made.
Focussing the Business
The technical DNA of Audiovector is in very safe hands with Ole, his toolbox, and the R11. But, as he puts it, Ole was always more of a tinkerer than a businessman and therefore he decided to bring in his son, Mads Klifoth, as CEO in 2014. At the time, Mads was a successful real estate broker but also took a (secret) interest in the business of Audiovector that he had been following since childhood. Being a trained businessman (and not a tinkerer), Mads focuses exclusively on business development and other non-technical things. This division of responsibilities turned out to work very well for both Ole and Mads and in 2017 Ole sold Audiovector to Mads to complete the generational shift.
One particular focus for Mads has been to align the corporate aesthetic with the clean Scandinavian design aesthetic of the speakers - in a sense completing the Audiovector DNA. When Audiovector outgrew their previous headquarters in Nordhavn, central Copenhagen, at the beginning of 2019 he therefore made a very careful move. Audiovector now has its headquarters in Skovlunde, only 15 minutes drive from the heart of Copenhagen. The new office is spread over three floors.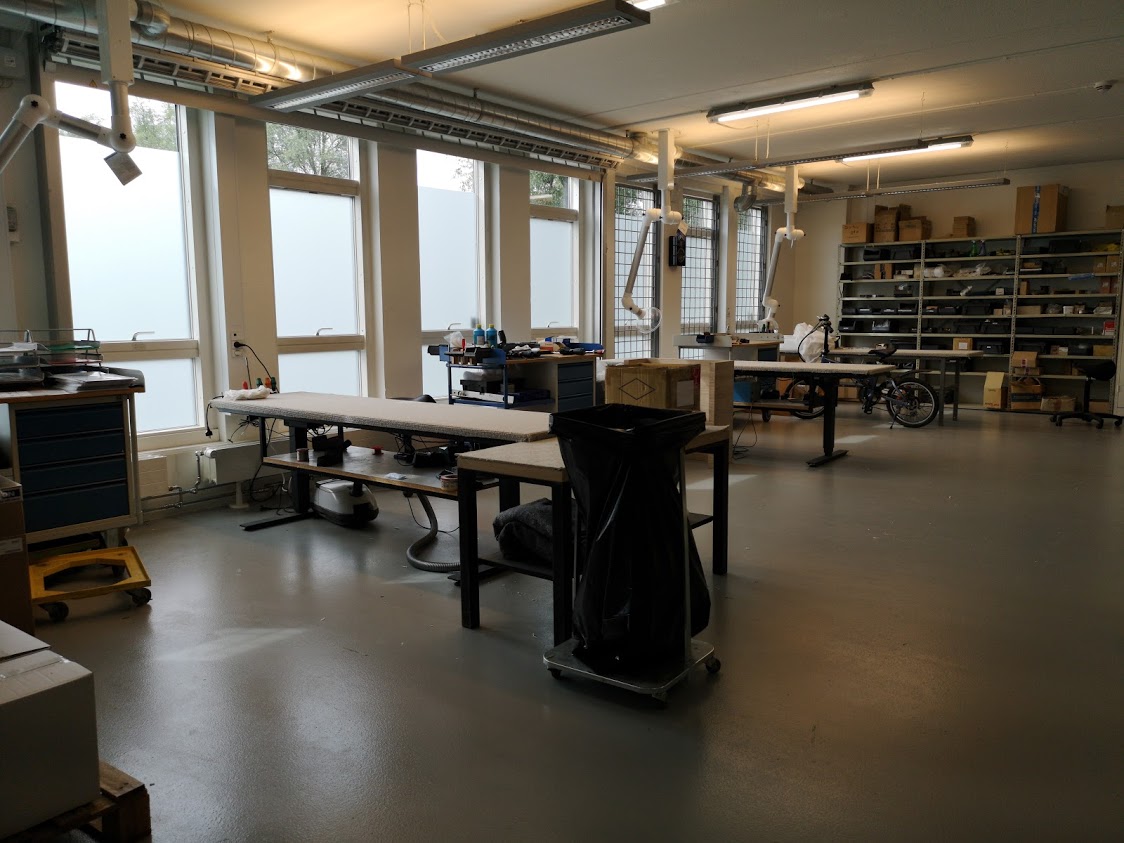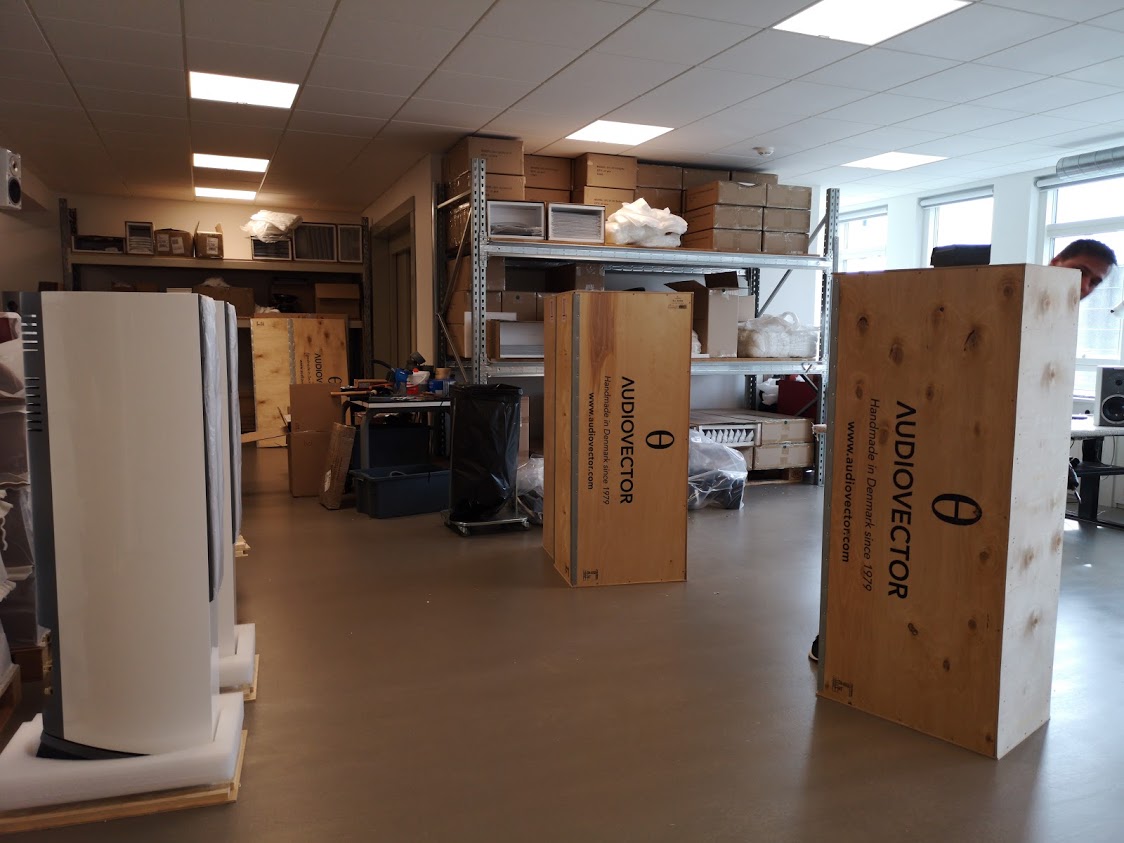 Mads believes strongly in the flat hierarchy that is so typical for Denmark - as he puts it: If Audiovector wants to be successful, everyone's head must be equally in the game and everyone must feel close to the decision process. Therefore all employees spend at least some of their time on the top floor, where management, development, administration, and technical teams all have dedicated spaces. The only separation between teams are glass interior walls and doors. The resulting working space feels cozy, spacious, and intimate. There is a common area and, of course, two listening rooms with a loungelike exhibition space in between. The two lower floors are dedicated to production and warehousing. While all R series speakers are assembled on the top floor everything else, like the more entry level QR series, is assembled on the floor below that is essentially a single open space with lots of work desks and storage shelves. The bottom floor is dedicated to storage and is also an open warehouse space.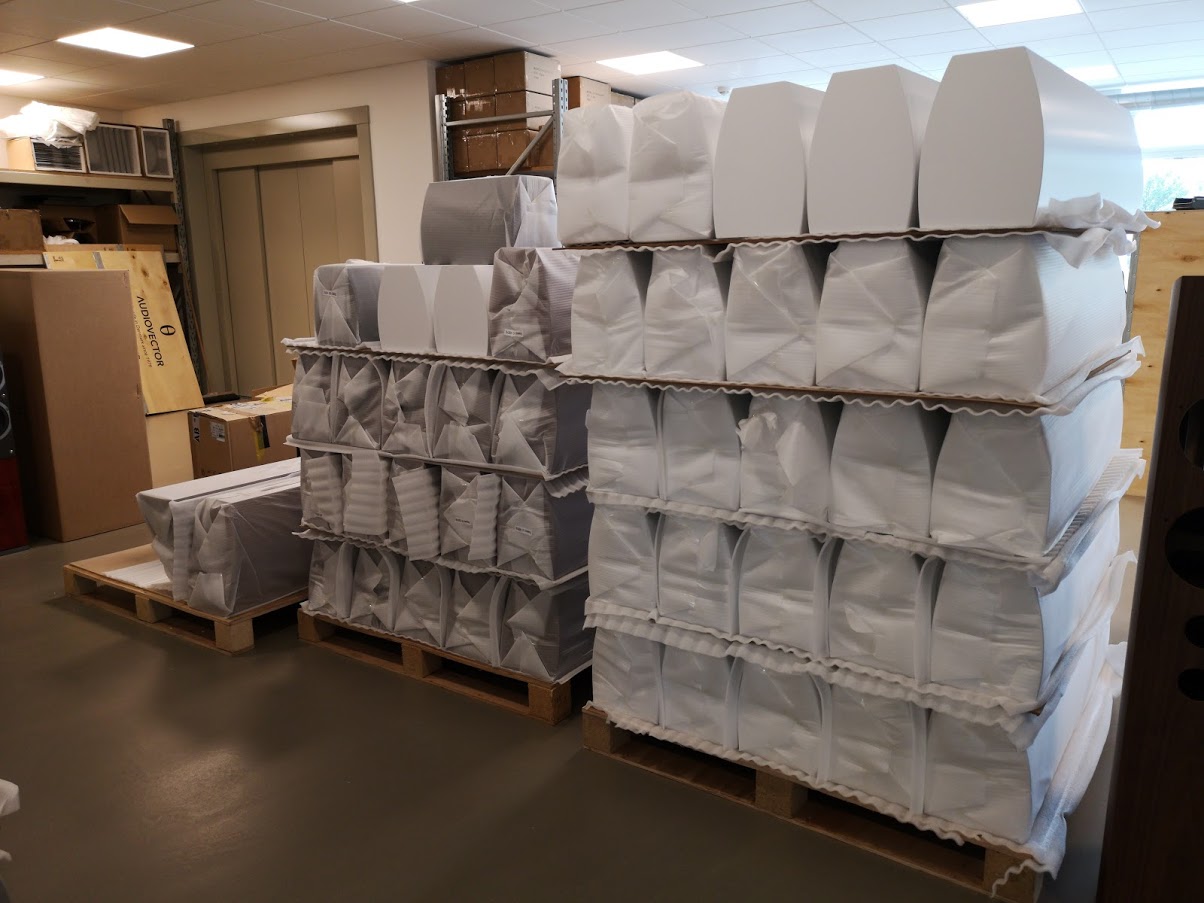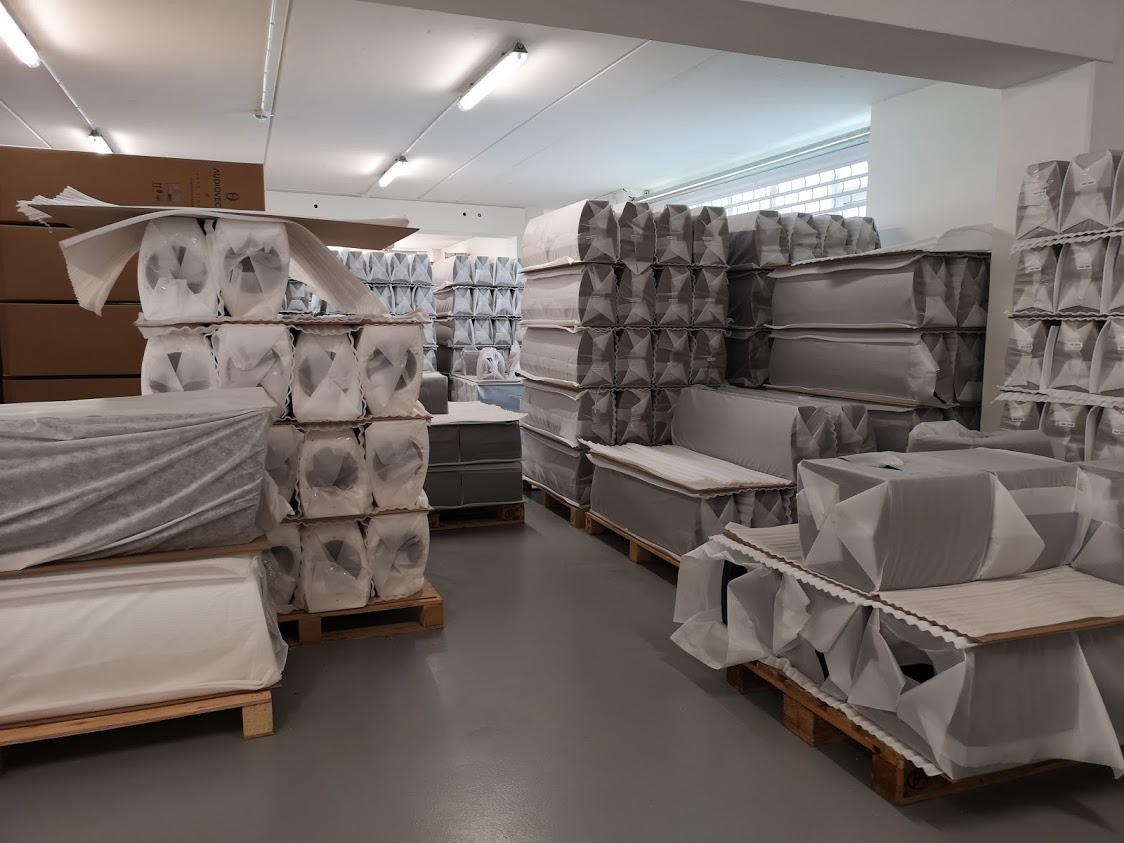 Another particular focus for both Mads and Martin is business growth and marketing. They told us with happy smiles that marketing has proven to be very rewarding because of the high quality of the products. The prime focus of the marketing efforts is to build the brand and in order to do so they are very active on social media and also make sure to appear in reviews and interviews as often as they can. The impact of, e.g., a single review is hard to measure, but the overall strategy has proven to be successful. The company is growing fast and even exceeds Mads' hopes for growth on a number of metrics.
Of course, the whole situation regarding COVID-19 has been a challenge. Having recently expanded the storage facilities dramatically and using that advantage to buy parts in large quantities Audiovector has managed to keep speakers flowing out.
On the marketing and sales side they have used the unusual situation to focus on the R6 series and getting it into dealer showrooms. According to Mads and Martin these efforts have been very well received by dealers. They attribute some of that to dealer goodwill earned by being dedicated beyond the norm to customer and dealer service.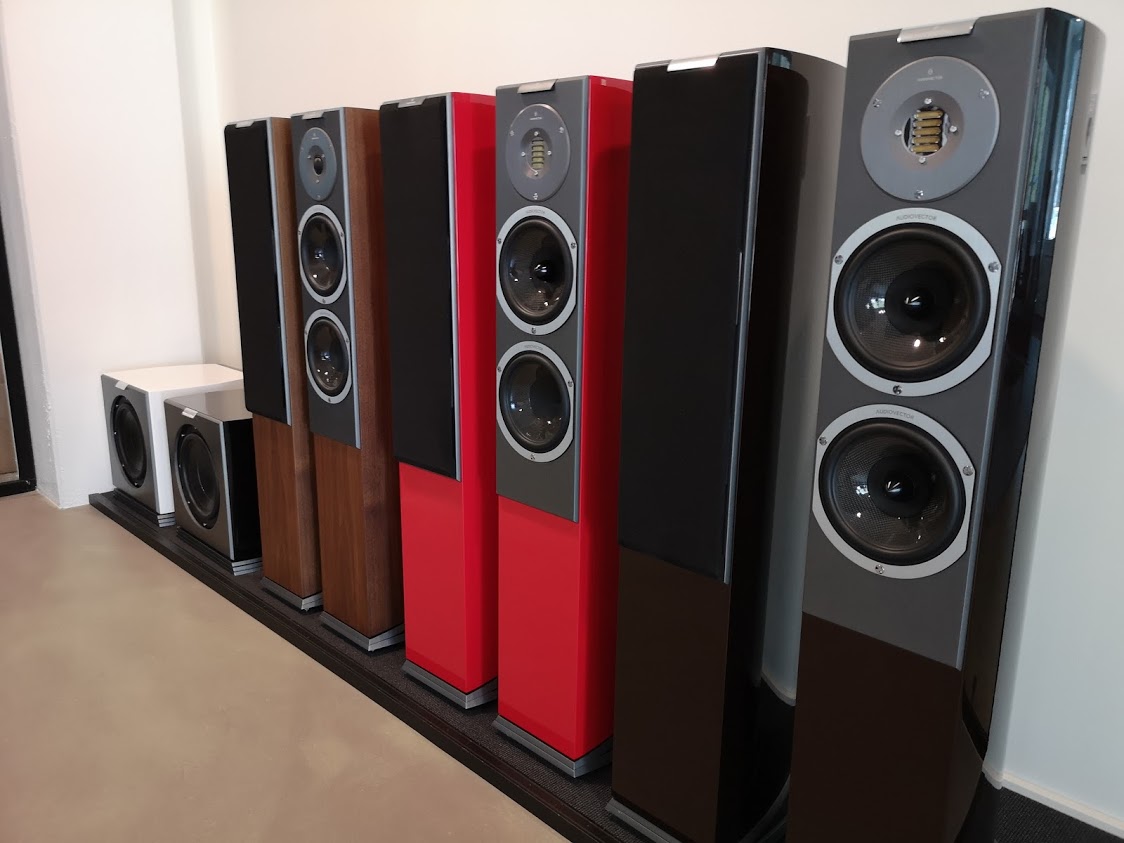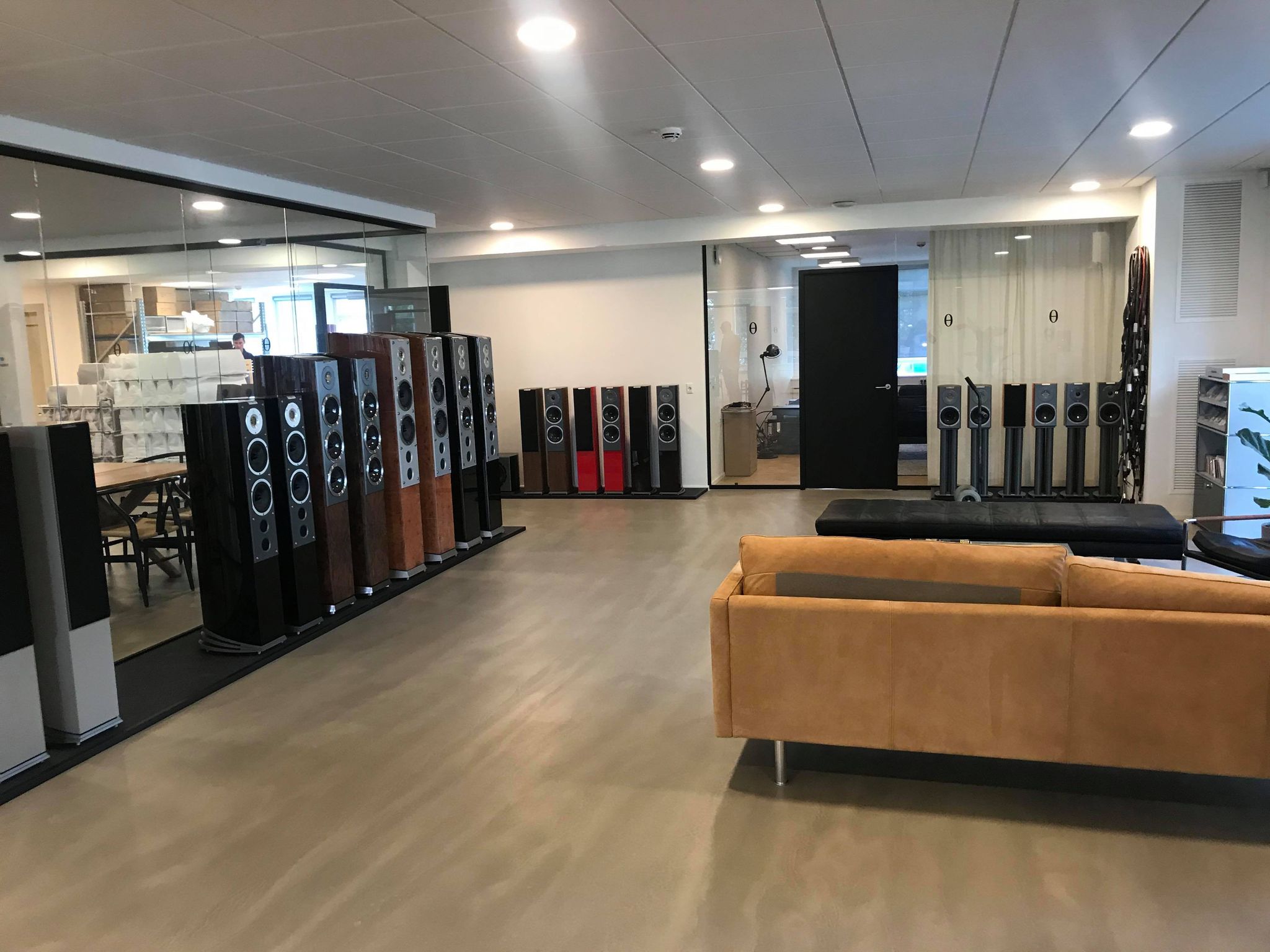 The Audiovector R6 series
The newest addition to the Audiovector product family is the R6 series. It replaces the successful SR-6 series as middle child between the R3 series and the R8 series. Consistent with the Audiovector upgrade filosophy it comes in three variants:
The R6 Signature costs 15000 euro for a pair and comes with a very good, but conventional, dome tweeter, two high quality front mounted carbon (Aramid Composite Fiber) 6.5'' bass/midrange drivers, and an internal Isobaric Compound Bass system with an 8'' driver and another 6.5'' driver air-coupled by a sealed internal chamber.
The R6 Avantgarde steps another rung up the ladder at 20000 euro a pair. It retains the beautifully rounded cabinet designed to avoid internal standing waves and the internal bass system. The treble driver, however, is a Heil-style Air Motion Transformer (AMT) able to push significantly more air while weighing substantially less than a conventional dome, thereby reducing distortion and compression. The front-mounted mid-range drivers are also substantially improved over the ones used in the Signature.
Finally, the top rung is occupied by the R6 Arreté (Arreté meaning 'master of all trades'). At 28000 euro per pair it is a costly, but also extraordinary, speaker. It features a further improved AMT treble and also adds another 3'' rear-firing midrange unit and the Freedom Grounding system for removal of spill-over driver distortion that was recently pioneered for the R3 Arreté model. It is also improved in a number of other implementation aspects like carbon based mounting plates for speaker terminals and crossovers, special damping material, internal shock absorption, premium spikes, and cryogenically treated copper parts - nothing is left to coincidence.
The demo started with the R6 Signature. It has a sensitivity of 91.5 dB and is a very easy speaker to drive, match, and place. We actually heard this speaker twice. Audiovector allows their treble units to breathe freely through a port that extends to the rear of the cabinet. We first listened with this port blocked. Gaffa tape and a piece of foam took care of that part for the sake of the demo.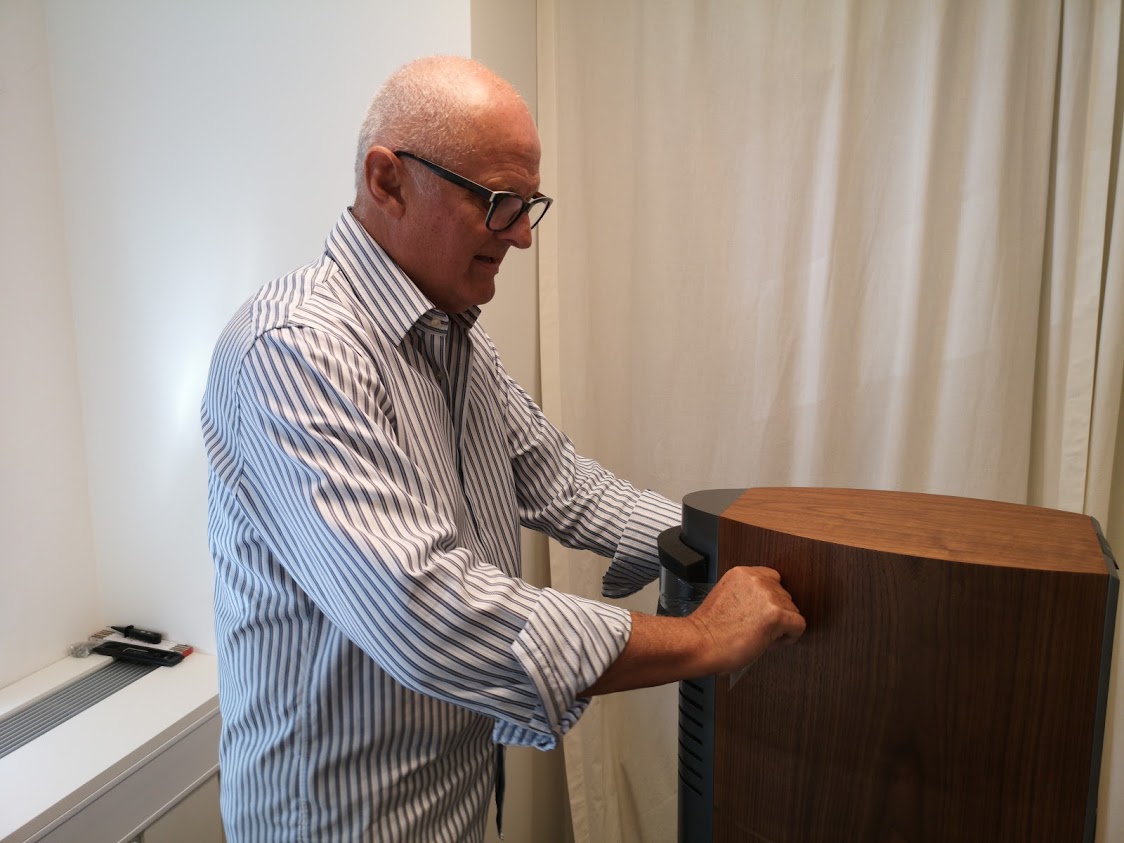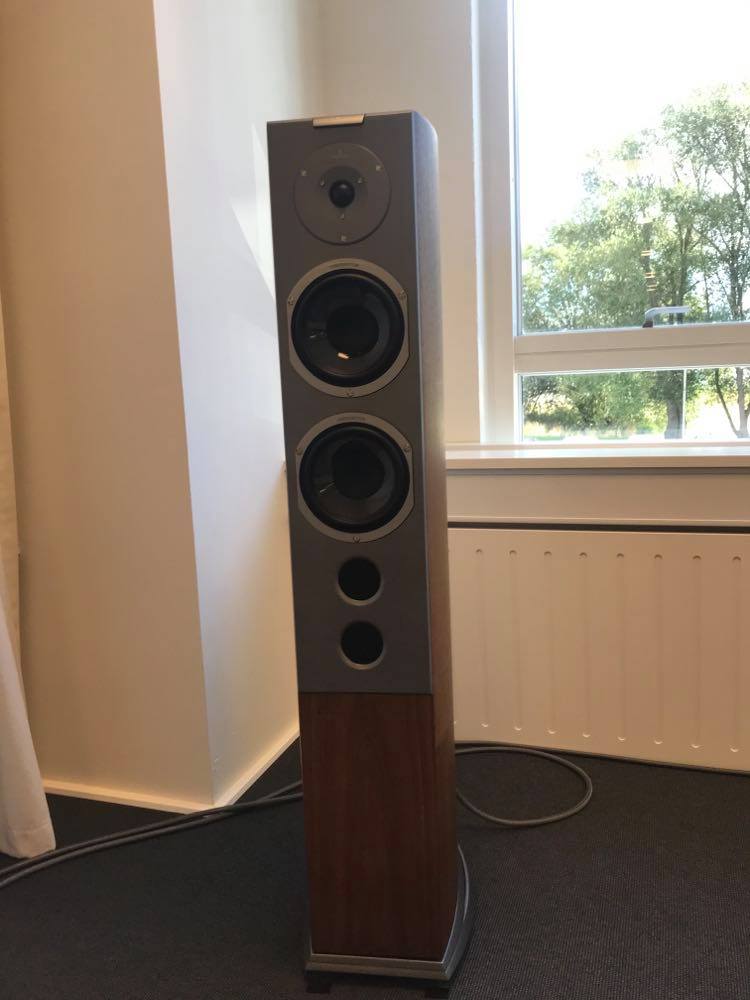 Hooked up to a Gryphon Diablo 300 integrated amplifier the beautifully finished Italian walnut Signatures emitted a sound that was clear and both firm and smooth. The bass was very deep, fast, dynamic and articulate. There is no doubt that the new internal compound bass system plays a large part here - it gives so much more control and seems to function almost like an internal subwoofer. It sounded very good, but it appeared to be almost artificially direct and focussed. With the improvised blocking device removed the sound became less firm and much more spacious while imaging improved tremendously, especially in the portrayal of soundstage depth. These differences were evident on all of the played tracks, e.g., Bebe - Cuanto+me sujetas, Sohn - Veto, and Ray Cooder - Flashes.
Then we went on to listen to the R6 Avantgarde. Compared to the Signature it added another level of richness to the sound and improved the portrayal of depth even further - improvements that can both be attributed to the AMT treble. At the same time the midrange seemed to gain more power and focus and the bass seemed deeper and more precise. Ole told us that the internal bass system and the low frequency crossovers are essentially identical among all R6 models, and we conclude that all of these changes are caused by the improved bass/mid-range drivers on the front. As before the improvements were evident across all demo tracks. We also listened to Mr Bojangles by Japanese jazz singer Chie Ayado and it gave the most natural rendition of her beautiful voice imaginable.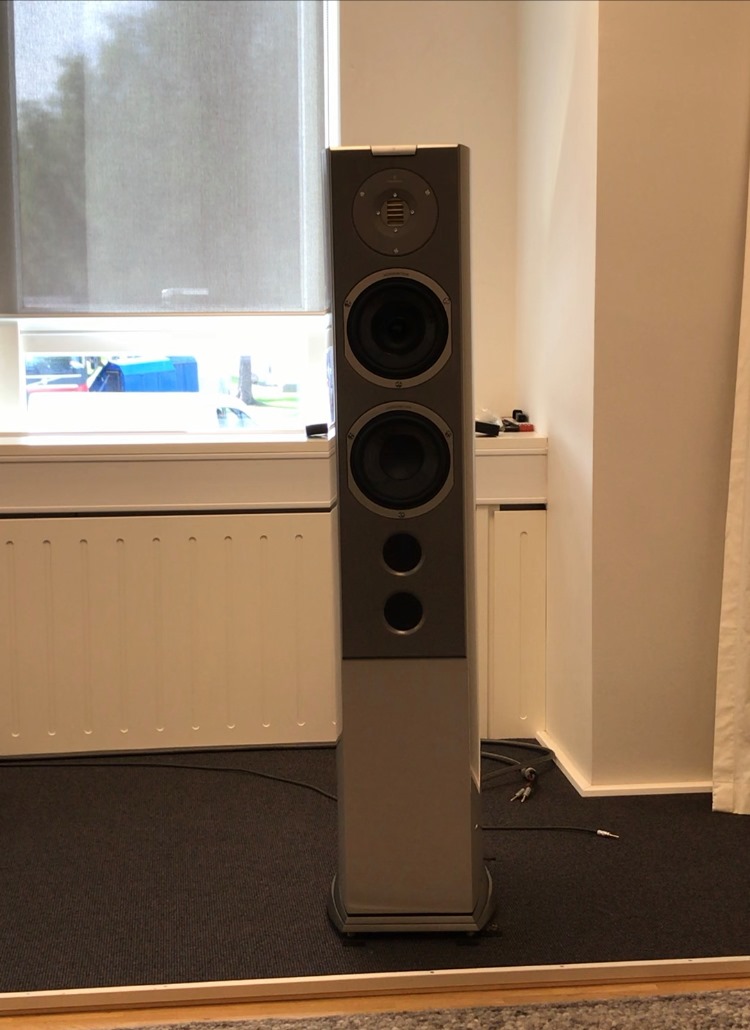 Finally we listened to the R6 Arreté. As mentioned, it comes with an upgraded AMT tweeter, a rear-firing 3'' midrange driver, and freedom grounding (and more). It retained all of the strong points of the Avantgarde model, but the sound now seemed more relaxed and spacious - more effortless somehow. It is easy to see how each of the implemented upgrades play a part, but Ole sends a special thanks to the Freedom Grounding system.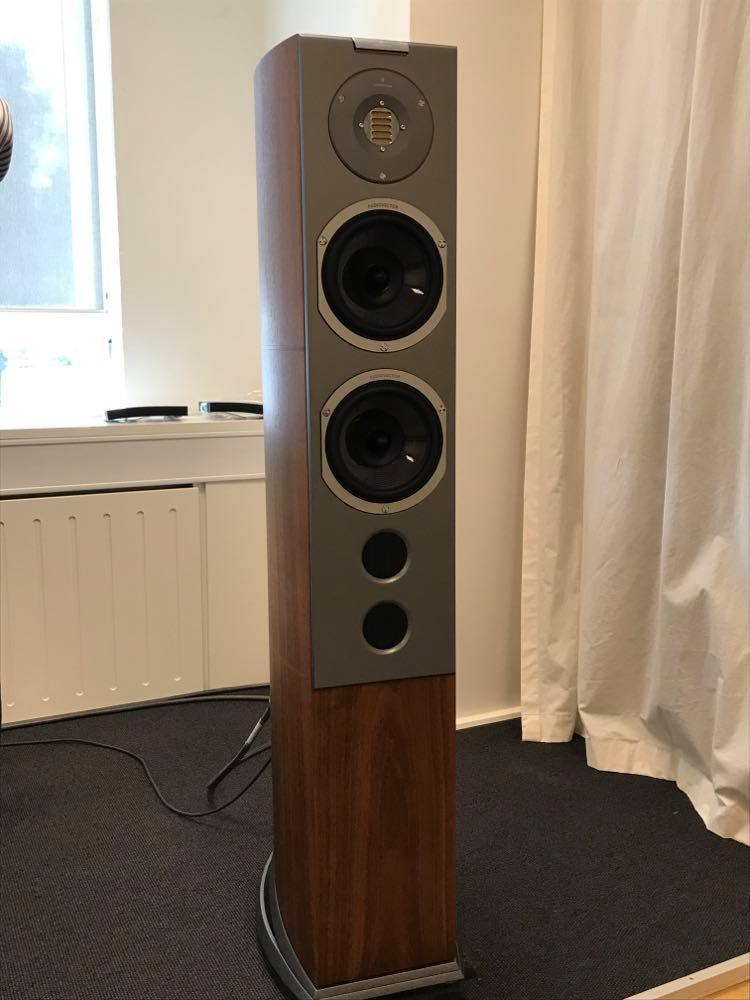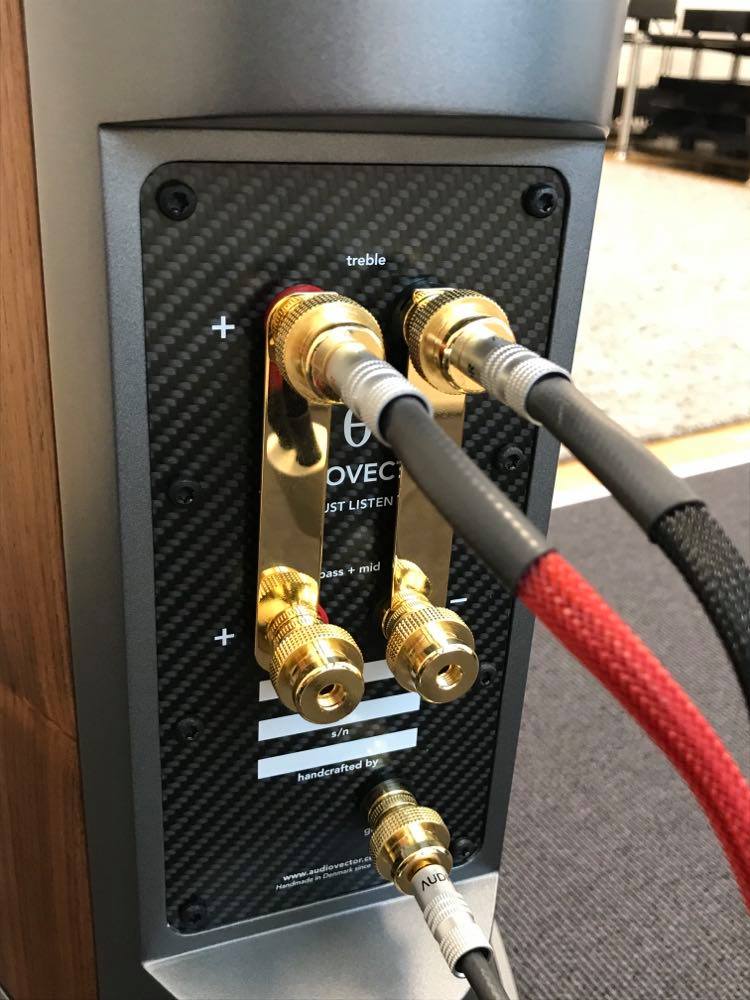 In any case, the sum of the parts were certainly more than any of the previous wholes and the R6 Arreté is exactly what it says on the tin: A master of all trades. Chie Ayado was now suddenly even more impressing and the classical piece, Dance of the Tumblers, from Nikolai Rimsky-Korsakov's Snowmaiden came across as a fabulously explosive firecracker of dynamics. Outstanding - it is no wonder that Audiovector expects this model to become the top seller of the series.
Conclusion
Audiovector comes across as a very well-founded company. Their products are firmly entrenched in a Danish and Scandinavian design tradition and the business itself is similarly committed to a Danish management tradition that seems to be a perfect fit for their goals.
The resulting products appear to be superb. After listening to the new R6 series one can easily get the thought that you will never need more than that. Ole did tell us that both the R8 and the R11 'just have more of everything'. He may well be right - but if you have not heard them one after another, then it is hard to imagine.
In any case the value proposition of an Audiovector product seems to be outstanding. The upgrade concept makes sure that you can take another step up the quality ladder without breaking the bank. And the strong dedication to customer service ensures that you are never left in a real pickle.
We are thankful to Mads, Ole and Martin for taking the time to present the company and their products to us. It was very informative and we are only proud to say that Audiovector speakers are made in Denmark.
If you are interested in listening to the R6 series speakers they are being shipped to dealers these weeks. Please see below for a link to dealers globally.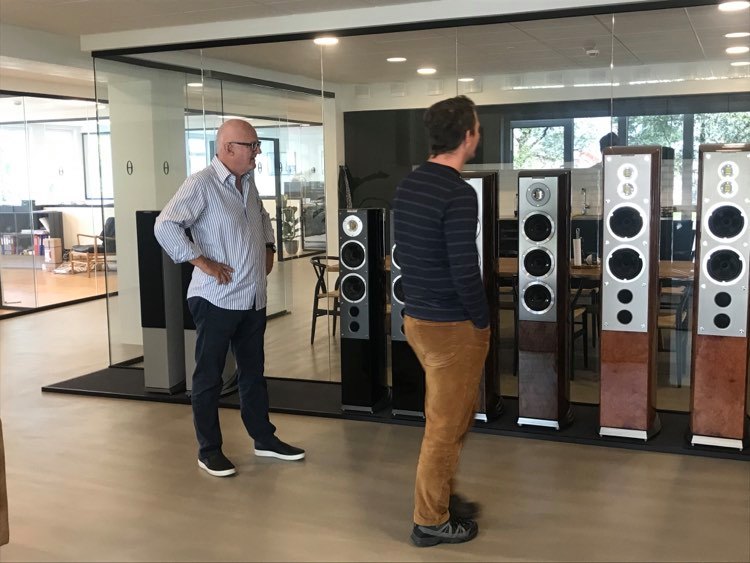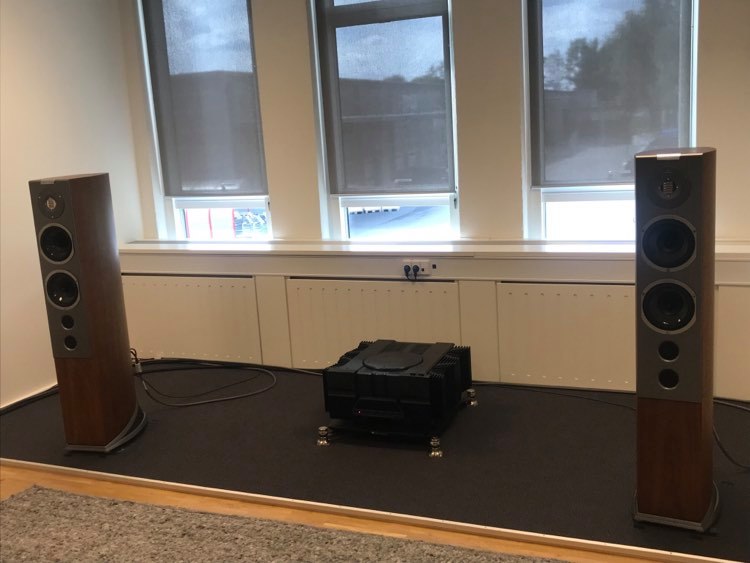 Where to audition and buy Audiovector speakers

Share article