Like many other Japanese industrial giants Yamaha made a name for itself in the High Fidelity business during the seventies and eighties. During that time a number of iconic products were produced (Yamaha history). The masterful Yamaha Centennial Series (Yamaha CX-10000, MX-10000, NSX-10000, CDX-10000 - on par with, or better than, the contemporary C-280L, P-800, DP-70 from Accuphase) from 1987 was Yamaha's pinnacle of the cost-no-object high-end period that came to an end with the dwindling economy of the eighties (culminating in the Black Monday crash of 1987).
In the aftermath of the crash most of the Japanese players gradually shifted their focus in order to stay in business. The consequences were less R&D and more mass-production. The models following the Centennial Series all seem to be simplified iterations of the same core technology - improvements, if any, was mostly on the visual side like, e.g., the catchy LED power meters of the M-45,50,55,60,65,70,75,80,85 and MX-50,70,600,800,1000. Not many of these sequel amplifiers seem like whole-hearted efforts, but the MX-1000, MX-2000, MX-2, and MX-1 all stand out as very sober offerings.
The CX-1/MX-1 Amplifiers


The Yamaha MX-1 along with the smaller MX-2 and the corresponding control amplifiers Yamaha CX-1 and CX-2 were launched in the 1993/94 season as part of the ToP-ART (Total Purity Audio Reproduction Technology) series, which was Yamaha's last (and longest) traditional push for high-end performance - not replaced until the launch of the Yamaha MX-D1 class D power amplifier and YPC-1 passive preamplifier in 2004. The ToP-ART moniker and the simple visual appearance bestowed on this series seems to indicate that it was meant to compete in the no-nonsense market that the British manufacturers was trying to (quite successfully) corner for themselves during the period. In doing so Yamaha adapted the (simple, but worthwhile) goal of the no-nonsense movement, i.e., to get as good a sound as possible at a reasonable cost.

The resulting amplifiers are solid, very solid - they sound good, are durable, and have plenty of power (The MX-1 is 2x200W at 8Ohm, and provides stable clean power down to 2x320W at 2Ohm). Everything is done right: The internal pathways are optimised for shortest signal path, the chassis are optimised to for minimal vibration, full dual mono for maximal channel separation, and a topology allowing for power and control (Damping factor is 350 btw. 20Hz and 20kHz). Proprietary Yamaha technology inherited and refined from past designs is used where it matters: Hyperbolic Conversion Amplification (HPC), i.e., Yamaha's version of sliding class A, is in place to prevent a full switch to class AB even at hight power, Advance Power Supply (APC) is used to effective suppress ripple at all power levels, and finally a so-called Linear Damping Circuit is used to stabilise the damping factor over all inductance and power levels.

In terms of input options the CX-1 is very versatile allowing up to 7 ingoing connections. This includes 3 i/o options for recording devices, another 3 input options for line level devices like CD players, and a nice sounding phono input. The phono input allows for both MM and MC connections and offers a choice of cartridge loads, 220Ohm or 1kOhm, for MC connections. There is only one set of outputs. The tone controls work well and can be by-passed with a source direct button. All functions can be remote controlled. Overall the unit is very natural sounding, which is a traditional hallmark of Yamaha (who also is a successful instrument builder).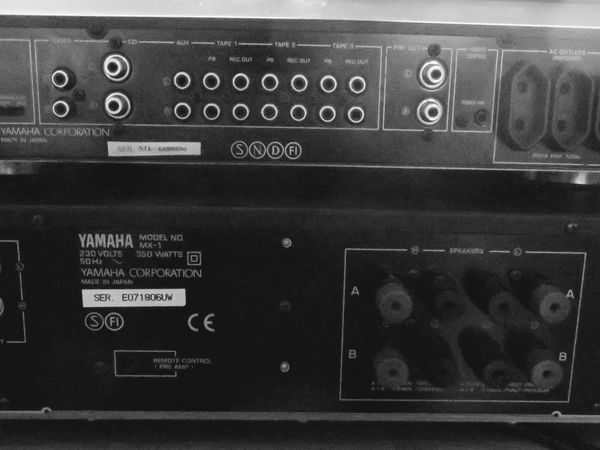 The MX-1 is a simple beast. It accepts one pair of inputs, cannot be bridged, and offers two pairs of speaker outputs for bare wire or spade lugs that can be switched individually from the front. The input level can be individually adjusted for each channel. Other than that, it is as close to a straight wire with gain as you get. It easily controls most, if not all dynamic loudspeakers, but I have heard it struggle for control on a set of Magnepan MG-12 coupled in parallel with a Magnepan DWM - a very harsh 2Ohm load that would make most amplifiers shaky. Generally, however, the sound is powerful, natural, and smooth.
Yamaha Amplifier Market Awareness
Curiously, the ToP-ART series has managed to fly under the radar for quite some years now, and thus the units can still be had for quite reasonable prices. The development in price over the last few years can be seen below for the MX-1 and further below for the CX-1. The price of the MX-1 seems to be slowly rising, while the CX-1 seem to fluctuate around a constant level (where the value for 2013 seems to be an outlier.).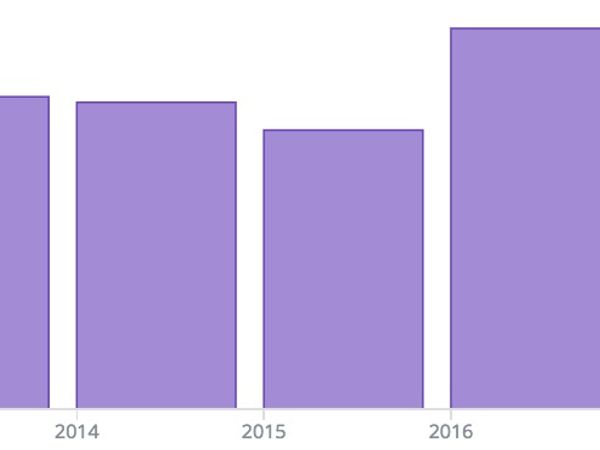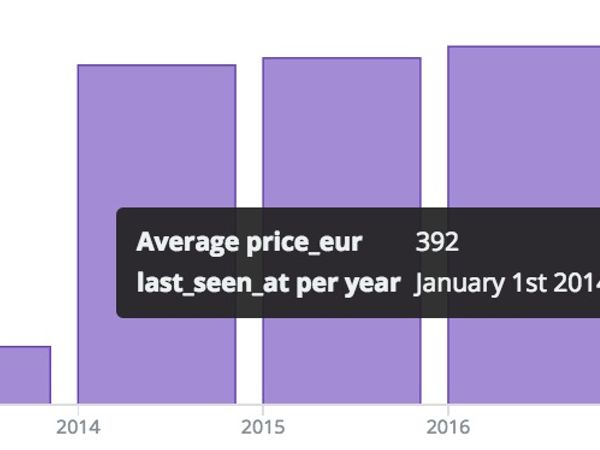 In terms of market interest the development of the last 5 months is interesting, as more interest seem to be gathering around the units. The figures below show the number of unique individuals (ip addresses) that have searched specifically for these units each of the last five months. As before, the MX-1 is shown on top and the CX-1 below. Also here, the rising tendency is more outspoken for the MX-1.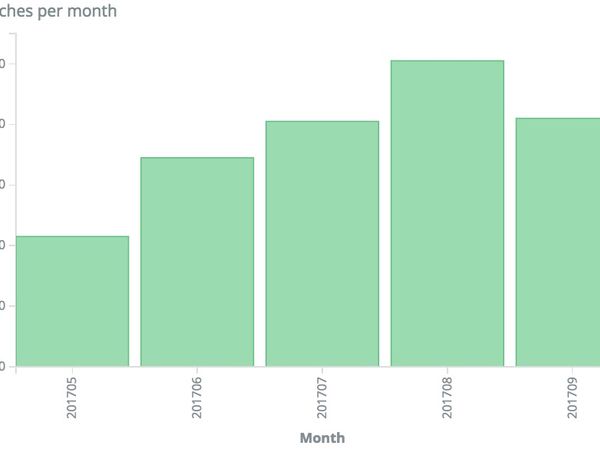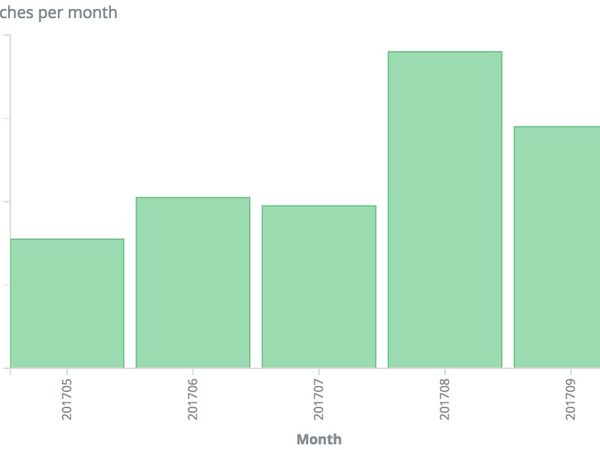 In terms of geography, there are also some distinct differences between regions. Shown below is the average price throughout time broken down by regions Oceania, North America, Europe, Asia, and Africa (where data is available). First the MX-1, then the CX-1.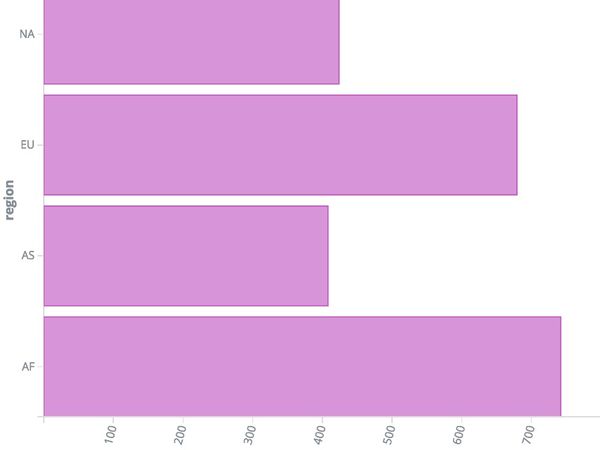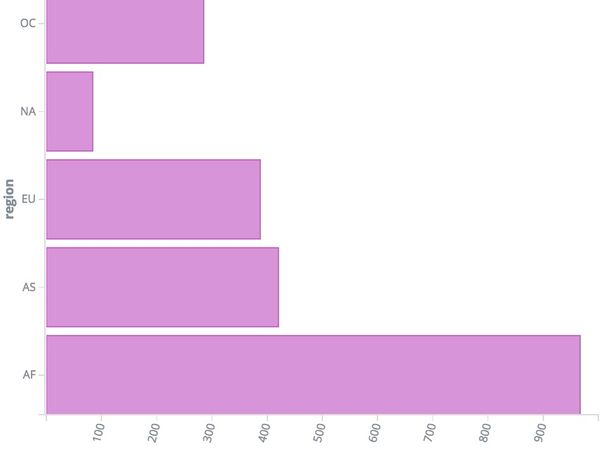 Conclusion
Given the minimalistic physical design of these amplifiers 'sleeping beauty' may not be the right label for the CX-1/MX-1 set. Having said that I do think that the set is a sleeper in the best of senses: They are very well constructed and good sounding units that can still be had for very reasonable money and does not seem to loose significant value over time - what's not to like?

So, Hot or Not - how attractive is this item at the current price:

Share article